Texas Football vs Texas Tech: 5 Keys to Longhorns Victory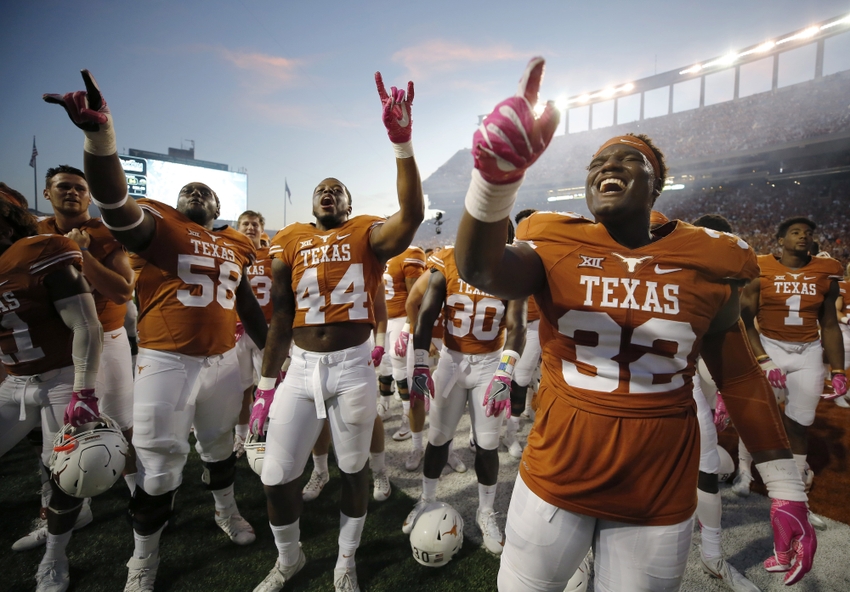 Texas football heads back out on the road to try and fix their run of road woes this season. The Longhorns (4-4, 2-3 Big 12) head to Lubbock to face Texas Tech (4-4, 2-3) in a heated matchup both programs need desperately. Can Texas contain the Air Raid and find an elusive road win?
So far this season, Texas has failed to win a single game on the road. Currently 0-4 away from DKR, the Horns have really struggled to put together a complete effort in front of a less-than-friendly crowd. They'll get a downright hostile group this week in Lubbock as there is no love lost between Texas and Texas Tech.
Further complicating matters, Tech is one of the most dangerous teams in the Big 12, particularly at home. Offensively, the Red Raiders are as good as anyone in the country with an FBS-high 603.4 yards per game this season. They know how to finish drives, too, ranking No. 2 the nation in scoring offense, averaging 47.4 points per game.
Texas will be tested in a major way. Nobody in college football throws the football like they do in the Texas Tech Air Raid. They lead the nation in passing, throwing for 500.6 yards per game this season. The Longhorns have already played two teams also in the top 10 nationally for passing this season, Cal and Oklahoma, and lost both games. The secondary has been a serious concern all year and will need to make major strides in this game.
Last week against Baylor, Texas showed tremendous fortitude in finding a way to win. They'll need an even better effort in this one to notch their first road win of the season. Here are five keys to a Longhorns victory this Saturday.
Texas is allowing more big plays than anyone in the Big 12 this season through the air. Through eight games, they've allowed a staggering 34 passing plays of 20+ yards and 18 plays of 30+ yards. Against Tech, they need to limit those big chunk plays.
Texas Tech's Air Raid offense is predicated on big plays in the passing game. They lead the Big 12 with 60 passing plays of 20+ yards this season (21 more than the next highest team, Oklahoma). They are the only team in the conference with double-digit passing plays of 50+ yards (10). In short, Tech is going to stretch the field with their passing attack.
That's bad news for the Texas secondary. Against the three best passing offenses they've faced this season (Cal, Oklaoma State, Oklahoma), Texas has been gashed through the air. They allowed 396 yards and four touchdowns against Cal, 392 and three touchdowns against OSU, and 390 and three touchdowns against OU. Keep in mind, none of these passing attacks is as prolific as Tech's.
However, the good news is that Texas' secondary has been showing improvement. Have they improved enough to slow down the Air Raid attack of Texas Tech? That could be the difference in this game.
As good as Tech is passing the football, they've had their issues defending the pass. If Texas can keep them off-balance utlizing play-action passes, it could open up opportunities for big plays down the field.
Coming into this game, the Red Raiders rank No. 9 in the Big 12 in pass defense, allowing 304.6 yards per game. They also rank second-to-last in opponent passer rating (144.91), yards per attempt (8.0), and interceptions (4). Additionally, opposing quarterbacks have enjoyed a lot of success against this secondary, completing over 60 percent of their throws.
Enter Shane Buechele. The true freshman has continued to grow and develop over the last eight games and currently ranks No. 4 in the Big 12 in passer rating. He's completing 63.9 percent of his passes for 2,013 yards with 17 touchdowns and six interceptions. He's enjoyed his most success, however, when he's been able to utilize the play-action.
Against Tech, getting defenders out of position with play-action is going to open up throwing lanes even wider. Buechele will be able to push the ball down the field and into the hands of Texas' emerging playmakers at receivers who can eat up yardage in a hurry. This will allow the Horns to attack Tech with a balanced and effective offensive gameplan which should sustain drives and put up enough points to hang with the Red Raiders high-scoring offense.
Texas has made great improvements in recent weeks generating turnovers. Texas Tech currently ranks No. 9 in the Big 12 in turnover margin at -5 for the season. The Longhorns need to win the turnover battle in this game to keep Tech's offense off the field and set up their own offense with quick-score opportunities.
On the season, Texas has gained 11 turnovers. 10 of those turnovers have come in the last four games when Charlie Strong took over defensive play calling. The team has become more aggressive in attacking the football on defense, and it has paid serious dividends. Through the first four games, Texas was -4 in turnover margin. In the last four, they're +4.
Tech has had a turnover in all but one game this season, including interceptions in each of their last five games. Their aggressive offensive style can lead to some risky decisions. Texas has to be ready to take advantage of these dangerous plays by making Tech pay for them with turnovers. The Texas secondary has made major strides in this department, recording a pick in three of their last four games after failing to snag an interception in the first four games of the year.
To win this game, the Longhorns are going to have to prevent Tech's offensive momentum by creating turnovers. If they can shake the confidence of the Red Raider offense and provide short fields for their offense, it will be a major advantage for Texas.
Few quarterbacks in the country are throwing the football like Patrick Mahomes. If Texas wants to win this game, they need to get the big-armed QB out of rhythm. If he's comfortable, he'll make life miserable for the Horns in this one.
Through eight games, Mahomes leads the nation in passing, averaging 439.9 yards per game. He's completing 67.7 percent of his passes this season for 3,519 yards and 28 touchdowns to seven interceptions. Additionally, he has the ninth highest passer rating the country right now at 161.4. In short, he is the ideal trigger-man for Tech's Air Raid system.
However, he's not infallible. Mahomes is good for about one interception per game and has thrown a pick in each of his last five games. He's coming off one of his roughest performances of the year against TCU. Against the Horned Frogs, Mahomes completed 24 of 39 passes posting season-lows with 206 yards and 5.3 yards per attempt. He labored to move the offense, though the Red Raiders ultimately won 27-24.
Texas has to make Mahomes grind in a similar fashion. The defense has done an excellent job pressuring quarterbacks this season, leading the Big 12 with 31 sacks on the year, including 16 in the last three games. The Horns' ability to get after the quarterback will be huge in making Mahomes uncomfortable and forcing some bad throws and incompletions.
Perhaps the best way to beat Tech's offense, however, will be to keep them off the field entirely. That will mean a healthy dose of D'Onta Foreman, the best back in college football. Foreman's ability to grind out yards between the tackles will be a key weapon in this game.
This season, Texas Tech has not been able to slow down opposing running games. They rank No. 9 in the Big 12, allowing 213.8 yards while allowing a league-high 5.41 yards per rush and 21 rushing touchdowns. The only teams they've been able to keep under 170 yards rushing this season have been Kansas and FCS Stephen F. Austin. Three teams have rushed for more than 300 yards against the Red Raiders.
That should mean a big day for Foreman, though. The bruising junior is second in the nation averaging 157.9 yards per game. He's rushed for 1,105 yards and 10 touchdowns, averaging 6.39 yards per carry. Additionally, he's riding a nine-game streak of 100-yards rushing, second longest in Texas football history. Last week, he became the first Texas rusher to go over 1,000 yards in a season since Jamaal Charles in 2007.
He will be the key for the Texas offense. He's responded incredibly well to become the workhorse back for the Horns in recent weeks. he's recorded at least 20 carries in every game he's played but one this season and has multiple touchdowns in four games. He's coming off a career day against Baylor where he rushed for 250 yards and two touchdowns on 32 carries.
If he gets his touches against Tech, he should surpass that. With him driving the offense down the field, it will provide much-needed rest for the Texas defense and prevent the Tech offense from getting into a rhythm. For the Horns to win on the road, finally, they need Foreman to carry them there.
More from Hook'em Headlines
This article originally appeared on