Texas Football: Shane Buechele Already Elite and Getting Better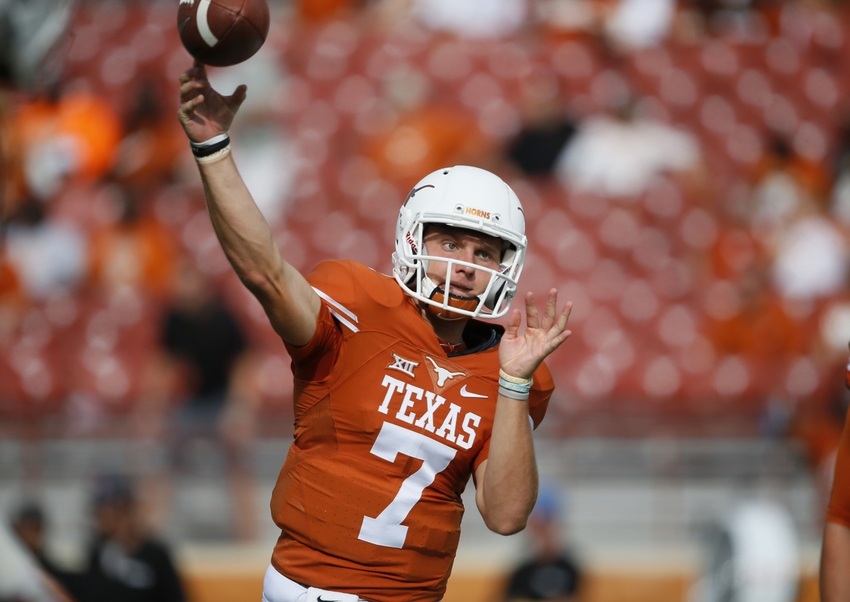 Texas football is back. After a 2-0 start and a meteoric rise through the rankings, the Longhorns are once again at the forefront of the Big 12. Their quick success can be traced back to the emergence of true freshman Shane Buechele at quarterback.
There is no overstating how bad the Texas passing attack was in 2015. Outside of Jerrod Heard's career day against Cal (364 passing yards), the Horns passing offense was dismal. They averaged just 128 passing yards per game in Big 12 play last year and had the second-fewest completions per game (11.6) and third-fewest passing yards per game (146) of any Big 12 team in the past decade. They threw for more than 200 yards just once outside of the Cal game and had three games where they threw for less than 100 yards.
In short, they were one of the worst passing offenses in the country. Those struggles required some turnover on the coaching staff and on the depth chart. The team brought in Sterlin Gilbert as the new offensive coordinator whose up-tempo, spread offensive system perfectly suited the skill set of Buechele. The young signal caller did his part, too, enrolling early at UT. During spring practices, he proved to be a quick study, throwing for 299 yards in the spring game.
Since earning the starting job, Buechele has responded by being one of the most efficient quarterbacks in the nation. He's completed 38 of 53 pass attempts (71.7%) for 524 yards with six touchdowns and just one interception. He ranks among the nation's best through two weeks in accuracy and efficiency. That's with a John Burt drop, a Jacorey Warrick fumble, and a shoe-string tackle on Jerrod Heard robbing him of three additional touchdowns.
The key for him has been finding success on play-action passes. Texas is still a run-first team. 63 percent of their play calls have been runs so far this year. While that cuts down on the volume attempts for Buechele, it hasn't hurt his production. So far this season, Buechele is 21-for-26 for 342 yards with three touchdowns off play-action.
Already, Shane Buechele has shown all the tools of an elite quarterback. He's poised under pressure, makes quick decisions, has a great arm, and is accurate with his passes. He has emerged as the perfect trigger-man for Gilbert's veer-and-shoot offense. In the process, he's made a name for himself on the national stage, out-performing some Heisman hopefuls in the early going.
And he's only going to get better. As he develops, Gilbert is going to turn more and more of this offense over to Buechele. He will take on more responsibility and have more opportunity to show what he can do. If early returns are any indication, it's going to be something truly special to watch.
More from Hook'em Headlines
This article originally appeared on