Texas Football Making Much Needed Adjustments to 18-Wheeler Package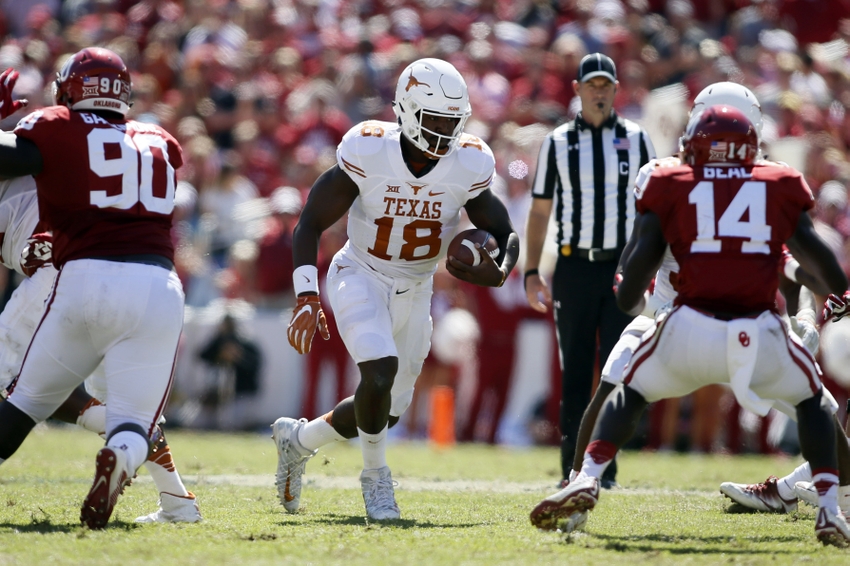 Despite not winning the starting quarterback job, Tyrone Swoopes is a vital part of Texas football. The senior has found a contributing role in the 18-Wheeler package and provided some much needed power running in short-yardage situations. However, the 18-Wheeler has stalled out in recent weeks, leading to Texas football vowing some much-needed adjustments.
Swoopes began the season as a conquering hero. Coming in off the bench, the senior provided some muscle against Notre Dame, rushing the ball 13 times for 53 yards and three touchdowns, including the game winner in double overtime. Offensive coordinator Sterlin Gilbert had seemingly found a perfect balance between Swoopes and Shane Buechele, utilizing both QBs strengths to near perfection.
However, since that opening game, Swoopes has had trouble finding consistent production. In the last three games, Swoopes has rushed just 14 times for 63 yards and two touchdowns. Last week against Oklahoma, he managed just seven yards on four carries. There is a clear case of diminishing returns, prompting Charlie Strong to promise adjustments during his Monday press conference.
The biggest wrinkle Texas can implement to start passing out of the 18-Wheeler. Swoopes has attempted just one pass out of the package, an overthrow against Notre Dame in the opener. Since then, defenses have been able to stack the box against the 18-Wheeler. Texas, for their part, has done nothing to make them respect the pass. Oklahoma defaulted to a 0-coverage look and dropped their safeties into the box whenever Swoopes came into the game. That strategy helped them limit the running ability of the 250-pound QB.
Another limitation of the 18-Wheeler has been the redundancy of the play calls in the package. In addition to not throwing the ball, Texas seems locked into running QB power and counter almost exclusively. Against the Sooners, they even went so far as to take D'Onta Foreman out of the game in one instance. In his place, they installed Andrew Beck in the backfield next to Swoopes. Beck, with zero career rushing attempts, was clearly in as a lead blocker. Oklahoma then sold out to stop the power run and succeeded, forcing Texas into a 3rd and long.
Gilbert has to become more creative with the 18-Wheeler package. Installing plays like wide receiver screens, read-options, play-action passes to the middle of the field, and even run-pass option plays will force defenses to play the formation honestly. This will open up the box by keeping safeties deep for those QB power runs to be more effective.
Tyrone Swoopes enjoyed a huge start to the season driving the 18-Wheeler package. But a lack of creativity with the formation has led to the sub-package spinning its wheels for the most part. Adding some new wrinkles will keep the 18-Wheeler fresh and effective for the rest of the season.
More from Hook'em Headlines
This article originally appeared on