Texas Football: Loss to Kansas Rock Bottom for Program in Disarray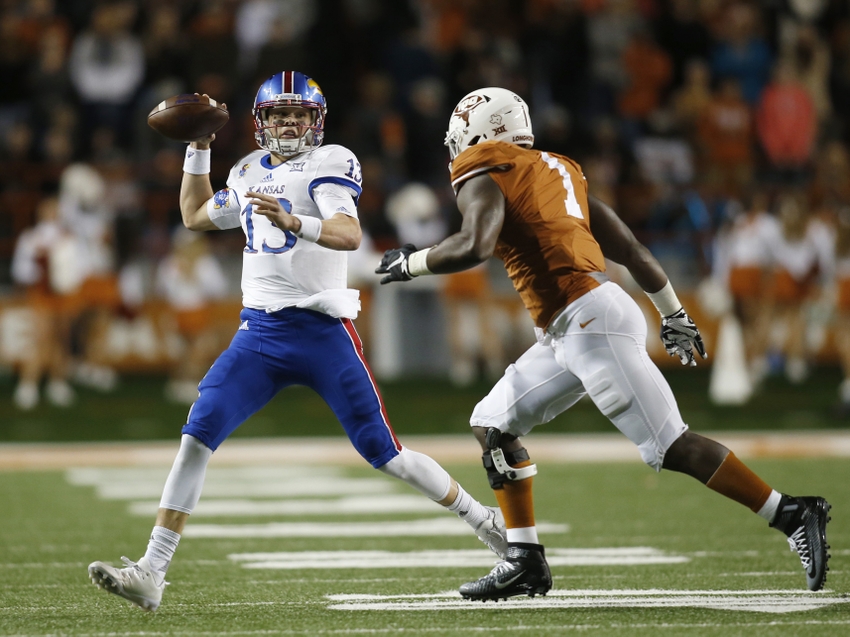 The Texas football program has done the unthinkable. They've lost a football game to the Kansas Jayhawks, who had not won a conference game since 2014.

21

24
We'll save the talk about head coach Charlie Strong for later. For now, let's just take a moment, bow our heads and collectively slap the ever-loving tar out of our foreheads with the palms of our hands.
Group facepalm is the only thing that can express the emotions of the Longhorn Nation tonight.
Texas (5-6, 3-5 Big 12) had a chance to lock up bowl eligibility with a win against a Big 12 foe who was the poster-sized definition of the word "hapless". The Jayhawks (2-9, 1-7 Big 12) had only won a single game since the start of the 2015 season, and that was the opening week win against Rhode Island this season.
College Football Hot Seat: 5 Coaches who must win in Week 10
The last time Kansas won a Big 12 game? 2014…November 8, against Iowa State.
Everyone knew the streak of conference losses for the Jayhawks would eventually end, Texas fans just hoped it would be against Oklahoma.
The last gasp for the Longhorns to assure themselves of a spot in a postseason bowl game is next week against TCU – a team having almost as many struggles as Texas (although at least they were able to eek out a 1-point win over Kansas).
It seems like forever since the euphoric opening week win over Notre Dame, doesn't it?
As has been the story in most of the six losses this season, you can't point to any single thing that caused Texas to come up on the short end of the score. It was a myriad of mistakes, bad coaching, poor execution and sloppy play.
Six turnovers – even against Kansas – will bury you. Bad penalties at crucial times will bury you. Going 3 for 17 on third down conversion tries will bury you. Wasting a 250-yard, two touchdown performance by one of the nation's best backs will bury you (thanks for the effort, D'Onta Foreman).
Texas did all of the above.
Now, about this whole head coach deal.
Speculation is all there is. Heck, by the time you get around to reading this, Charlie Strong's firing could have been announced. The rumors are flying around about bye-bye Charlie Strong, hello Tom Herman.
That's not up to us (fans or media), that's up to the folks who write the checks. The simple fact is that in his third season on the job, there has been little improvement seen in this Texas football program, and in some ways there has been regression.
The Twitterverse and Interwebs are certain to be bubbling over with #FireCharlie and #StrongMustGo in hashtag or any other form, and if those cries are intense enough, the donors will respond appropriately (in fact, some of them may very well be surreptitiously posting such things).
Want your voice heard? Join the Hook'em Headlines team!
All of it is above our pay grade.
If this is indeed the epilogue of Charlie Strong's time in Texas, then so be it. Things couldn't be worse…could they? (Counting the number of times Mack Brown lost to Kansas…still coming up with zero).
More from Hook'em Headlines
This article originally appeared on