Texas Football: Longhorns Make Giant Leap Into Top 25 at No. 11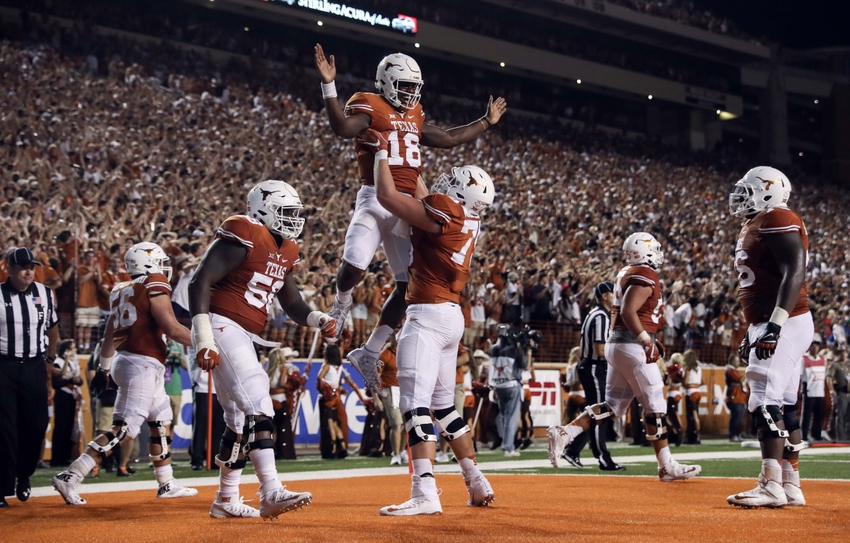 Texas football made a serious impact on the college football landscape with their double-overtime win over Notre Dame Sunday night. The biggest impact may have been on the AP Top 25 with the Longhorns checking in at No. 11 in the latest poll.
Last week, Texas was unranked to start the season for the third straight time under Charlie Strong. It was the first three-year drought for the Longhorns since 1988-90. Their 12 points in the initial poll technically placed them at No. 36. They were just on the cusp and were going to have every opportunity to play their way in.
This week, they didn't just play their way in, they kicked down the door and made themselves at home. The Longhorns make the leap from unranked to No. 11 in the Week 2 poll, gaining 731 points in the process. That's the largest leap by any team in the poll, just edging out Wisconsin, who gained 717 points in the poll to go from unranked to No. 10.
To make such a huge leap from preseason after one game is understandable when you look at the landscape of college football on opening weekend. Three teams in the preseason top 10 went down in Week 1, including former No. 3 Oklahoma, No. 5 LSU, and No. 10 Notre Dame. Other highly ranked teams struggled, like former No. 9 Tennessee needing overtime against Appalachian State. Clearly, the college football landscape differed greatly from pollsters expectations.
Combine that with the cautious optimism that surrounded this Texas program, and you have a recipe of opportunity for the Longhorns. People believed that this team would be talented, but they just didn't know if they could put it together on the field. They put it all together on Sunday night and answered their long-standing quarterback question in the process. Apparently, that was more than enough reason for voters to jump on board with the Longhorns.
Now, Texas is a legitimate contender for the Big 12 title and even possibly the College Football Playoff. The Longhorns are now the top-rated team in the Big 12, jumping ahead of Oklahoma (14), TCU (15), Oklahoma State (22), and Baylor (23).
This is a huge step for Strong and Texas in rebuilding the Longhorns into a college power. However, as we saw in Week 1, things can change in a hurry. Texas has the attention of voters. Now, they need to prove they can play consistently enough to keep it.
More from Hook'em Headlines
This article originally appeared on