Texas Football: Health of Bash Brothers Critical to Getting Back on Track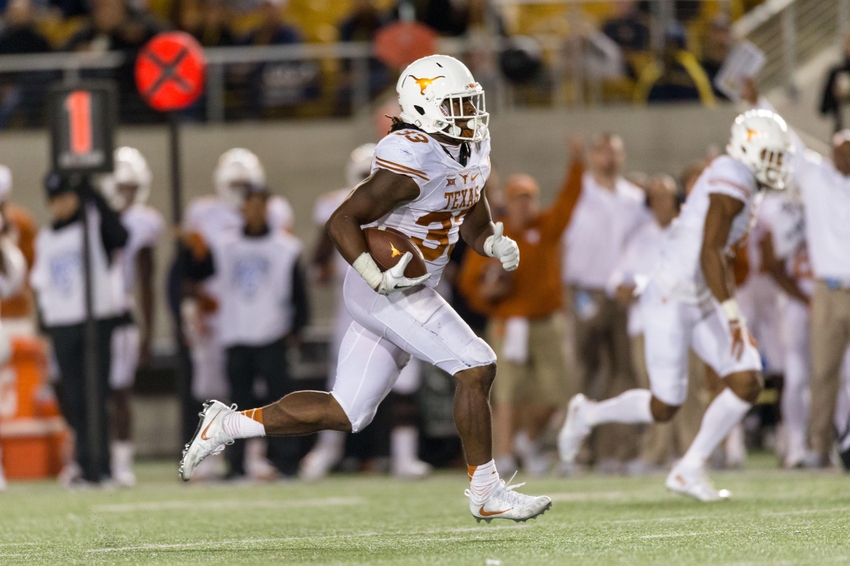 On Saturday, Texas football lost more than just their Big 12 opener. During their 49-31 loss to Oklahoma State, the Longhorns lost both Chris Warren III and D'Onta Foreman to injury. Their status for next week is uncertain but one thing is for sure. Texas needs the Bash Brothers to get back on track this season.
Before getting injured, Warren and Foreman were the only consistent producers for the Longhorns. They combined for 254 yards on 27 carries, with Warren rushing for 106 before he left the game at halftime with a knee injury. Foreman would eclipse the 100-yard mark early in the second half and had two big touchdowns before leaving with an apparent rib injury.
In their absence, the Texas running game struggled. Freshman Kyle Porter became the primary back for Texas and struggled to find running room. Outside of a nice 17-yard gain, Porter managed just 12 yards on six carries. Tyrone Swoopes had early success in the 18-wheeler but struggled to find running room in the second half. He finished with 24 yards on six carries with two touchdowns.
Without their big, bruising backs in the mix, even the passing game sputtered. Shane Buechele saw passing windows tighten up as Oklahoma State could devote an extra defender or two against the pass. The lack of an interior rushing attack tightened everything up and the rhythm of the offense suffered.
As of now, both players are question marks for Week 6. Warren will be evaluated early next week to determine the extent of his knee injury. Foreman expressed optimism after the game that he would bounce back but we still don't know exactly how hurt he is.
Next week's game against Oklahoma has taken on added weight following back-to-back losses. If Texas is without the Bash Brothers, their chances against the Sooners take a major hit. More importantly, their chances to have sustained success in 2016 get seriously bleak. So here's to a speedy recovery for Warren and Foreman…for all Longhorns' sake.
More from Hook'em Headlines
This article originally appeared on