Texas Football: 5 Things To Improve vs Cal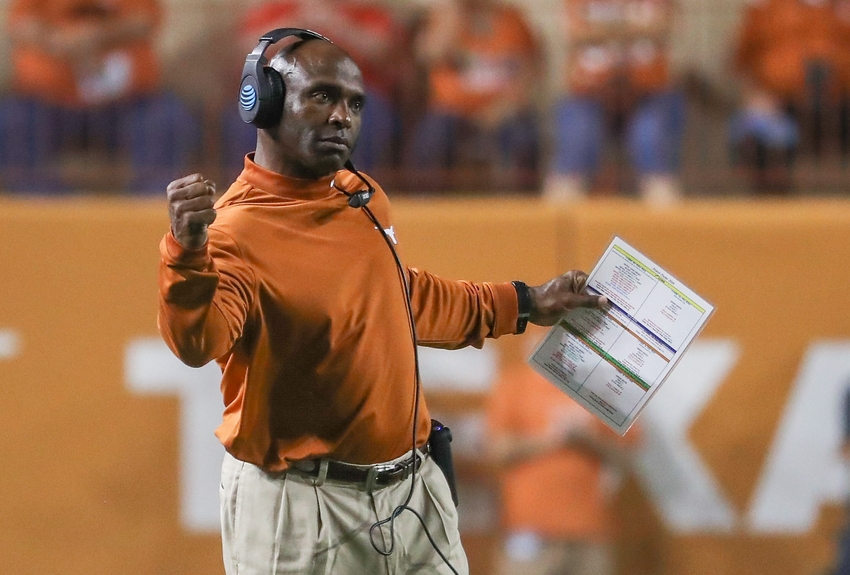 Texas football is back on the map. After a strong 2-0 start to the season, the Longhorns are once again carrying the banner for the Big 12. Now, they look to continue their winning streak on the road in Week 3 vs Cal.
This start has been amazingly fun to watch but there's no question that the team still has room to grow. They are young on both sides of the ball and are still figuring out just how much depth they have on this roster. Week 3 will be the first time many of Texas' young stars will play away from the friendly confines of DKR and they face a stiff test from the Golden Bears.
Last year, Texas lost a heartbreaker against Cal in Austin 45-44. A thrilling rally in the fourth quarter was thwarted when Nick Rose missed a late extra point that would have tied the game and likely sent it into overtime. The Bears have reloaded this season and remain dangerous in Sonny Dykes' "Bear Raid" offensive system.
Cal will present challenges to this Texas team that they have yet to face in the first two weeks of the season. While Notre Dame spread the Horns out and played with pace, they didn't spread them out quite as thin as Cal will and they didn't play nearly as fast as the Golden Bears will, either. This is not going to be an easy win for Texas and they have to continue to grow to win this one.
With that being said, here are five things that Texas needs to improve heading into their showdown with Cal.
If Texas is going to take care of business on the road, they need to start by finishing drives with touchdowns.
Heading into Week 3, Cal is averaging 45.5 points per game. They are going to attack the Longhorns defense the entire game and will find ways to get their points, most likely. They are the No. 3 team in the nation on total offense and are going to press their advantage at every opportunity. Texas needs to counter by scoring every chance they get.
Against UTEP, they struggled with this early. In the first half, Texas fumbled a goal-line carry into the end zone, costing them an early touchdown. Later in the half, a blocked punt got the Horns started in close but they failed to capitalize and settled for a field goal.
Last year against Cal, Texas had a long sustained drive of 10 plays and 71 yards that stalled and resulted in a 27-yard Nick Rose field goal. That score put Texas up 10-7 early in the second quarter but could have give the Horns greater momentum if they had punched it in for a 14-7 lead. Texas, of course, would go on to lose the game 45-44.
This week, missing those opportunities against a potent offense like Cal could cost Texas the game again. When the Horns see an opportunity to score, they have to punch it in.
Cal will bring the nation's No. 2 passing attack into this matchup. The best way for Texas to win this game is to shut that offense down by creating turnovers in the passing game.
Turnovers in general have been hard to come by for Texas in the first two games. So far, the Horns have created just one turnover on the season, a strip against UTEP on a catch and run down the field. They have zero interceptions so far this year and have yet to create turnovers with their pass rush via the strip sack.
This week, creating those quick change opportunities for the offense will be huge. Davis Webb has been a quick study at Cal and is averaging 481.5 yards per game through the air this season. When the Bears get rolling, their passing attack is formidable and can carve up defenses in a hurry. Texas needs to disrupt Webb's rhythm by getting an interception or two (Webb has three in two games), and knocking the ball loose in the pass rush.
Last year, Texas didn't do this and Cal carved them up. Jared Goff completed 27 of 38 passes for 268 yards and three touchdowns. They failed to snag an interception in that game, though they did force two fumbles.
Shaking Webb's confidence early with pressure and turnovers could be the deciding factor for Texas. If they rattle him, the Horns can dominate. If he settles into a rhythm, it will be a long day for this defense.
Cal is not known for their running game, necessarily, but they can still be very dangerous rushing the football. Shutting down the interior running game with the defensive line will be a major factor for the Horns in this game.
The Bears have the ability to spread defenses from sideline to sideline and then gash them up the middle with a long run. Last year, Khalfani Muhammad did it to Texas, rushing for a 74-yard touchdown in the third quarter to put Cal up 45-24. On the day, Muhammad averaged 16.4 yards per carry, finishing with 164 yards on 10 carries.
This season, Texas is stronger and deeper in the middle of their defense but they can still be vulnerable to surrendering big runs. Against UTEP in Week 2, the Miners got their lone touchdown on a 51-yard score from Aaron Jones right up the middle. The Longhorn defense stiffened up the rest of the way, allowing just 134 yards rushing to UTEP as a team but those lapses can hurt if the team gets into another shootout with Cal.
The key will be for the young, talented defensive front to shut down the gaps up front. That will allow the rest of the defense to swarm to the ball and everyone needs to tackle effectively. If they can take away the big plays in the running game, it will make the Bears more one-dimensional and easier to defend.
So far in 2016, Texas is one of the most penalized teams in the nation. They  are playing with fire if they don't clean it up.
Prior to this season, Texas had been flagged 10 times or more just three times since Charlie Strong took over. The Longhorns were 0-3 in those games, including last year's game against Cal. In that 45-44 loss, Texas was penalized 10 times for 93 yards. In such a tight game, giving away yardage like that likely cost the team the win (plus the missed extra point at the end).
Strong has built his coaching reputation on playing disciplined football. That has arguably been the one thing missing from Texas' fast start in 2016. They have the talent on both sides of the ball to be a factor on the national scene moving forward but are costing themselves with so many penalties. Eventually it will come back to bite them in a major way.
Texas has survived their penalty issue so far this season but can't sustain their success with so many flags. It hurt them in last year's loss to Cal. Will it cost them again this year?
Sterlin Gilbert wants to push the pace with the Texas offense. Against Cal, however, it might be more important to control the pace.
Texas has found some early success with their pace of play. Last year, the team averaged 65.1 plays per game and scored just 26.4 points per game. Through two games this year, Texas is averaging 80.5 plays per game and has scored 45.5 points per game. So Texas should keep the pedal to the metal for this game, right?
Not so fast. Cal runs a similarly fast-paced offensive attack. The difference is that they're even faster and more effective. In two games this season, the Bears are averaging 91.5 plays per game and an identical 45.5 points per game. However, while the Longhorns are averaging 5.8 yards per play (compared to 5.7 in 2015), Cal averages 6.7 yards per play this season.
That can tire a defense out in a hurry. To help the Texas D, it would be beneficial for the Texas offense to sustain drives. By utilizing their running game and short passing attack to move the chains, they would wear down Cal's defense. The Bears' D has struggled so far this season, allowing 6.65 yards per play and 38 points per game, and they only get worse with fatigue. Additionally, it keeps Texas' D fresh for a late game stop or two.
Texas has the size and strength to impose their will on Cal. Will they have the patience to grind them down to save their defense?
This article originally appeared on