CFB AM: Watch Aggies go wild in locker room after Gamecocks win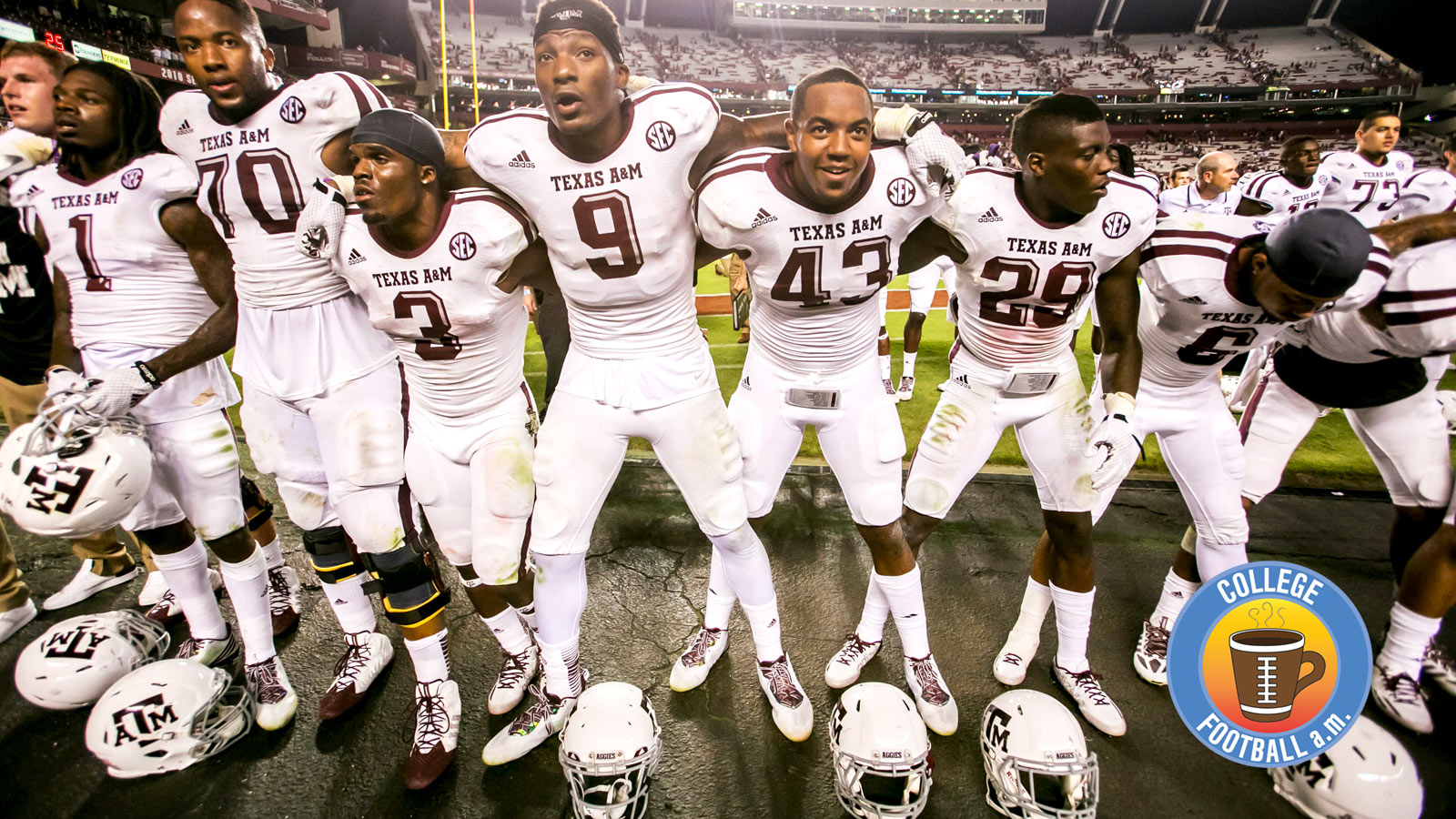 Nobody, no matter what they say this morning, saw Texas A&M entering Columbia on Thursday night and beating South Carolina 52-28. The Aggies were a 10.5-point underdog, and the best you could get someone to say about them leading up to their season-opener was, "Well, they have talent, so maybe they keep it close."
So you can't blame Kevin Sumlin for saying after the game, "Quite frankly, there was a chip on our shoulder. Basically, nobody gave us a chance in this game. What we did tonight kind of shows that we're not a one-trick pony."
Basically, yeah. It shows that losing QB Johnny Manziel and two other first-round picks won't derail the offense.
What we'll hear coming out of this game is that it's Sumlin's system that makes quality quarterbacks and maybe we should dial down the Manziel mania, as maybe all along he was part product of his head coach. I disagree that we should give Manziel less credit – what he did at Texas A&M was indeed amazing – but totally agree Sumlin has every right to gloat a bit after whooping South Carolina.
We'll get to Kenny Hill, the unequivocal star of college football's opening night, but let's give Sumlin this moment. After the game, this great video emerged of him walking into the locker room and proceeding to go nuts with his team.
Sumlin doesn't know what to do except look at his players and yell, "WHAT?" repeatedly as they repeat him and eventually douse him in water. It's a fun capper to an incredible opening game on opening night. Here's the video:
THREE THINGS YOU NEED TO KNOW
1. Sophomore QB Kenny Hill was incredible for Texas A&M in his debut as the full-time starter. He threw 60 passes, completing 44 of them for 511 yards and three TDs and breaking Manziel's single-game A&M passing record in the process. "I've been ready for this my whole life," Hill said after the game. "Everybody was doubting us, and we were just ready to go and prove everybody wrong and that we could be good without Johnny."
Hill was so good that Manziel dubbed him "Kenny Football" on Twitter, which means it will probably stick even though Hill jokingly said after the game he doesn't really like Manziel's nickname suggestion. For now, this puts to rest any questions about whether freshman Kyle Allen, who Hill battled all summer for the starting job, will still push Hill for the job now that the season has started. It would take a complete fail on Hill's part to bring Allen back into the mix.
While Hill will get the bulk of the praise after Week 1, we'd be failing if we didn't highlight the Aggies' offensive line and all that damn talent on the outside. The O-line crew of Cedric Ogbuehi, German Ifedi and Co. allowed the offense to run 99 plays and rack up 680 yards of total offense, the most ever against a South Carolina team. As for Hill's weapons, Malcome Kennedy had 14 catches for 137 yards. Josh Reynolds had six for 76 and one TD. Rick Seals-Jones had five for 67 and one TD (and Hill missed him on a couple deep balls). Freshman Speedy Noil caught five balls for 55 yards. Edward Pope had four catches for 75 yards and a TD. It's an insane of amount of talent, and we're not even discussing massive tight end Cameron Clear, who had one catch before leaving the game in the first half with an undisclosed injury.
If you're wondering how Steve Spurrier is taking this loss, well, two things:
* "How'd y'all like that 3-4 defense tonight?" Spurrier said after the game, referencing the Gamecocks' switch from last season's 4-3 D to the new scheme in an effort to adjust for personnel losses. "We got man-handled tonight. We got clobbered. We've got some coaching decisions to make."
* This Spurrier GIF pretty much sums up the whole night:
It was an opening nightmare for the Gamecocks, writes David Caraviello. The former Southlake Carroll star had quite a night, writes Kate Hairopoulos.
Oh, by the way: Remember that store in College Station that promised free furniture if the Aggies beat the Gamecocks by 10 or more points? Pay up, suckas.
2. The other marquee game on opening night was Boise State vs. No. 18 Ole Miss, and while the Rebels won 35-13, it wasn't an impressive night for them. QB Bo Wallace threw three interceptions in the first half, as Ole Miss lead only 7-6 into the fourth quarter. Touchdown passes to Laquon Treadwell, Quincy Adeboyejo and Cody Core and a TD run by Mark Dodson all in a 10-minute span in the final quarter made the box score look pretty, but you shouldn't be confused.
Given the confidence on Ole Miss is high at the outset of the season, this game will probably be labeled as "rust" for the Rebels. But their offensive has to be much sharper by the time it plays Alabama in a few weeks, or else it'll get run over. The Ole Miss defense, though? Those dudes are ready to go.
Hugh Freeze is keeping the faith in Wallace, writes the Clarion-Ledger's Hugh Kellenberger from Atlanta.
Elsewhere on opening night, Rutgers got a nice win in Seattle over Washington State, 41-38. Paul James ran for 173 yards and three TDs. Wazzu QB Connor Halliday threw for 532 yards and five TDs in the loss. Steve Politi has some takeaways from the Scarlet Knights' nice opening night.
In Nashville, the Vanderbilt-Temple game was delayed so long due to weather they finished it after 2 a.m. ET, which is probably best for most Vandy fans. The head coaching debut for Derek Mason didn't go well, as the Dores lost at home to Temple 37-7. Patton Robinette entered the game as Vandy's starting QB, but Mason used three quarterbacks in the game and there's no clarity as to who will start in Week 2.
The only notable thing regarding the Commodores from Thursday night was the weird situation in which they used an email to persuade the referees into not penalizing them one timeout per quarter for having "Anchor Down" on the back of their jerseys.
3. Thursday was another wild day in a wild week for USC: After the Josh Shaw fabricated story unraveling a day prior, senior running back Anthony Brown quit the team and called head coach Steve Sarkisian a racist on his way out. Yikes.
It should be noted that other players did not support Brown's racist claims. Kickoff against Fresno State on Saturday can't arrive fast enough for Sark and his staff. A great performance, and this entire week gets left behind.
Newsweek's John Walters spoke with USC sports information director Tim Tessalone about how Shaw fooled SC with his story.
THREE THINGS YOU SHOULD KNOW
1. According to CBS' Jeremy Fowler, Blake Sims will start at QB for Alabama on Saturday against West Virginia. Florida State transfer Jacob Coker, who most presumed would win the starting job in fall camp, will still play in the game, but this is a significant shift in how the public projected the Tide's QB race to play out. Sims, a senior who has waited behind AJ McCarron, now has an opportunity to perform well against WVU and secure the job.
2. On live television before the Texas A&M-South Carolina game, Tim Tebow told a quick story about being recruited by Steve Spurrier and impersonated the Head Ball Coach's pitch. It's brief and awesome (if you can't hear, mouse over the image and make sure the speak icon in the bottom right corner doesn't have an X — if so, click it and adjust volume):
3. A fifth Notre Dame player – reserve safety Eilar Hardy – is being held out of team activities due to the ongoing academic investigation.
THREE THINGS YOU MAY WANT TO KNOW
1. Ole Miss linebacker Serderius Bryant got the first targeting ejection of 2014. Here's the hit. However, that wasn't the most interesting ejection from Thursday night. That one belongs to Eastern Illinois' Kamu Grugier-Hill, who gave a Minnesota player a smack in a place you just don't smack another man.
2. This poor ref was just trying to work the Wake Forest-ULM game and go home, and he had to be on the wrong end of a hit.
3. An LSU communications class is teaching students how to correct grammar by having them dissect Les Miles quotes.
LASTLY
* Navy released some new uniforms for Saturday with a fantastic helmet design.
* After a fun opening Thursday, tonight brings up Colorado-Colorado State (9 ET, FOX Sports 1), BYU-UConn (7 ET, ESPN) and UNLV-Arizona (10:30 ET, ESPN), among others. Chill, catch your breath and get ready for this (plus a full slate) on Saturday.
Have a great weekend, all. Enjoy Week 1.
Teddy Mitrosilis is an editor and writer for FOXSports.com. Follow him on Twitter @TMitrosilis and email him at tmitrosilis@gmail.com.