Texas A&M Football: Who is this Jake Hubenak?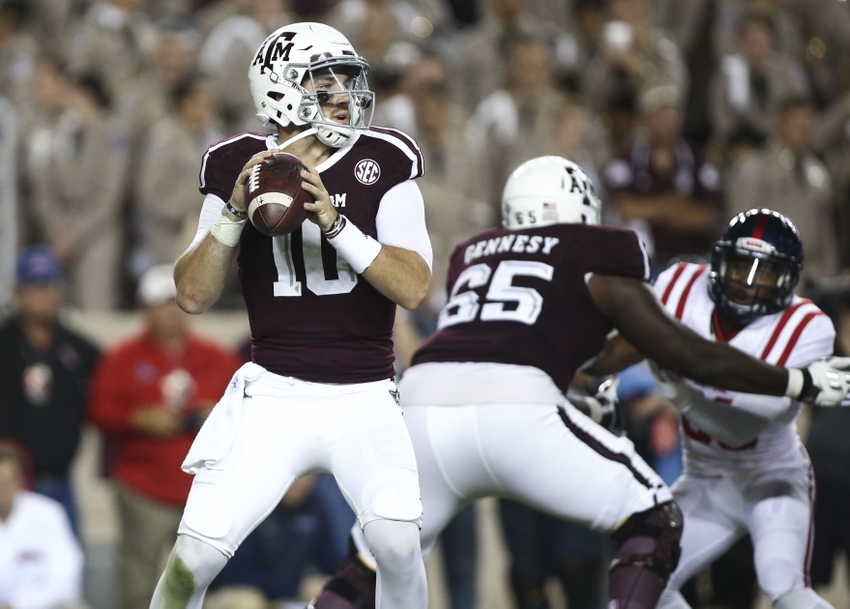 When Trevor Knight went down, all eyes were on junior quarterback Jake Hubenak to lead the team.
For Texas A&M Aggie fans, the last 2 weeks have been tough. The loss of Trevor Knight left fans wondering how the rest of the season would play out. Enter Jake Hubenak. Hubenak is a 6'3″, 195 pound homegrown southern boy from the city of Georgetown, TX and has been an Aggie fan since day one. 
Before transferring to A&M for the 2015 season, Jake kept busy at Blinn Junior College where he went 216-333 for 4052 yards and 47 touchdowns. Sounds pretty good right? It gets better. Hubenak was offered and denied scholarships from both Texas AND LSU before heading to College Station. 
The Beginning of Hubenak's Aggie Career
Hubenak joined the squad in 2015 and was put on the roster as the 3rd string quarterback behind Kyle Allen and Kyler Murray. Allen and Murray were both 5-star recruits out of high school, so to say Hubenak was overshadowed would be a MASSIVE understatement.
Throughout the 2015 season, his first SEC season, Hubenak was given short opportunities to play in 4 games (Ball State, Ole Miss, Auburn, and LSU). In these 4 games he went 12-27 for 92 yards and 1 touchdown. Aggie fans didn't think much of these not so exciting stats at the time. Why would they? There was such incredible talent on the team at the QB position. At least, that's what they believed at the time.
November and December of 2015 was an extremely stressful time for the Texas A&M football program. Within a 2 week time frame both Kyle Allen and Kyler Murray announced that they would be transferring from the school and would not be playing in the Music City Bowl.
It's Hubenak Time
For the first time, all eyes were on Sophomore quarterback Jake Hubenak. Texas A&M would be going up against Louisville, who was being lead by the now Heisman candidate Lamar Jackson.
The score was close until the very end, with Louisville taking home the W, 27-21. Hubenak performed well completing 28 of 48 passes for 307 yards and 2 touchdowns. While the loss was a disappointment, Aggie fans couldn't help but feel a glimmer of hope for the future of the offense.
At the start of the 2016 football season there was a big question mark surrounding Trevor Knight. He hadn't played in a while after being benched at Oklahoma, so naturally people were unsure if he would be prepared to step back into the game. Knight performed exceptionally well, but a season-ending shoulder injury prevented him from finishing out the season.
Jake Hubenak was, again, named the starting quarterback for the Texas A&M Aggies. For the first time, however, he would be given the opportunity to start in front of more than 100,000 fans at Kyle Field. Jake went 16-27 for 213 yards and 2 touchdowns in his debut against Ole Miss. While his numbers seemed okay, Texas A&M received the L.
Focused on the Road Ahead
With back-to-back losses coming from Mississippi State and Ole Miss, it is obvious that Texas A&M is struggling from injuries. Now is the time for Jake Hubenak to step up and take leadership of his offense. His opponent this week: the Roadrunners from Texas-San Antonio. They are an easy opponent and he should be able to really perform well.
Hopefully, Jake will gain confidence from this game and become more comfortable with his offense. A number of Aggie fans are looking to him as a potential starting quarterback for the 2017 season. Let's see if Hubenak has what it takes to close out this season on a good note and earn the starting job next year.
***Stats from Sports Reference***
This article originally appeared on