Texas A&M Football: Trevor Knight Recognized with Wuerffel Trophy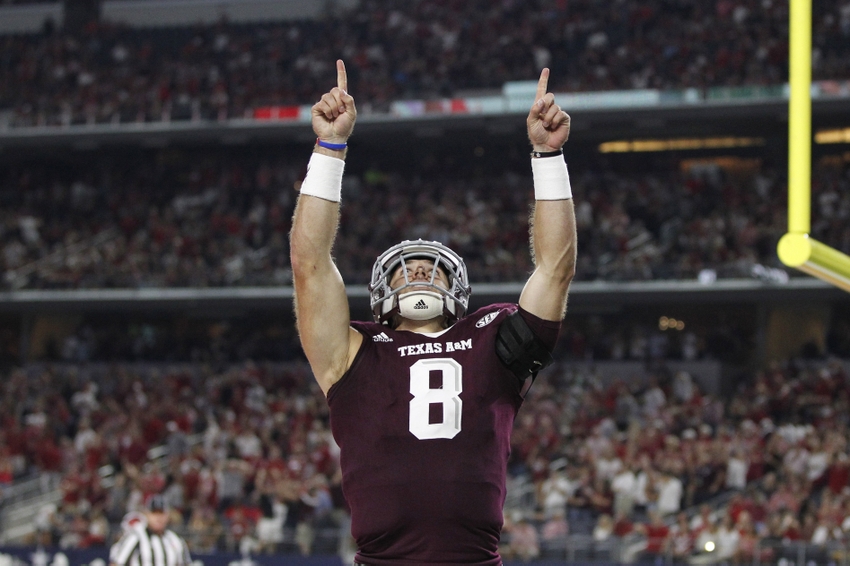 Texas A&M football quarterback Trevor Knight became the first Aggie to take home the Wuerffel trophy for community service.
First awarded in 2005, the Wuerffel Trophy is presented to "the player who best combines exemplary community service with athletic and academic achievement." This year's finalists were New Mexico center Garrett Adcock, Stanford running back Christian McCaffrey, and Knight.
A graduate transfer from Oklahoma, Knight had led three mission trips to Haiti while playing at OU. He continued that tradition this year at Texas A&M. Knight organized and led the trip and had many of his teammates join him. Knight has been a volunteer with the Fellowship of Christian Athletes, local churches, and most recently he spoke at Aggie's United.
In an interview with FanSided editorial director Michael Collins this week, Knight talked about the influence he has as a college athlete:
"There's the football side of things and those accolades are incredible. Everyone wants those, but there's an off the field piece too. I've realized that these four to five years of my life I have a platform that I might not ever have again."
Knight joins a group of SEC players who have taken home the award in its brief history. Five SEC players, including Knight, have received the Wuerffel trophy in the 11 years since it was first awarded: Rudy Niswanger (LSU), Tim Tebow (Florida), Barrett Jones (Alabama), and Deterrian Shackleford (Ole Miss).
Knight Restored Peace in a Chaotic Season
After a shaky off season the Texas A&M football program needed something or someone to calm the chaos. Knight was the person that brought unity and peace to what seemed to be a fragmented team. The impact he had on this program off the field was incalculable, but extremely significant..
Knight finished the regular season with 2,122 passing yards and 16 passing touchdowns. He was also a running threat, rushing 94 times for 594 yards and 10 touchdowns. He is expected to start one final time for A&M at the Texas Bowl in December. No matter that result, his character has forever left its mark on this program. Thank you Trevor Knight, and well done.
***Stats from Sports-Reference***
This article originally appeared on