Texas A&M Football: Three Things Aggie Fans Should Be Thankful For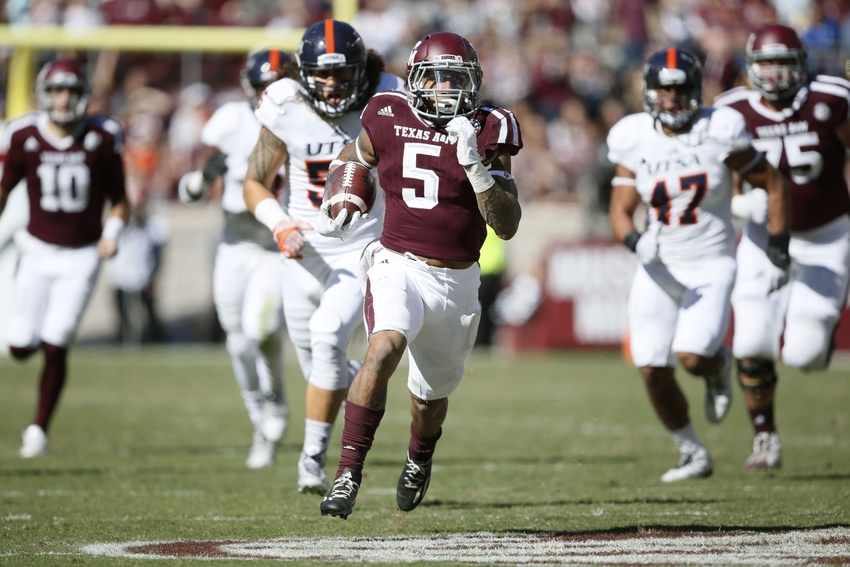 As 2016 comes to an end and we near the holiday season, I can't help but sit back and reminisce over all of the incredible things Texas A&M football fans have to be thankful for.
There is a lot that comes to mind when thinking about our team. Here, I have listed 3 things that Aggie fans can all be thankful for this season.
1. A Team-Minded Quarterback Room
A lot of very highly regarded quarterbacks have come through Texas A&M over the last four seasons. In fact, our roster has been filled with 5 star quarterbacks and Heisman hopefuls since entering the SEC in 2012. Quarterbacks such as Kenny Hill, Kyle Allen, and Kyler Murray have brought a lot of hype to the team, but have also left us high and dry on bad notes.
Currently, we have a quarterback room that truly LOVES our team. Trevor Knight came in this year with a big question mark on his back, yet always had a positive attitude. He has brought the team closer together and it feels so good. Every week Aggie fans can see tweets from our players talking about how they all attended church that week together or how they can't wait to get back to Haiti to serve their people as a team.
With Knight's injury we are left with Jake Hubenak, who has been a true Aggie fan since birth. These are the types of guys you want leading the charge in Kyle Field because they bring out the good in everyone.
2. A Newly Renovated Kyle Field
As Aggie fans, we all feel like Kyle Field is our home away from home. With a seat capacity of 92,000, the "old" Kyle Field was anything but a small stadium. However, Chancellor John Sharp felt like it wasn't quite finished. Mr. Sharp felt like the stadium should be symmetrical and shaped like a true bowl stadium.
During the renovation, they added more than 10,000 seats. This brought Kyle Field to be the largest stadium in the SEC and the fourth largest in all of college football. In an article from Sports Illustrated, Sharp noted that the renovation was one of the most nervous times of his life. He wasn't completely sure that they could fill up all 102,512 seats.
To his surprise they sold out their first game post-renovation in just 18 minutes. The stadium is now an absolute masterpiece for Aggie fans and a true terror to opposing teams.
3. Young Playmakers
Aggie fans are very excited about the young talent that fills our roster. These freshman and sophomores have accounted for a significant amount of the team's positive results this season.
When thinking about these playmakers, Christian Kirk is the most obvious that comes to mind. Since his debut last year, Kirk has been responsible for 19 touchdowns and over 2,000 total yards. Five of his touchdowns and over 600 yards came from punt returns. Everyone in the college football world knows that Kirk is a dangerous weapon when the ball is in his hands.
There's also true freshman Trayveon Williams that we tend to think about. In his freshman year, so far, Trayveon has managed to rush for just under 1,000 yards (averaging 7.0 yards/play) and seven touchdowns. With Williams being such a young athlete, Aggie fans can expect a LOT more from this young man over the course of his career. Some are even crossing their fingers, hoping for another Heisman Trophy to be brought to College Station.
4.Texas A&M in the SEC!
This season marks our 5th season in the South Eastern Conference and I think I speak for all of College Station when I say that we are extremely thankful to be here. Texas A&M has been given much more attention and hype since joining the SEC, not to mention how much easier it is to watch every game!
As Aggie fans, we have a LOT to be thankful for. Our team may have not performed ideally in their last few games, but we can all rest knowing that we have been given so much over the last few years. I am excited for the future of Texas A&M football and I know the rest of my Aggie family feels the same way.
So when you go around the table on Thanksgiving day and eat your turkey and stuffing, be sure to give a nod to the young men in maroon and white that have filled your Saturday's with laughter, joy, and entertaining football this fall. Let's get one more, BTHO LSU!
***Stats and Information from Sports Reference and Sports Illustrated***
This article originally appeared on