Texas A&M Football: Shea Patterson Downs Aggies in Freshman Debut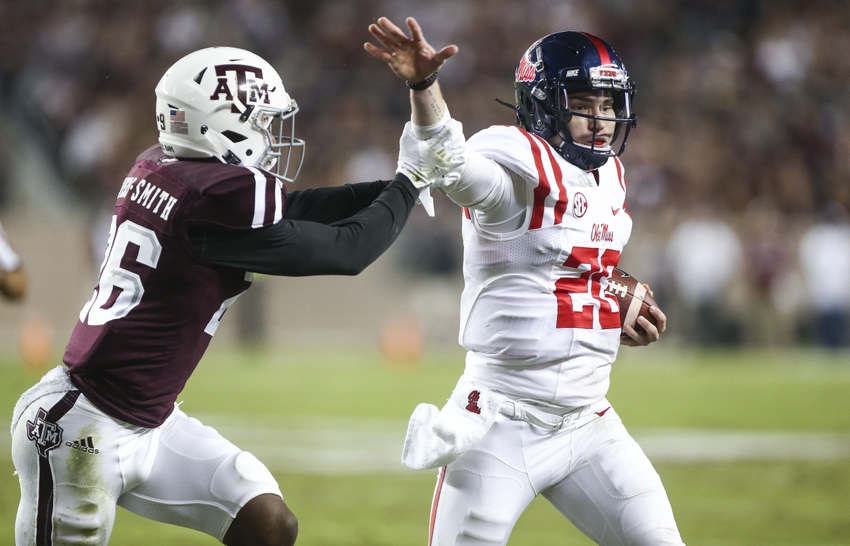 The Texas A&M football team continues to struggle in November. After a top four ranking, the Aggies have dropped consecutive games to unranked Mississippi State and Ole Miss.
VS.
| | | | | | |
| --- | --- | --- | --- | --- | --- |
| | 1 | 2 | 3 | 4 | T |
| Aggies | 7 | 14 | 0 | 7 | 28 |
| Rebels | 3 | 3 | 0 | 23 | 29 |
I'm going to address the November woes, but that deserves it's own post. Let's break down Saturday first. There were three major drivers that stood out in the loss: injuries, questionable play calling, and really bad luck.
Injuries, Lots and Lots of Injuries
Injuries are not a cop out, and it's silly to use them as a scapegoat for another poor defensive performance. However, it's unfair to ignore the impact that the loss of several of the Aggies most important players had on this game.
Armani Watts and Donovan Wilson both missed the majority of this game after exiting with early injuries. While they were on the field Shea Patterson struggled. Receivers just weren't getting open.
It wasn't until after both Watts and Wilson had left the game that the Rebels offense started clicking. Ole Miss scored 23 of their 29 points in the final 15 minutes. Larry Pryor played relatively well in emergency fill-in duty, but it wasn't enough to stop the bleeding.
The losses of Connor Lanfear, Trevor Knight, and Noel Ellis were felt. Deshawn Capers-Smith and Alex Sezer have been forced into more playing time these past two weeks. Both have shown themselves to be vulnerable to the deep ball at rather inopportune times. Nick Harvey is no longer the weak link in the secondary. He has been excellent, but the Aggies aren't deep enough to survive these injuries.
Myles Garrett said he was no better than 90 percent healthy in the post game press conference. Since Garrett was hobbled against Arkansas, the number of points allowed per game has continued to climb.
Play Calling
With the game on the line the Aggie offense had the ball with 5:17 remaining on their own 9 yard line. They had just completed an 11 play, 76 yard drive the series before. Instead of continuing to be aggressive, they handed the ball to Trayveon Williams up the middle on first and second down. That set up a third and seven which Jake Hubenak was unable to convert.
That failed drive set up the Rebels on their own 42 yard line following a Shane Tripucka punt. Ole Miss drove down the field and stole the game on a Gary Wunderlich 39 yard field goal. No way to sugarcoat this, Noel Mazzone's lack of aggression cost the Aggies a very winnable game.
And then their was the two tight end sets. Texas A&M hasn't utilized a tight end all year yet they found themselves with two tight ends on the field for multiple drives last night.
They put Christian Kirk on the bench in favor of Kevin Cline. One or two short yardage plays might be reasonable, but keeping your most dynamic player on the bench seems a bit short sighted to me.
Ole Miss came into Saturday's game with one of the worst rushing defenses in the SEC, surrendering more than 200 yards per game. The Aggies tried to play to the Rebels weakness by putting big bodies on the field and running it up the gut.
It wasn't a terrible strategy, but it was a complete aberration from the offensive philosophy that Kevin Sumlin has operated with in College Station. Alabama doesn't have to get cute to win football games. Texas A&M is not Alabama, but that formation seemed a bit desperate.
Bad Luck
The recipe for a road upset looks similar for most teams. Don't lose the turnover battle, catch a few breaks, and be in striking distance in the fourth quarter. The Rebels checked all of those boxes on Saturday.
Christian Kirk dropped a fourth down pass on the first drive of the game that would have put the Aggies in field goal range
Speedy Noil dropped the pass from Christian Kirk in the end zone
Ole Miss fumbled four times and recovered three of them
Ole Miss muffed a punt and was able to fall on it
Stringfellow made an incredible fingertip catch down the sideline to set up an Ole Miss touchdown. If he doesn't haul that in, it's third and long.
Patterson was able to avoid a sack and throw across his body for the touchdown after a Johnny-like scramble
There are some things that you can't coach and some plays that you can't control no matter that number of reps at practice. Ole Miss played well on Saturday, but they probably don't win without a lot of that luck. The Aggies certainly had some things go their way, but ultimately it wasn't enough.
***Stats from Sports Reference and ESPN***
This article originally appeared on