Texas A&M Football: Season Rewind – Trayveon Williams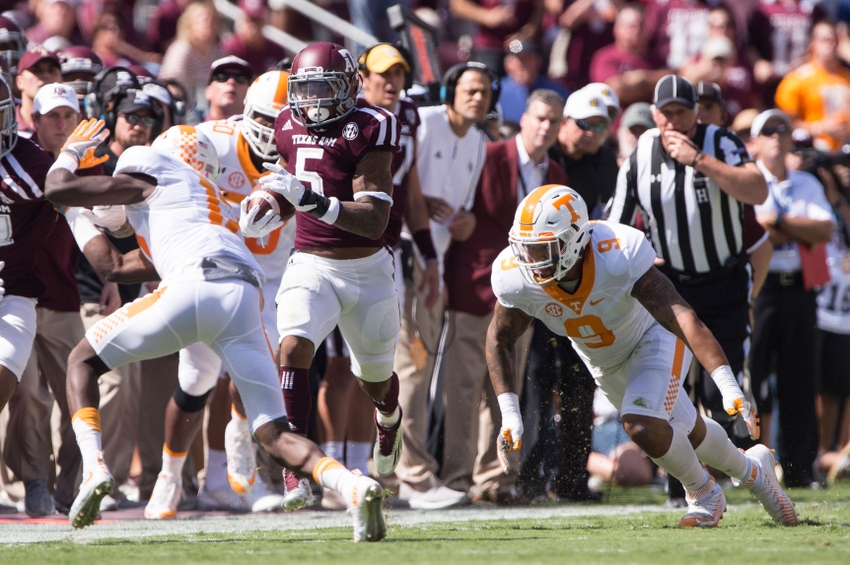 Trayveon Williams will have high expectations next year after a record shattering freshman season for the Texas A&M football team.
Stats
Rushing: 147 carries for 1,024 yards and 8 touchdowns
Receiving: 18  receptions for 81 yards
Recap
With this 33 yard touchdown run in the third quarter of Texas A&M's loss to LSU Trayveon Williams became the first true freshman running back in A&M history to rush for 1,000 yards. No small feat for someone that was buried in the depth chart behind James White and Keith Ford at the start of the season.
Williams burst onto the scene with a 94 yard rushing performance in the home opener against UCLA. He would go on to have four consecutive games over 100+ all purpose yards against SEC opponents: Auburn, Arkansas, South Carolina, and Tennessee.
He earned some national recognition after a 28 carry, 217 yard performance against the Tennessee Volunteers. There was an opportunity to put the Vols away for good, but Williams fumbled through the end zone on what would have been a 72 yard touchdown run in the final minutes of the fourth quarter. By seasons end he would have eight touchdowns to his name.
Looking Ahead
The Aggies seem to have found their feature back for 2017. His incredible ability to find a gab and explode into the secondary makes him a prime candidate for more highlight reel plays in the future.
Williams eight touchdowns this year came from the following yardage distances: 89, 33, 22, 49, 7 , 12, 47, and 33. That's an average of 36.5 yards per touchdown and it would have been 40.4 yards per touchdown if he'd been able to hold onto the ball against Tennessee.
Trevor Knight will be gone next year and red shirt freshman Nick Starkel or true freshman Kellen Mond will be in competition for the starting quarterback job. Having a weapon in the backfield will be a huge boost to the offense in 2017, especially if one of those young guys were to take helm.
Regardless of who is under center, Williams has Heisman-worthy talented waiting for another opportunity to shine.
***Sources 247sports, Sports-Reference.com***
More from Gig Em Gazette
This article originally appeared on