Texas A&M Football: Season Rewind – Ricky Seals-Jones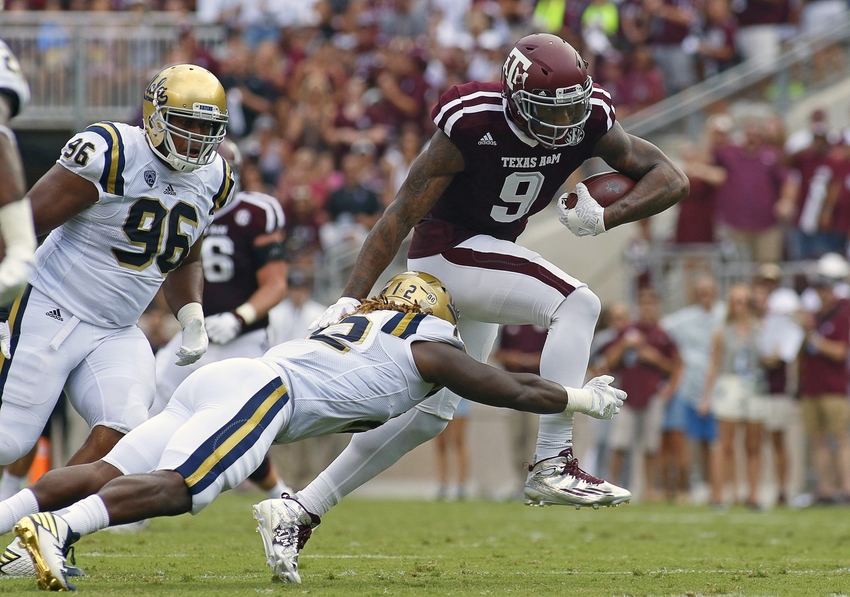 Junior receiver Ricky Seals Jones wasn't as big of factor in 2016 as he had been in years past. If he returns next year, he could play a key leadership role on a young team.
Stats
Ricky Seals-Jones caught 20 passes for 299 yards this year. He was held without a touchdown reception, but so were all but three Aggie wide receivers this year. He has 117 catches and nine touchdown receptions in his Aggie career.
Recap
It's not like Seals-Jones was an afterthought this season. He ranked third on the team in targets with 49 and receptions 20.  Drops plagued the 6'5″ wide receive this year. Offensive coordinator Noel Mazzone made an effort to get the ball to Seals-Jones across the middle to start games early this year, but for one reason or another the receiver couldn't hang on to that first pass.
When he did catch the ball he was able to make plays. All but five of his 20 receptions went for first downs, including a season long reception of 34 yards against UTSA. He was shut out in Texas A&M's final game against LSU.
Looking Ahead
Seals-Jones started his Texas A&M career with a bang in 2013. He caught two first half passes before Johnny Manziel connected with him on a 71 yard touchdown pass, on which he suffered a season ending knee injury. He took a medical red shirt in his first season, meaning Seals-Jones still has one more year of eligibility remaining.
There hasn't been any indication from his camp what he plans to do regarding the NFL draft at the end of the season. His side and speed alone give him a good shot at being drafted. Most big boards have him going somewhere between the second and fourth round.
Current Senior Josh Reynolds will be gone next year. If Seals-Jones might be in line for a bigger role if he does decide to return. Seals-Jones was a part of the coin toss for most A&M home games this season, which would indicate he plays some leadership role within the team. There might be a chance Seals-Jones feels he has some unfinished business to attend to before he leaves Texas A&M for good.
***Sources 247sports, Sports-Reference.com***
This article originally appeared on