Texas A&M Football: Season Rewind – Justin Evans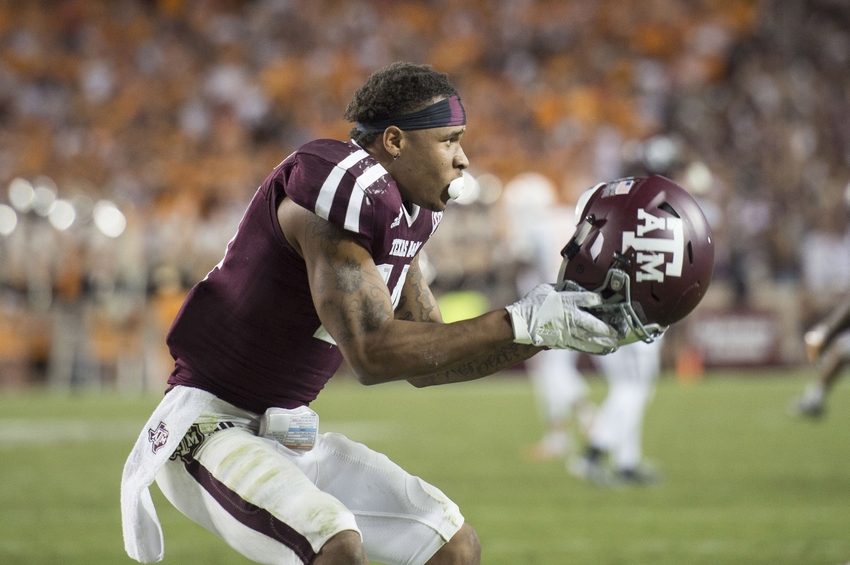 Justin Evans was a key leader of the injury riddled defense of the 2016 Texas A&M football. His passionate play made him a crowd favorite among the 12th man.
Stats
2015 – 78 tackles, 1 interception, 3 passes defended
2016 – 85 tackles, 4 interceptions, 6 passes defended
Kickoff Returns: 16 returns for 451 yards, 28.2 yards per return
Recap
Evans was a JUCO transfer who joined Texas A&M as a junior and made an immediate impact on the field. Coach Sumlin often talked about the chip on the shoulder that Evans and fellow safety Armani Watts carried into the season after both were snubbed from the all-conference teams.
Evans started the season off with a bang, intercepting Josh Rosen twice in the season opener and making eight tackles. He didn't have another game on the stat sheet that stood out like that one, but his impact on the field cannot be overstated. In spite of injuries, Evans persevered playing in all 12 regular season contests. He is one tough guy.
Looking Ahead
LSU Junior safety Jamal Adams is expected to forgo his Senior year and enter the NFL draft. That's the only strong safety that CBS Sports has ranked higher than Evans. His toughness and ball hawking nature make him a tantalizing prospect for NFL teams.
He and fellow teammate Josh Reynolds have accepted invitations to the Senior Bowl. An impressive bowl performance and a good night at the Senior Bowl could propel him into the first round of the NFL draft.
With Evans in the NFL, red shirt freshman Larry Pryor will most likely take his place next season. Pryor was forced into extended playing time when Watts was injured during the Ole Miss game. In just over one half of game action that night he recorded six tackles and an interception.
***Sources 247sports, Sports-Reference.com***
This article originally appeared on