Texas A&M Football: Season Rewind – Josh Reynolds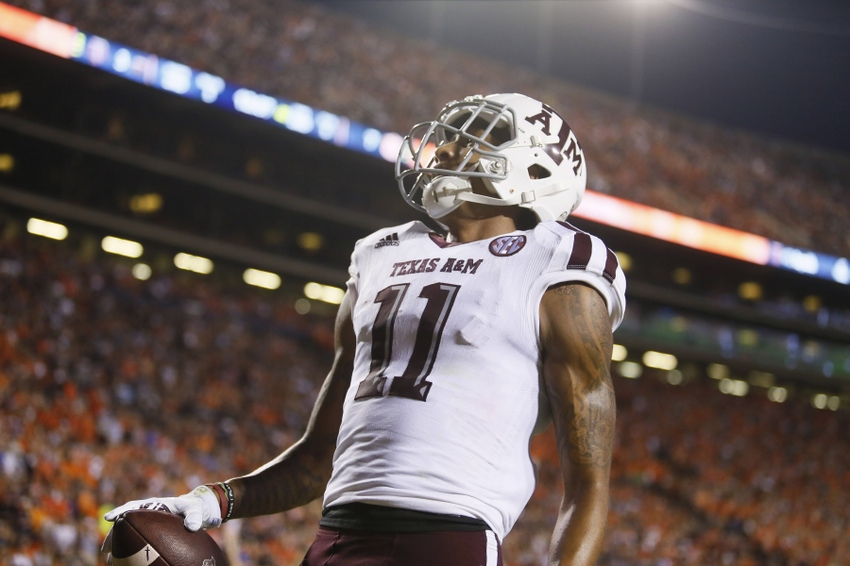 Texas A&M football senior wide receiver Josh Reynolds may have been the most underrated player in the SEC and will be missed by many Aggies next year.
Stats
Josh Reynolds led the Aggies in receiving yards (885) and touchdowns (10). He was one of the most productive offensive players by far, averaging 18.1 yards per catch this season.
With just a bowl game left to play, Reynolds will finish his Texas A&M career with at least 28 touchdown receptions, the second most in school history to Jeff Fuller (34). Unless he scores seven touchdowns against Kansas State in the Texas Bowl, wouldn't that be something?
It's worth noting that Fuller also had 28 touchdowns after his third season. Had Reynolds played four years, he would probably be the Aggies' all time leader.
Recap
Prairie View and South Carolina were the only two schools that were able to "prevent" Reynolds from getting into the endzone. He scored in all 10 other contests this year, including the final seven games of the season. That set a school record.
Reynolds and teammate Christian Kirk were the only Aggies to record a reception in every game this season. Kirk did a lot of work at the line of scrimmage while Reynolds was Trevor Knight's and Jake Hubenak's favorite deep target. He owns the longest play from scrimmage in 2016, a 92 yard touchdown pass from Knight against Arkansas.
He also owns one of the most impressive circus catches of the year, reeling in a one handed grab from Knight in the loss to LSU. I'm going to miss seeing him suited up in maroon next year.
Looking Ahead
He won't be playing on Saturday's next year. Instead he's moving up to Sunday football. At six foot four inches tall, Reynolds has NFL size to go with his speed and compares well with current NFL wide receiver and fellow Texas Aggie Mike Evans.
It would be fairly shocking for Reynolds to go undrafted. The real question for him will be has he done enough to sneak into day one, or will he be a day two selection?
***Sources 247sports, Sports-Reference.com***
This article originally appeared on