Texas A&M Football: Questions Abound for the A&M Program
Kevin Lindstrom/FanSided via Gig Em Gazette

Fansided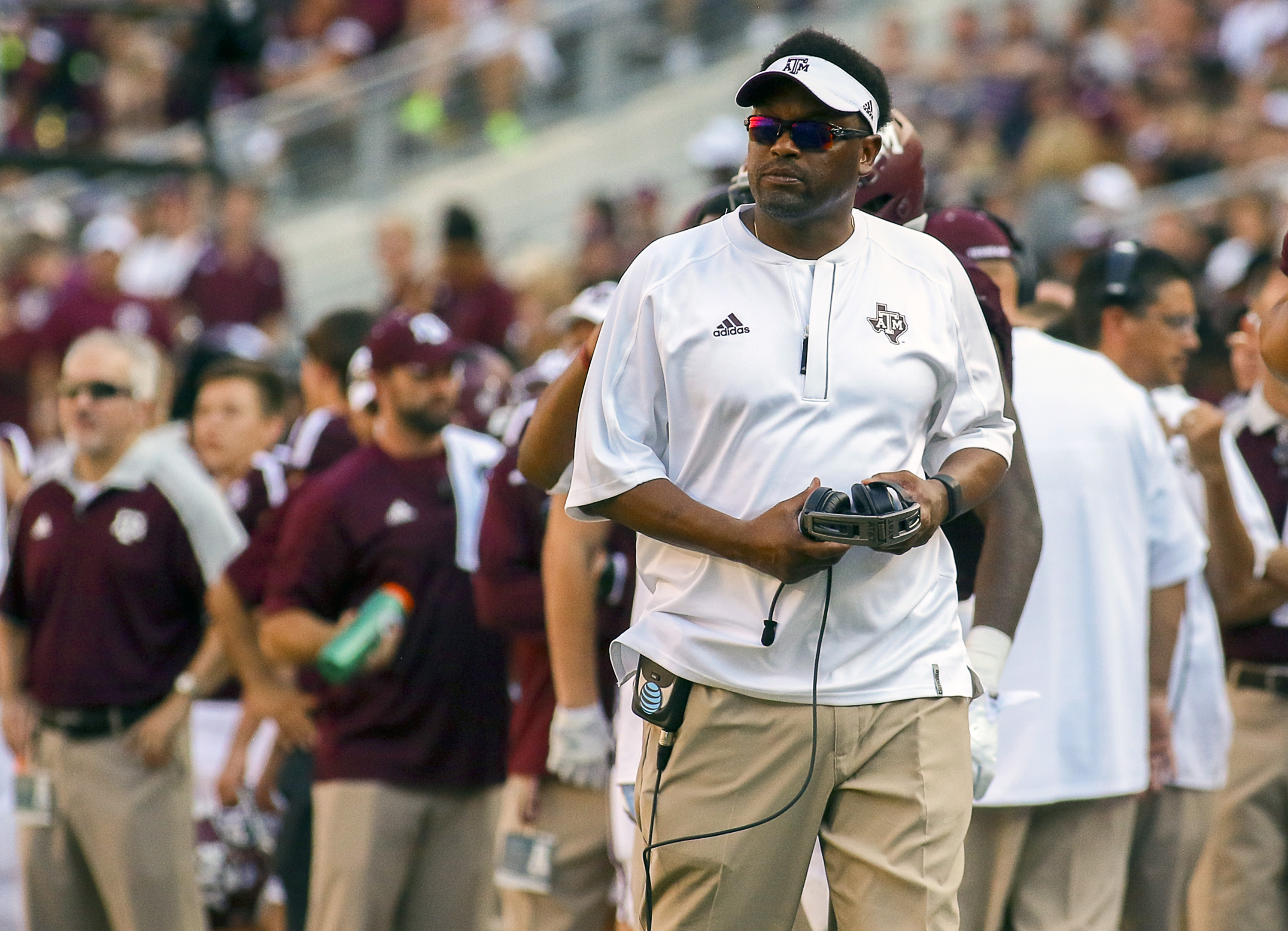 The 2016 Texas A&M football season gave us some legitimate highs, but also some real lows. Let's examine some big questions facing the program today.
Sadly, the inconsistency was shown to be solely because of immaturity at a key position, but rather a reflection of a systemic lack of depth. By the time the team got to the LSU game, a defense that had played more than well enough to beat Top 10 Tennessee squad was not good enough to keep the Tigers' backup running back from setting records.
It wasn't just the absence of Armani Watts. Granted, Derrius Guice isn't an awful back, but he ran wild for long stretches of the last game at Kyle Field in 2016.
It was not just on defense. Injuries and suspensions to players across the roster cost the team in another late season collapse. That leaves us with a slew of things to figure out going into the Spring Semester.
Some of these are bigger than others, but at some point, these are all things that Kevin Sumlin and his squad will have to answer.
Defense
Can we EVER get linebackers on campus?
The lack of linebacker talent, not just starters but real depth, will kill any defense. That's especially true in the SEC West. Chavis knows this. Question is, what can be done about it? 2016 was not a complete dumpster fire as there were improvements on previous seasons. Shaan Washington, thank you. But both top level talent and depth is missing, especially as this team needs to stop the run. Perhaps newly arrived Anthony Hines will be an answer?
Can Chavis hide his cornerbacks next year?
Now that he won't have his prized Defensive Ends, will he be able to keep his corners from being exposed? The first two seasons the Chief has had a pass rush that minimized the time his corners are exposed. No matter how good the new guys are at end, they won't be good enough to be Myles Garrett and Daeshon Hall. This is another way that linebacker issues make things difficult for the team.
How much drop off will their be on the line?
Speaking of the defensive line, how much of a drop off will there be? Our sense is that it probably isn't a huge drop off as there is still talent on the roster, but you don't lose two NFL players from a unit without it being some drop in play.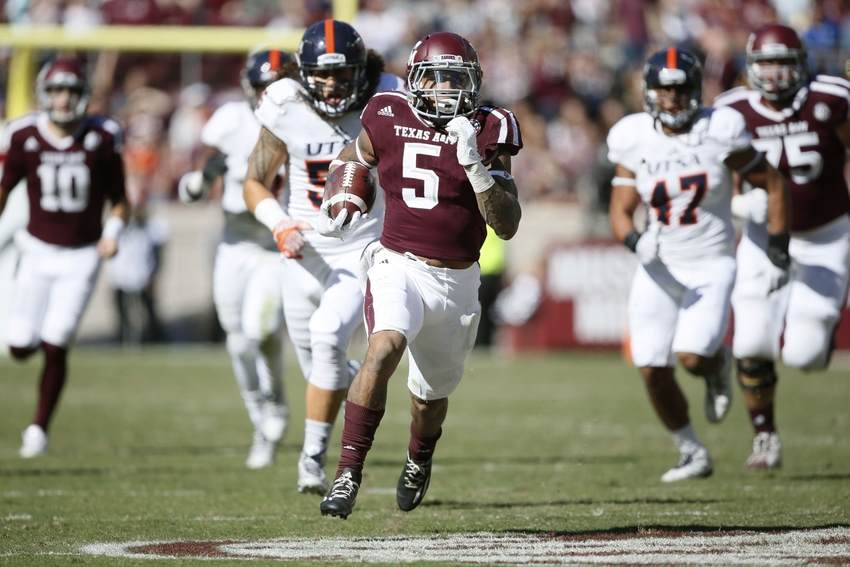 Offense
Can the offensive line reload and improve?
With Jermaine Eluemunor and Avery Gennesy moving on, will the line be able to replace those two? At the same time, the guys coming back will need to make some strides of their own. How much more can Jim Turner get out of the young talent he will be working with?
Who will start at quarterback?
Kellen Mond will be on campus for the Spring. He's going to compete with Nick Starkel and Jake Hubenak for the starting job. Who will the starting quarterback be? More importantly, will he be ready for the tough schedule ahead? Quarterback play was satisfactory in 2016, but can whoever wins the job this year be an improvement over what Hubenak was for the Aggies in 2016?
Who will fill the shoes of Josh Reynolds?
Christian Kirk is a great receiver, but he really isn't the same type of possession receiver that Reynolds was. That means that someone who hasn't impacted the roster yet is going to have to step up. The door is open.
Can the wide receiver position as a whole improve?
Their pass catching and route running has not been as good as it was early in Sumlin's time in College Station. How much of that regression is the talent on the roster and how much of that is the coaching staff is debatable, but the results are not. Simply put, this offense cannot operate well with only two of the four wide receivers operating at a high level.
Coaching and Special Teams
Fortunately for the Aggies, there aren't many questions concerning special teams. The main specialists: Braden Mann, Shane Tripuka, and Daniel LaCamera are all returning. The only remaining open position would be at kickoff returner.
He wasn't as impactful as he was as a freshman, but he was still a reliable return man. Justin Evans had a few big returns, but he's gone as well. There will be a fresh wave of new legs in 2017, that might be true of the new returner as well.
What will change in the offensive play-calling?
This was Mazzone's first season as the offensive coordinator, and he only had one year to really learn his roster and try to do something with it. Now he has time to see how things worked, and how his calls impacted a defense that wasn't as strong as maybe he thought it would be. What does he do different? It is also going to be a big part of the success (or lack thereof) the team will have next year. Also related – Can Mazzone do a better job of using his running backs at the right time (i.e., Ford early, Williams late)?
What areas of Texas recruiting are being missed or not maximized?
And how should that be addressed? With all of the changes going on at other major Texas schools, and the the increased focus on Texas recruiting by national programs outside the state, the Aggies have even less room for error. More and more Texas recruits are leaving the state. That needs to change, quickly.

Coaching Personnel
What can the new strength coach accomplish?
We know that the strength and conditioning coach is changing, and recently we found out it will be Matt Hocke. Hocke certainly comes from some successful programs, including ones who have won national titles recently, Alabama and Florida State. There is good reason to think he can get something done in Aggieland. The issue is time. Player development and growth is always a long term process. Then again, no time like the present to get to work on fixing things.
How does a John Chavis Defense fit in College Station
There is one massive question that I have had since the announcement that Chavis was coming to College Station – how does an aggressive, Chavis' style defense mesh with the kind of high octane offense that Sumlin has always preferred? Clearly, Mazzone's system allows for more running, and at times, it worked this season. But is it enough?
What other coaching changes are coming, if any?
With the change at S&C, you have to think that won't be the only change. Nothing else has been announced as of yet, but the offseason is still young.
These are just some of the issues the team will have to address in the next twelve months. What questions do you have? And what do you think the answers will be? Comment here or on Facebook. We're interested in hearing what you have to say.
This article originally appeared on