Texas A&M Football: Is this the Last Thanksgiving Game Ever?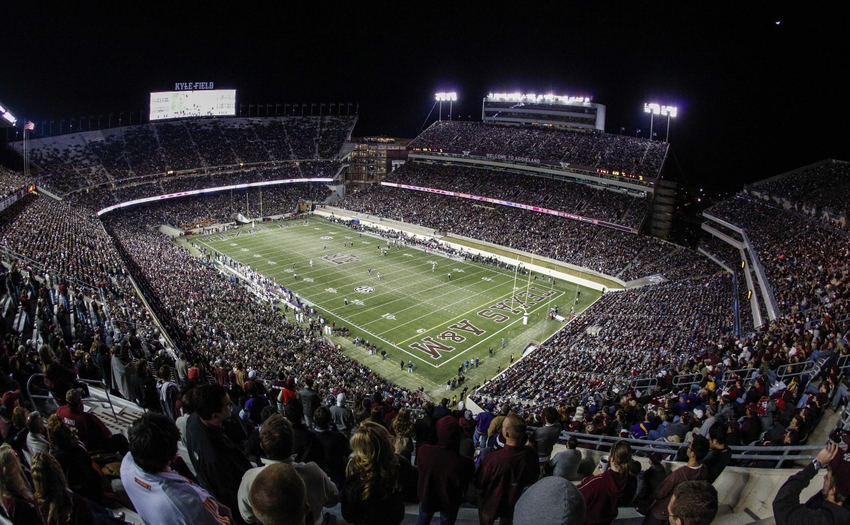 A beloved Texas A&M football tradition could very well be coming to an end this year after the Aggies take on the LSU Tigers on Thanksgiving Night.
Aggies are pretty big on tradition so the end of football games on Thanksgiving will be hard for many to get used to. When Texas A&M made the jump to the SEC and severed ties with Texas University the rivalry game with the Longhorns came to an abrupt end. As a consolation of sorts, the LSU Tigers agreed begrudgingly to play the Aggies on Thanksgiving Night when the game took place at Kyle Field.
Texas A&M and LSU have met on Thanksgiving just once. The Tigers won the game 23-17 on what many considered a controversial interception. After a LSU played jumped offside, quarterback Kyle Allen threw a deep pass on what he assumed would be a free play. The ball was picked off and there were no flags on the field.
And now LSU seems to be fed up. Effective 2017 the Aggies and Tigers will end the regular season on the Saturday after Turkey Day.
For the first time in decades Aggie faithful will finish their leftover mashed potatoes and cranberry sauce and lay down on the couch only to find early Christmas movies, no football.
A natural solution would be to move the LSU game up one week and leave the schedule open for say, I don't know, a certain school that currently resides in the Big 12. With LSU out, it just makes sense to find some way to restore one of the most coveted college football rivalries in the state of Texas.
Will A&M and Texas ever play again? Time will tell. As a fan of good football, it's a shame that two of the most historic college football programs in the state of Texas don't get to settle the score on the field.
This article originally appeared on