Texas A&M Football: Is Kevin Sumlin on the Hot Seat?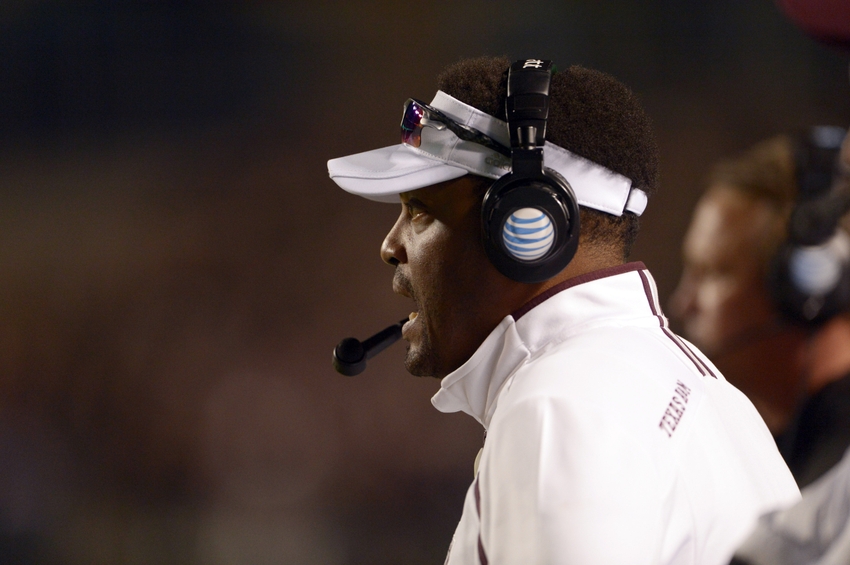 The Texas A&M football seamed to be off to new heights after a 6-0 start and a top four ranking in the first college football playoff poll. Now coach Kevin Sumlin could be fighting for his job.
First off, no, Kevin Sumlin should not be fired. There has been a lot of chatter on the Twittersphere this weekend about the job security of the 7-3 Aggie football coach. I get it. No matter how you feel about Sumlin as a head football coach, his team did just lose consecutive games to the bottom two teams in the SEC West.
In both games, Sumlin's team was favored to win. In both games, Sumlin's team was ranked in the top 10 while his opponent was unranked and had just one conference win. I get the frustration with the team. As a life long Aggie fan, like many of you reading this, I had dared to dream that this year had the chance to be "the year". It won't be.
At this juncture it's important to evaluate the facts of Sumlin's coaching tenure at Texas A&M, not just the emotional state of the fan base, although that does play a part in this discussion.
Elite Head Coaches Don't Grow on Trees
Unless A&M is able to pluck Nick Saban away from Alabama like they did John Chavis away from LSU, there won't be a "sure-thing" alternative to Sumlin in the coaching market this winter. I've head the list of names, most of which are either unattainable or no better than Sumlin.
First off, great coaches very rarely leave their programs, especially if their programs are a part of the upper tier of college coaching. Dabo Sweeney isn't going to uproot and move to Texas, so why waste time dreaming about it.
Want your voice heard? Join the Gig Em Gazette team!
Secondly, it takes time to build a culture. Sumlin has been at Texas A&M for the better part of five years. In that time he's had four top 15 recruiting classes. Clearly the man knows how to get talent in the door. Sumlin has been been coaching winning football for nearly a decade.
Tom Herman or P.J. Fleck, both rising coaching names, have very short track records. Could they pan out at a big program? Sure. But could they flame out just as quickly? Absolutely. The sample size is just way too small.
Kevin Sumlin has the best winning percentage of any Aggie coach since Dana Bible
Yes, that's a fact. There are 11 coaches in the history of the Aggie football program that have won more than two-thirds of their games. Of those 11, seven of them coaches in fewer than 30 games.
The four coaches above that mark: Kevin Sumlin (2012-present, .694 winning percentage in 62 games), R.C. Slocum (1989-2002, .721 in 172 games), Dana Bible (1917,1919-1928,  .765 in 100 games), Charles Moran (1909-1914, .802 in 48 games).
Sumlin is among the Aggie coaching elite. He's not Bear Bryant, who by the way had just a .634 winning percentage at A&M, but he is a winner. No one has been better at Texas A&M in nearly a century.
Kevin Sumlin is Not Going Anywhere
A win over LSU would do a lot to earn the man some brownie points. That being said, even another 8-4 season won't be enough to cause the administration to cut ties with Sumlin, and they shouldn't.
Sumlin is a good coach. He has one losing season in his career: 2010 at Houston. It's also probably not a coincidence that it was the same season that starter Case Keenum was injured during the year and missed most of the season.
These last couple of losses have stung, but Sumlin has the tools and the talent to turn this team around. Every season in the SEC West is hard. It's the most physical division in college football. Unless you're Alabama, expecting a national championship every year isn't a realistic. Building a program that's in position to compete for years to come should be the goal. And I believe Kevin Sumlin is the man for the job.
***Stats from Sports Reference***
This article originally appeared on