Texas A&M Football: How Good is Christian Kirk?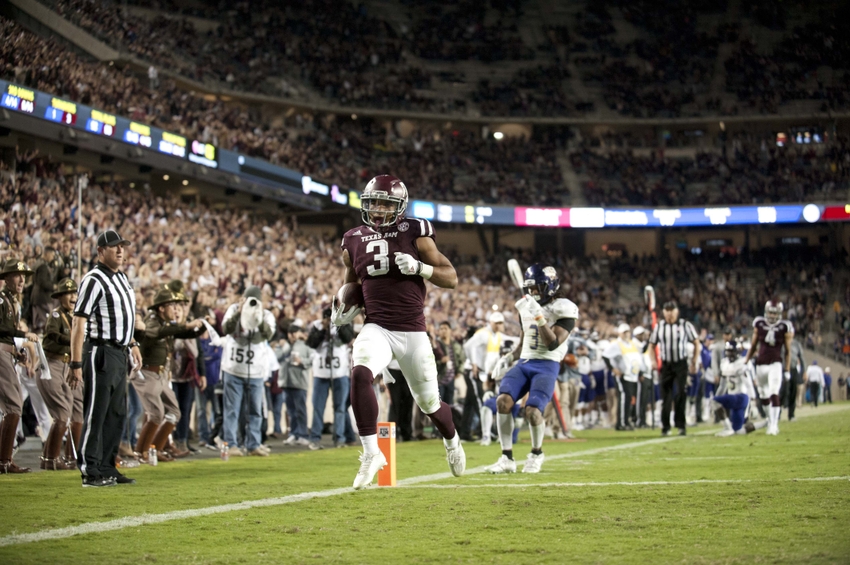 Texas A&M football has had its fair share of elite wide receivers throughout the years, but Christian Kirk may just one of the best in school history.
Christian Kirk was the crown jewel of the Aggies 2015 recruiting class. Kirk was the number one player from the state of Arizona, and it seemed like the maroon and white would be a perfect fit for Kirk early on. He had a relationship in place with quarterback Kyle Allen, a fellow Arizona native, and the spread offense of Kevin Sumlin is an ideal fit for receivers everywhere.
It didn't take long for Kirk to make an impact on the field for the Aggies. In his first collegiate game against Arizona State at NRG Stadium Kirk caught six balls for 106 yards and a touchdown and returned a punt 79 yards for a score. That was the first of his five punt return touchdowns for the Aggies in his first 22 games.
Christian Kirk stands alone atop the Aggie leader board with those five punt return touchdowns. He also became the first Texas A&M player ever to return two punts for touchdowns in the same game in a victory over New Mexico State earlier this year.
There are only 13 players in college football history who have more punt return touchdowns than Kirk. And he still has at least one more season in Aggieland to add to his numbers. Beyond his return ability, Kirk has registered at least 50 yards or receiving or a touchdown in 17 of his first 22 career games. That's incredible.
Going into the Ole Miss game, Kirk leads the Aggies in receptions (61) and receiving touchdowns (7 – tied with Reynolds). He also has three punt return touchdowns in his past two games. He's going to find a way to get into the end zone, the real question is how many times?
***Stats from Sports Reference***
This article originally appeared on