Texas A&M Football: Breaking News! Trevor Knight will start against LSU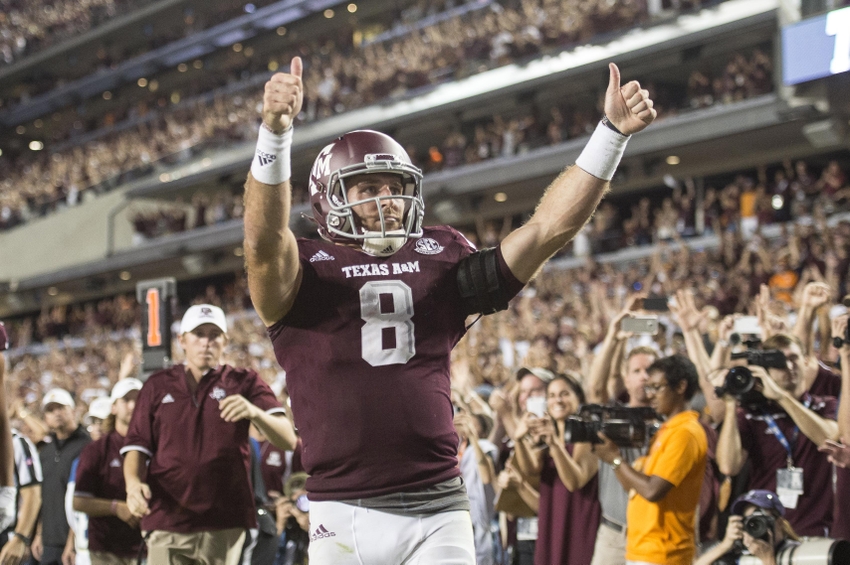 BREAKING NEWS: Trevor Knight will start at quarterback against LSU in tomorrow's Thanksgiving Game! A Texas A&M football legend is in the making.
Tonight, Texas A&M football fans received some incredible news! Trevor Knight, the original starting quarterback who was said to be out with a season ending shoulder injury, will be starting in the Aggie Thanksgiving Game against LSU.
Rapid Reaction
This is music to all of our ears. While we have grown to love Jake Hubenak, Knight is the clear better choice to face such a difficult team. Trevor Knight has performed exceptionally well this season. In the first 9 games of the season he threw for 1911 yards and 13 touchdowns, along with rushing for 583 yards and 10 more touchdowns!
Trevor Knight has proved to be the true leader of Texas A&M's offense. He came into the season with a big question mark on his back and quickly earned the trust and support his teammates, coaches, and fans. To say Aggie fans are excited is a massive understatement and I think I can speak for us all when I say that we are much more confident going into this game with Knight leading the charge.
We had initially predicting LSU winning in College Station by a score of 23-21. Betting markets opened with the Tigers favored by 4.5 points before being bet up to 7 points on Wednesday evening. Knight is a wild card and he's probably worth a touchdown by himself. LSU will be favored, but it's a fifty-fifty proposition at this point. Gig'em Aggies and beat the hell outta LSU. Whoop!
***Stats from Sports Reference***
This article originally appeared on