Texas A&M Football: Aggies Run Away from New Mexico State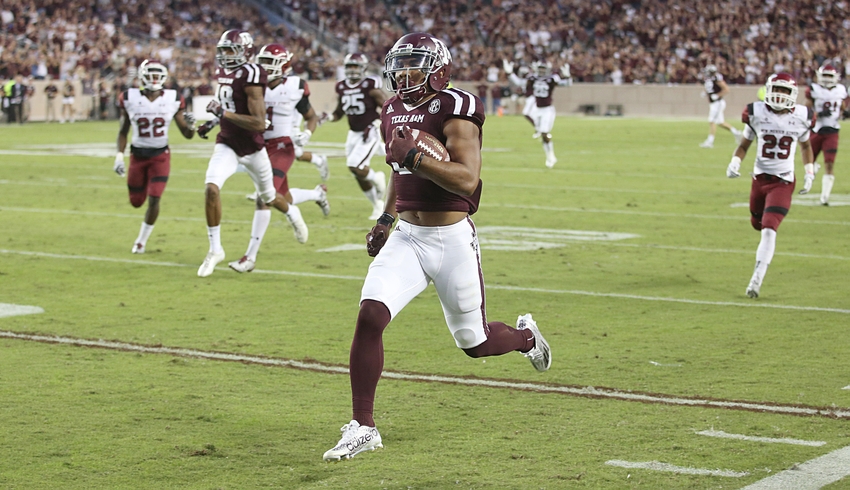 More than 99,000 people saw Texas A&M obliterate the Aggies of New Mexico State. It was a game that wasn't supposed to be close, and the maroon and white took care of business at home.
Christian Kirk is Good at Football
With a 7-0 lead in the first quarter, Kirk returned a punt 70 yards for what would prove to be the game clinching touchdown. That was his third return of his career, tying a school record.
Kirk would add a three yard touchdown reception at the end of the second quarter before he torched the New Mexico State return team (again) for his second punt return touchdown of the game, this time a 73 yard dash. His second return, the fourth of his young Aggie career, set a school record.
Only in his second season with the Aggies, Kirk became the first Texas A&M player to return two punts for touchdowns in school history. He would finish with 179 all purpose yards and 3 scores on just 7 touches.
Future is Bright for Aggie Running Backs
Freshman Kendall Bussey, a three star recruit out of Louisiana, had 85 yards on the season coming into the New Mexico State game. Once the Aggies had jumped out to a comfortable lead, Bussey carried the ball 10 times for 87 yards, adding one catch for five more yards. James white, Kwame Etwi, Jake Hubenak, and even Connor McQueen all rushed at least once during the victory. By the end of the game, eight ball carriers combined to rush for 233 yards.
Depth is critical in the middle of a race for the SEC championship. The great teams don't start over, they reload from within. Last year the Aggies relied on Tra Carson to carry the load. Carson was responsible for 48.3% of Texas A&M's carries in 2015. This year, lead back Trayveon Williams has 99 carries and is responsible for just 31.6% of the team's total carries.
Trevor Knight's legs play a significant part in that diversity of carries, but Keith Ford has played an important role to this point as well. Knight, Williams, and Ford give the Aggies talent and depth. They'll need that to stay the course in the toughest division in college football.
Defense Proves They Can Plug and Play
Armani Watts, Myles Garrett, and Priest Willis did not play on Saturday, but the A&M defense didn't flinch. Down three starters, the defense allowed five third down conversions in 20 attempts and 18 first downs. After the first half came to an end a slew  of backups played the majority of the remainder of the game.
New Mexico State averaged just 3.9 yards per attempt passing, throwing for 147 yards on 38 attempts. They were slightly more effective on the ground, rushing 39 times for 169 yards. In typical John Chavis style, the defense allowed some yards, but not very many points. Honestly, they didn't have to work very hard to shut down New Mexico State.
Overall this was a thoroughly dominant win against a team that the Aggies were supposed to beat. Good teams beat bad teams, and it's refreshing to not have to worry about the next Arkansas State that vies for an upset at Kyle Field. The team didn't have to fire on all cylinders to win by 42 points. That bodes well for a trip next weekend to Starkville to take on Mississippi State.
***Stats from 247 Sports, Sports-Reference, ESPN ***
This article originally appeared on