Texas A&M Football: Aggies Ready for Thanksgiving Showdown with LSU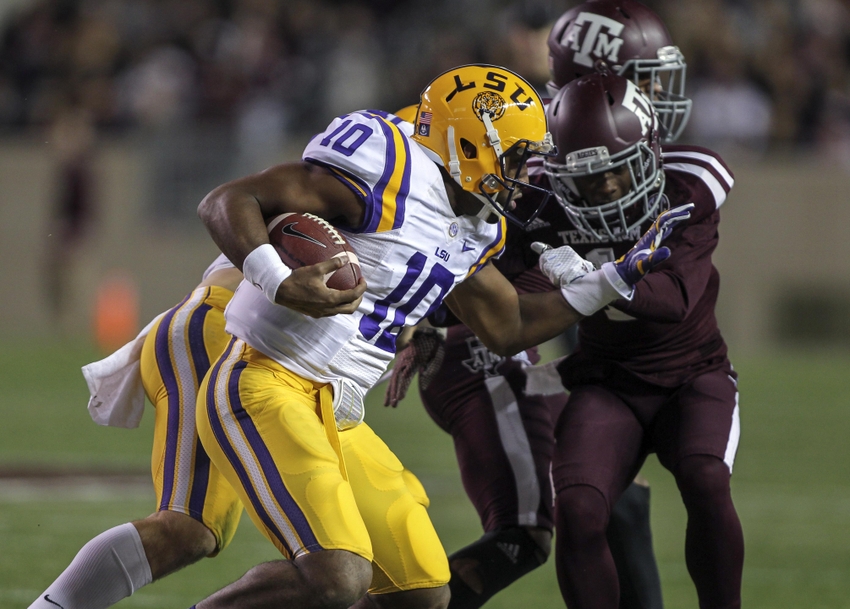 The Texas A&M football team will be looking for their first nine win season since 2013 an their first winning record in conference since 2012. They'll have to go through a good LSU team to do it.
Kevin Sumlin and company are going to have to pull out all the stops to beat a resurgent LSU team. Thursday's game has become the most important game of the season. A loss will all but write off the Aggies as perennial second half chokers that are unable to win big games in November. Yikes.
A win, however, would put the Aggies in the drivers seat for a 10 win season with a victory in what could be a New Year's Six bowl game. See how different that story line becomes? Thanksgiving is a must win for the Aggies, as it should be every year.
Since joining the Southeastern Conference in 2012 here is where Texas A&M stands against each opponent in the SEC West:
Arkansas : 5-0
Auburn : 3-2
Mississippi State : 3-2
Ole Miss : 2-3
Alabama : 1-4
LSU : 0-4
The coaching staff and players are well aware that they've yet to beat the Tigers. They'll say the right things at the press conference and will promise to "focus on this game" and not the history between the two schools.
But wouldn't it be nice to finally take down LSU? Losing to LSU last year saved Les Miles' job. Beating LSU officially put an end to any thoughts of interim coach Ed Orgeron keeping the job. Either way, this game has a lot of importance to both programs. Enjoy.
LSU Players to Watch
HB, Leonard Fournette
NFL mock drafts are split at the top. The first round pick is shaping up to be a battle between Leonard Fournette and Myles Garrett. Garrett probably wins out because of the position he plays. However, if NFL general managers are watching what Ezekiel Elliot is doing right now Fournette might keep the race neck and neck.
That's how good Fournette is. Last year he finished with 1,953 rushing yards and 22 rushing touchdowns. Like Garrett, he's been hobbled this year with injuries, but he has still found a way to produce. Coming into the Texas A&M game, Fournette has set a career high with 6.9 yards per carry. He hasn't lost a step. He  will be a game time decision on Thursday.
HB, Derrius Guice
Guice is the best back up running back in the nation, and he's probably better than the majority of the first string backs too. The speed and quickness of the 5'11" sophomore from Baton Rouge has been the perfect compliment to the power running of Fournette.
The A&M defense is going to have to find a way to meet him at the line of scrimmage. If he finds a way to get past the linebackers the Aggie defense might be in a lot of trouble. Don't believe me? Here's a 96 yard touchdown run that Guice broke against Arkansas.
DE, Arden Key
Only two players in the SEC have double digit sacks coming into Thanksgiving weekend, Derek Barnett and LSU defensive end Arden Key. If he's not hitting the quarterback, that's probably because he's taken down the running back in the backfield instead. Key leads his team with 10.5 tackles for loss. The A&M offensive line has shuffled around since the loss of Connor Lanfear. They'll have their work cut out for them against Key on Thursday.
Texas A&M Players to Watch
HB, Keith Ford
When Texas A&M was trying to get something going on the ground against Alabama's defensive front it was Ford that was the most effective. Trayveon Williams started the game, but managed just 2.6 yards per carry.
The Aggies worked to get the ground game going against Ole Miss and UTSA and weren't very successful. They're going to have to find a way to grind out some drives against LSU and keep their offense off the field. That starts with Keith Ford. If he can pound the rock against the physical LSU defensive front seven, the Aggies will have a chance to win.
DE, Myles Garrett
He might not be 100 percent, but 80 percent of Myles Garrett can still change a game completely. The Aggies have been gashed on the ground when he's been off the field. After playing just 25 plays against Mississippi State, Garrett was on the field for 66 plays against Ole Miss.
He played a full compliment of plays on Saturday against the Roadrunners. If that's any indication of health, he'll be ready to roll on a full compliment of plays on Thursday.
Garrett drew Heisman murmurs last season, but injuries have kept the future first round draft pick out of the national spotlight so far in 2016. That can all change with a big play or two against the Tigers. The defensive game plan is going to hinge on the Aggies' ability to force LSU into third and long. If they can do that, first year starter Danny Etling is going to be in for a rough welcome to Kyle Field.
LB, Claude George
Claude George is not a starting linebacker, yet he's near the top of the list of tackles for loss among all SEC players. George is one of the best run stoppers the Aggies have and he's quietly earned more playing time game by game.
With the injuries to the secondary that the Aggies suffered against Ole Miss, Chavis might decide to move Donovan Wilson out of the nickle and play a more traditional 4-3 against LSU's run heavy offense. If that does happen it would be George's opportunity to see more of the field.
Predictions
This team is frustratingly hard to predict. They jumped out to a 21-6 lead against Ole Miss. Our prediction 38-24 was looking pretty good. Instead the offense and defense both disappeared and the Rebels won.
Texas A&M has got to find a way to slow down the LSU running attack. Against Tennessee and Mississippi State they were able to use turnovers to keep their opponent at bay. They had several opportunities to take the ball away against the Rebels, but didn't have much success. That's going to bounce back in the Aggies favor on Thanksgiving.
Three bold calls for this week's game:
Texas A&M forces four turnovers
The Aggies rush for 200 yards
Josh Reynolds gets in the end zone twice
Prediction: Texas A&M 23 – LSU 21
***Stats from ESPN, Sports Reference. Snap counts courtesy of @PFF_Vinnie***
This article originally appeared on