Texas A&M Football: Aggies Look to Bounce Back Against the Rebels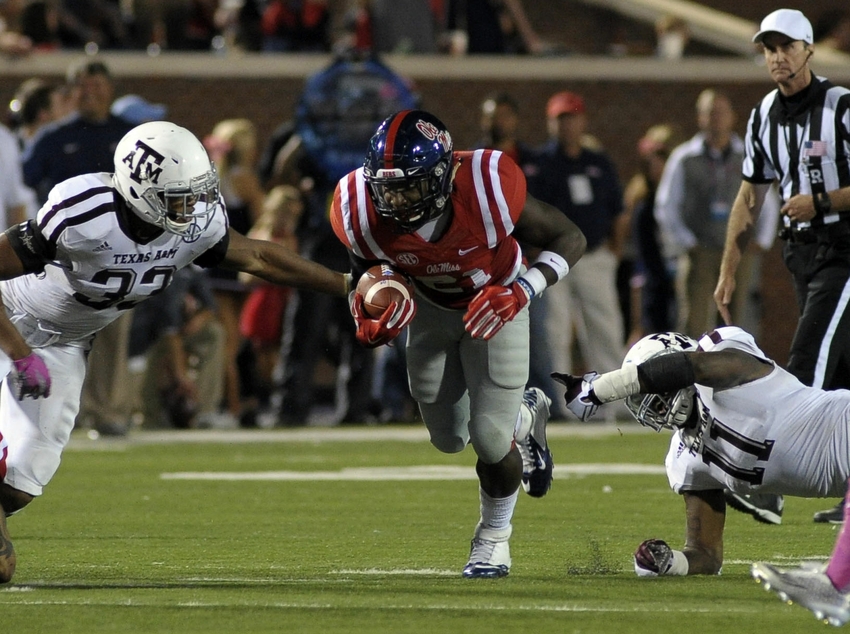 The Texas A&M football team will be looking to prove last weekend was just a "no good very bad day". Can they bounce back against Ole Miss?
The Aggies have likely joined the ranks of teams that made the initial College Football Playoff rankings and failed to stay in the final four come playoff time. They can't fix what happened last week so it's time to look ahead at Ole Miss who will be missing senior quarterback Chad Kelly.
Kelly is set to undergo season-ending surgery this week for a torn ACL and lateral meniscus. Coach Freeze hasn't yet named a replacement, but it's safe to assume that Ole Miss will be playing without their most important player on Saturday. Kelly led the SEC with 2,758 passing yards and 19 touchdowns.
The Rebels have managed a 4-5 record with Chad Kelly under center, and they've had to lean on him to outscore their opponents. Ole Miss ranks 94th in the country in scoring defense, allowing just under 32 points per week to their opponents.
Texas A&M will look to rebound from a rough weekend in Starkville against the sinking Rebels and they'll have to do it without Trevor Knight and Connor Lanfear. Kevin Sumlin informed the media Tuesday that both players would be out for the rest of the season. The Aggies are pretty banged up. They'll depend on coach Noel Mazzone to put together an offensive scheme that fits the players they still have healthy.
Ole Miss Players to Watch
QB, Shea Patterson, Jason Pellerin, Ryan Buchanan?
Shea Patterson, a five start quarterback recruit from the IMG Academy in Florida, is most likely Hugh Freeze's best option to win on Saturday in Kyle Field. There's just one problem. Patterson is currently red-shirted, meaning if he were to take a snap this weekend he would lose a year of eligibility.
At best, the Rebels make a bowl game at 6-6 and Patterson gets to play four games this year. Seems like an awful lot to trade for a season that's already proven to be a disappointment. Our friend's at Ole Hotty Toddy think playing Patterson would be a bad idea, but Hugh Freeze is no stranger to making questionable decisions.
Jason Pellerin came in to back up Kelly last weekend. No matter who starts at quarterback for the Rebels, it won't be Chad Kelly. Edge, Texas A&M.
LB, Demarquis Gates
Gates has been one of the few bright spots on the defensive side of the ball for the Rebels this season. His status for the game this weekend is still uncertain as he deals with a knee injury. Losing Gates would be a big blow to the Ole Miss defense. The junior linebacker leads with 64 tackles, and he also has 5.5 tackles for a loss, 4 sacks, 2 passes defended, and a forced fumble. Gates is their play-maker in the middle of the field.
WR, Evan Engram
Also a possible backup quarterback option, Engram has been the favorite receiver of Chad Kelly. Engram has proven to have a knack for getting behind defenses – he burned Alabama for a 63 yard touchdown earlier this year. Mississippi State's Fred Ross made Capers-Smith look silly on a 60 yard catch and run. If the Rebels can make a few big plays they'll be able to give the Aggies trouble.
Texas A&M Players to Watch
QB, Jake Hubenak
Jake Hubenak became an Aggie hero in January after remaining with the Aggie program while certain other quarterbacks decided to transfer. Hubenak has seen action in eight games while at Texas A&M and has thrown for 749 yards with six touchdowns and two interceptions. Honestly, the offense moved the ball better last weekend with Hubenak under center.
There will be adjustments that need to be made, but the ball is in Hubenak's court. If he plays well on Saturday and down the stretch he could carry this team to a New Year's Six Bowl. It all starts Saturday against Ole Miss.
LB, Shaan Washington
Myles Garrett wasn't on the field last weekend when Mississippi State quarterback Nick Fitzgerald ran 74 yards over the left tackle untouched for a touchdown. Shaan Washington should have been the man to make the tackle. Instead, his gaffe put the Aggies into an early deficit they couldn't get out from underneath.
Washington heard about that play all week. He'll be ready to put a different kind of highlight on the film this weekend. After not registering a single solo tackle last week, Washington will have his mind set on getting the ball carrier to the ground on Saturday.
WR, Christian Kirk
I'm going to keep Kirk on this list until he stops being the most impressive player that to wear maroon and white this season – and that includes Myles Garrett and Trevor Knight. Kirk nearly willed his team to victory last weekend with his third punt return touchdown in two games. Think that can't be right, it is. Kirk is just that good. Ole Miss might be smart enough to avoid kicking to him, but he's still going to find the endzone one way or another.
Predictions
Aggie fans seem to be in one of two camps coming into this game. Some see the loss to Mississippi State as the beginning of yet another precipitous November decline. Others chalk the defeat up to a lack of focus that can be corrected with a solid week of practice.
There's no question that Texas A&M is a better team than Ole Miss is right now. The Rebels record is a measly  4-5 with one SEC win compared to the Aggies who sit at 7-2 (4-2 in the SEC). Texas A&M is an 11 point favorite. The real question is this: which team shows up to Kyle Field on Saturday? I think it will be the one that hasn't lost a game at home this year.
Texas A&M is undefeated at Kyle Field in 2016 with a pair of overtime victories against UCLA (with Josh Rosen) and Tennessee (while they were still undefeated). They'll defend home turf this weekend against an injury depleted Rebel squad.
Three bold predictions:
Jake Hubenak throws a touchdown pass on the opening drive
Texas A&M rushes for 400 yards
Christian Kirk gets into the endzone twice
Prediction: Texas A&M 38 – Ole Miss 24
This article originally appeared on