Tennessee vs Ohio: Five Bobcats to Watch for vs Vols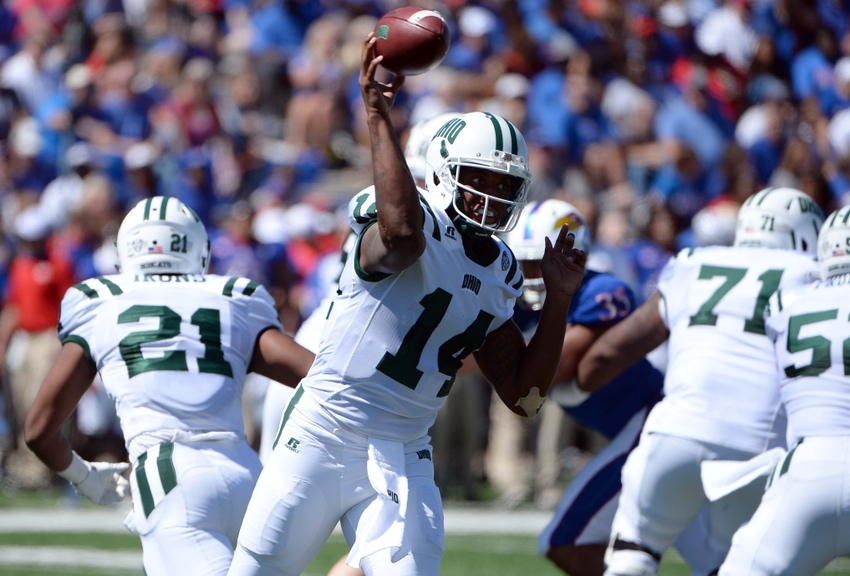 Tennessee vs Ohio could be a tough match-up for the Volunteers once again. As they look to move to 3-0, here are five Bobcats players to watch out for.
---
Will the Tennessee vs Ohio game be another tough start for the Tennessee Vols? After all, they are facing a coach in Frank Solich and a high-powered offense that could be dangerous.
Ohio is 1-1 right now, but they are another deceptively good team facing the Vols. They should be 2-0 but suffered an extremely unlucky fate in a three-overtime loss to the Texas State Bobcats.
Still, they were able to rebound with a huge win on the road against a Power Five team, the Kansas Jayhawks. And they dominated with a 37-21 victory.
So there are clearly some elite weapons on this football team that the Vols are going to have to account for.
As we scout the Ohio Bobcats, it's important to note that their head coach, Solich, deserves lots of credit for changing with the times.
The 71-year old went from running the triple-option behind massive offensive lines at Nebraska to adapting to a misdirection spread at Ohio.
He has kept up with all of the changes to offenses in football. And he has built a very solid MAC team in the process.
This Ohio team gave Tennessee trouble in 2009 under Solich. They could do the same thing if the Vols don't take them seriously.
That's the last thing they want in looking to be 3-0 while getting ready to face the Florida Gators.
So knowing how dangerous they are, here are five Bobcats to watch out for in the Tennessee vs Ohio game.
5
Dorian
Brown
Running Back,

Junior
He wasn't supposed to be a starter for the Ohio Bobcats this year. But Frank Solich's next man up philosophy has Dorian Brown now in prime position to rack up a lot of yards.
Running back A.J. Ouellette was supposed to be the star at his position, but once he went down with an injury, Brown stepped up and became a star. He went in a bit unprepared against Texas State and had 18 carries for 64 yards.
However, he upped his game with 20 carries for 122 yards, playing a role in helping the Bobcats put up two 100-yard rushers.
The Vols don't have Darrin Kirkland Jr. in this game at linebacker, which is a huge deal since Colton Jumper is not capable of adequately backing him up.
At the same time, Bob Shoop has struggled early against teams that run misdirection plays.
As a result, Brown should be able to explode early in this game for a few big plays if the Vols do not keep and eye on him. He only has 186 yards on the ground for the year, but the 5'11" 207 pound junior will have enough chances to make plays this weekend.
Tennessee has to make sure it does not take Brown lightly.
4
Tarell
Basham
Defensive End,

Senior
He had 10 tackles for a loss last year and five and a half sacks along with 31 and half tackles overall. Now, as a senior Tarell Basham has exploded into a star early in the season.
The 6'4″ 262-pound star is now a playmaker along the lines of Derek Barnett. He already has five tackles on the year, and he has picked up a sack in each game for a tackles for a loss total of 14 yards.
In the Tennessee vs Ohio game, Basham will be matched up against a Vols offensive line still trying to get itself together. They have under-achieved significantly at the interior spots, particularly at center. And they are thin at tackle due to Drew Richmond's inexperience and Chance Hall's injury.
As a result, Basham could once again be a deadly playmaker. Butch Jones and Mike DeBord have to make sure they account for him all game. Joshua Dobbs always struggles against elite defensive linemen if they aren't blocked well.
Games like this scream for Basham to take over and wreak havoc.
With 20 career sacks, Basham is already the all-time sacks leader in Bobcats history. He accomplished that feat last week against the Kansas Jayhawks. Look for him to potentially add to that this week.
3
Papi
White
Running Back,

Sophomore
We have already gone into detail why Dorian Brown has the perfect chance to explode in the Tennessee vs Ohio game if Bob Shoop and the Vols' defense is not careful. But he's not the only running back who could make trouble.
Papi White is the Bobcats' all-purpose star. The 5'9″ 171-pound sophomore already had six receptions for 128 yards and a touchdown along with eight carries for 29 yards and another touchdown in his first game.
Then he had nine carries for 37 yards and a touchdown against the Kansas Jayhawks along with three receptions for 26 yards. He also already has two punt returns for 21 yards.
All of this in total has equaled out to 241 yards. And Tennessee will have to keep an eye on this speedy back like the other teams did.
Darrin Kirkland Jr. being injured and replaced by Colton Jumper is a big issue, and just as it will cause problems against Brown, it will cause problems against White.
With Tennessee struggling already against misdirection teams, the combination of White and Brown could make for a big issue. They have to account for both.
However, the person who makes it all go is the most important player they have to watch out for. And that brings us to our next player.
2
Greg
Windham
Quarterback,

Senior
As we said earlier, Frank Solich has adapted extremely well at 71 years old to the changing offenses. He went from a triple option offense at Nebraska to more of a misdirection spread offense at Ohio.
And now he has the perfect quarterback to run it in Greg Windham. Despite losing his first game, Windham has been an elite quarterback through two games so far.
A mobile quarterback Windham completed 61 percent of his passes for 393 yards and four touchdowns his first game while also carrying the ball eight times for 37 yards.
Then, against the Kansas Jayhawks, he went 19 of 36 for 167 yards and one touchdown while also carrying the ball 16 times for 146 yards and a touchdown.
So through two games, he has totaled 753 yards and scored six overall touchdowns. Windham is the perfect anchor of this offense to provide mismatches in the Tennessee vs Ohio game.
Again, Colton Jumper spelling Darrin Kirkland Jr. along with Bob Shoop's slow starts could be an issue here. Solich has an elite quarterback for his level to be a playmaker, and he knows how to use his offensive acumen to exploit weaknesses in defenses.
Tennessee has those, and Windham is the perfect quarterback to give them issues. So they'll have to keep an eye on him all game.
1
Quentin
Poling
Linebacker,

Junior
The star of the defense, Quentin Poling, has already built on where he left off last year. His unit did get tired down the stretch of the Texas State game, but he was still productive.
Through two games this year, he already has 16 tackles along with two and a half tackles for a loss, half a sack, a quarterback hurry, and a pass broken up.
As a sophomore, he had 58 tackles in 2015 with 10 and a half tackles for a loss, four sacks, and four interceptions. The 6'0″ 239-pound middle linebacker is the quarterback of the defense and literally knows how to be all over the field.
Poling is the third straight leader the Vols have to face that can give their unit hell. After all, he's anchoring another elite front seven. That unit against the inconsistent Vols offensive line alone will make the Tennessee vs Ohio game worth watching.
We have already gone into detail about the defensive line, anchored by end Tarell Basham, but the anchor of this front seven overall is Poling. With Mike DeBord's lack of creativity and Joshua Dobbs's inconsistencies, Poling has a great chance to take over.
DeBord and Butch Jones have to account for him all night, and lots of this will fall on Dylan Wiesman if he's staying at center along with the rest of the offensive line. Jalen Hurd as a pass blocker will be a huge deal, as will Dobbs being able to account for him in coverage.
Poling is the most important player on the Bobcats and is a game-changing playmaker. Whether or not there is a bad upset or an ugly close win by the favorite in the Tennessee vs Ohio game will come down to how well the Vols' offensive line can develop in a week to account for Poling.
He's a dangerous player and can be a big problem for Tennessee.
More from All for Tennessee
This article originally appeared on