Tennessee vs Missouri: Five Vols to Watch for Against the Tigers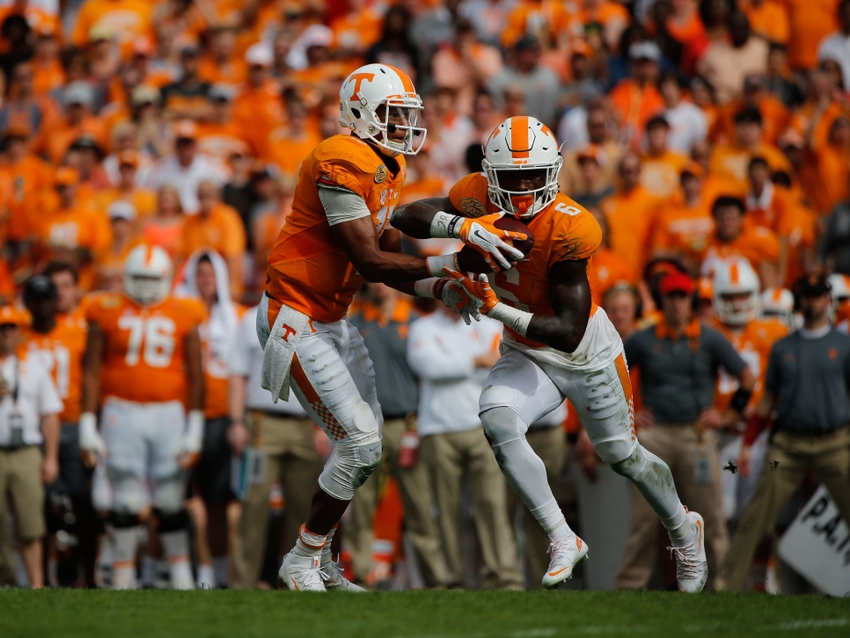 The Tennessee vs Missouri game could have major SEC East implications for UT. Here are five Volunteers to watch for against Mizzou.
It's Senior Day in Knoxville, and fans everywhere are rightfully emotional about the Vols making their final run through the T. But depending on what happens before that game, Tennessee vs Missouri could be way more important.
Vols fans everywhere will be tuning in heavily to the Florida-LSU game at noon. The Gators obviously have to face the Tigers on the road, and if they lose, Tennessee is back in control of its own destiny to win the SEC East.
That makes the game against Missouri much more important.
Of course, if Florida wins and the Vols don't win the East, they still should play for a strong finish to the season.
But fans are desperate for Florida to lose.
Either way, Tennessee has to get past Missouri for that to even be a chance. And to do that, they need a few players to step up.
The Tigers may have some newfound momentum under first-year head coach Barry Odom after beating the Vanderbilt Commodores this past weekend. With Drew Lock maybe finding his rhythm, this team could be dangerous.
That's especially true when you consider the fact that they can't reach a bowl game and have only pride to play for. There's no pressure.
Tennessee fans would not be happy with Butch Jones or his team if they managed to blow a chance to win the SEC East because they weren't ready to play.
Certain guys have to step up to make sure that doesn't happen. Here are the five Vols to watch for in the Tennessee vs Missouri game.
5
John
Kelly
Running Back,

Sophomore
Vols fans panicked for about a day when they realized that Jalen Hurd was leaving the football program. Then, they came to their senses and realized that it meant more carries for John Kelly.
One of the greatest steals Butch Jones ever had, Kelly has become a perfect complement to the running game. And now in the Tennessee vs Missouri match-up, Jones and Mike DeBord are desperately going to need him to come through.
That's because the Missouri Tigers have a style of play similar to the South Carolina Gamecocks: they force lots of interceptions and have a solid pass defense. But their rush defense is awful.
DeBord lost that game to South Carolina by not giving Kelly the ball enough. He cannot make that same mistake here.
Even with everybody back and healthy, Kelly has got to get lots of carries. Over the last three games, he has 37 carries for 292 yards and a touchdown along with two receptions for 28 yards. His average is barely under six yards per carry.
Mizzou allowes over 225 rushing yards a game! So newsflash Mike Debord..GIVE JOHN KELLY THE BALL!!!
But Kelly will need some help from his offensive line. And one particular lineman is up next.
4
Drew
Richmond
Left Tackle,

Freshman
After struggling severely against elite defensive linemen in his first three games as a freshman on the field, Drew Richmond fell to the bench. But he was forced back in once a slew of injuries hit the offensive line.
And over the past two weeks, Butch Jones and Mike DeBord have moved him back to where he began the year at blindside tackle. With Chance Hall questionable on Saturday, Richmond is going to have to be the guy again.
Tennessee vs Missouri the first game since he took back over where he goes up against an elite defense end. How will the freshman respond this time?
Charles Harris is the Tigers' Derek Barnett. He has eight sacks and 11 tackles for a loss on the year, and he is one of the major bright spots for the Tigers.
Richmond will be responsible for keeping this superstar end in check all game. That's going to be an extremely difficult task.
Will he finally reach his five-star billing? The Vols desperately need him to. Richmond vs Harris might be the biggest storyline of this football game.
If Richmond doesn't come through, Tennessee could be in for a sickening upset. If he comes through, it will be a sign that he truly has arrived as a Vols offensive lineman.
3
Cameron
Sutton
Cornerback,

Senior
Cameron Sutton was back on the field for the first time in eight weeks against the Kentucky Wildcats, and he looked like he didn't have any rust at all.
Although the Wildcats ran the ball down the Vols' throats en route to over 600 yards, Sutton did his part in the passing game, shutting down one side of the field and deflecting two passes. In the process, he broke Jabari Greer's school record for career passes deflected.
Now, fresh off his comeback performance, the senior needs to come through more than ever on senior day. He is facing a Missouri Tigers offense that, despite being 3-7, actually can move the ball through the air.
Drew Lock is averaging 294 passing yards per game, and his favorite target is J'Mon Moore. Moore has about 300 receiving yards more than anybody else on the Mizzou roster, and Sutton will be responsible for keeping an eye on him all day.
Tennessee vs Missouri is coming down to key match-ups, as you can tell.
While the previous match-up, Drew Richmond against Charles Harris, likely favors the Tigers, we would say from the outset that this one favors the Vols. But it depends on how healthy Sutton is and how ready he is for a dogfight on the outside.
2
Joshua
Dobbs
Quarterback,

Senior
Like always, Joshua Dobbs is going to be a key. The senior quarterback desperately needs a big day on Senior Day, and Mizzou has always been a weak-point game for him. His offense has always struggled to move the ball against the Tigers.
Dobbs could be in trouble, as he leads the SEC in interceptions, and the Tigers have 13 interceptions on the year. We saw how that match-up hurt him against the South Carolina Gamecocks three weeks ago.
As a result, while throwing the ball is still crucial, we mentioned from the outside that the running game is even more important.
And Dobbs's legs will be a huge factor in this Tennessee vs Missouri game. They were a factor last year when the Vols won a cold road game against the Tigers.
This is his chance to even the score and finish 2-2 as a starter against this team. He has to not only be ready for Missouri's solid secondary, but he has got to prepare for an elite pass rush.
That hasn't changed with the transition from Gary Pinkel to Barry Odom.
So Dobbs, now more than ever, needs to be able to play smart. But while his rushing attack is crucial, there's one more guy who the Vols will need in that regard.
1
Alvin
Kamara
Running Back,

Junior
If you haven't gotten the message yet, the Vols need to run the ball in the Tennessee vs Missouri game.
They need to run the ball!
Tennessee absolutely, positively has to run the ball! LISTEN TO ME MIKE DEBORD!!! RUN THE DANG BALL!!!
We are stressing this because DeBord's idiotic decision to rely on the passing game against the South Carolina Gamecocks two weeks ago, a team with a terrible rush defense and elite pass defense, cost the Vols. It was inexplicably the dumbest game plan in the history of Tennessee football.
And it's the reason the Vols aren't already in control in the SEC East with an outside chance to get back into the College Football Playoff race.
So here, we're going to scream all day that DeBord needs to run the ball.
And who's the guy who should be the focal point of that rushing offense? None other than Alvin Kamara himself.
The guy battled injuries throughout the midway point of the year, but he came back strong last Saturday with 10 carries for 128 yards and two touchdowns. This is the game where he really has to turn loose.
John Kelly is already on here and needs about 15 carries. Joshua Dobbs needs about 12 carries. DeBord should give Kamara 25 carries.
With Jalen Hurd gone, Kamara has to be the playmaker we know him to be and also take on duties as the workhorse. We've seen him capable of doing that.
It's important now more than ever. DeBord should feed Kamara as much as possible in the Tennessee vs Missouri game and let him have a huge coming out party.
Remember what he did as the feature back against the Texas A&M Aggies? He can do that again on Saturday if DeBord and Butch Jones just let him.
If they don't and the Vols lose, than Jones has got to fire DeBord unless he wants to be fired himself. Give Kamara the ball!!!
More from All for Tennessee
This article originally appeared on