Tennessee vs Georgia: 5 Vols to Watch for vs Bulldogs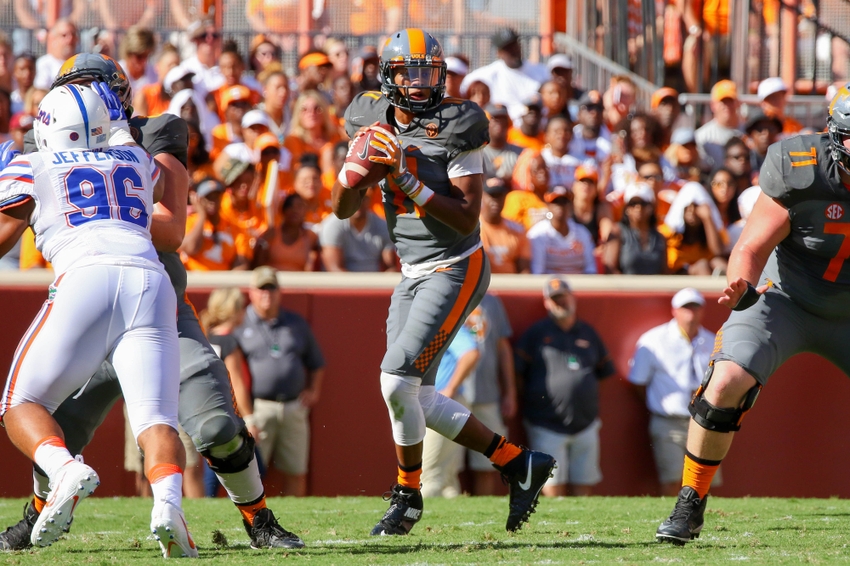 Tennessee vs Georgia features one SEC team trying to rebound and another trying to retain momentum. Here are five Volunteers to watch for against the Dawgs.
After a thrilling victory over the Florida Gators, it's time for the Vols to look ahead towards the Tennessee vs Georgia game.
This was always the second most important game for Tennessee in the regular season, and right now it's the most important.
Also, it's an extremely dangerous game.
Tennessee is going into Athens riding sky-high after beating Florida, and given how badly the Bulldogs struggled in their loss to the Ole Miss Rebels last week, the Vols could easily be looking ahead.
However, this is a very talented team in its first year under Kirby Smart. Don't forget that the Vols barely pulled out a victory over them at home last year, and Smart didn't change too much schematically from Mark Richt.
So Tennessee will have its hands full on the road against a second straight Top 25 team. Once again, there are key players who have to step up and lead this team.
Georgia definitely has weaknesses that Tennessee can exploit. However, it's also good enough to give the Vols hell from start to finish. And Tennessee has already shown this year that it has trouble focusing in some games.
They can't let that happen this week. The Dawgs are as difficult an opponent as the Gators. So the leaders have to step up.
Here are the five Vols to watch for in the Tennessee vs Georgia game.
5
Shy
Tuttle
Defensive Tackle,

Sophomore
Here's an unlikely person to make this list. Shy Tuttle has emerged as one of the top defensive tackles for the Vols fresh off of an injury last year. He went down for the 2015 season due to a broken fibula…suffered from a cheap shot in the Tennessee vs Georgia game that year.
Now, he can return to exact his revenge. But this game has to be more about Tuttle making amends for personal issues.
He is on this list because he has a chance to shine beyond what he's already done this year. The Dawgs have had trouble on their offensive line all year, shuffling guys in and out. Even when Nick Chubb has been healthy in the lineup, they've had trouble generating a strong running game as a result.
And the passing game has been nonexistent.
All of this screams for Tennessee's defensive line to get a ton of pressure all night. And that starts in the middle.
To be honest, we could have named Danny O'Brien, Kahlil McKenzie, or Kendal Vickers here. But Tuttle is the one who has shown the most potential to wreak havoc. This is the perfect game for him to do it as well.
Bob Shoop's goal all night will be for the Vols to get pressure up front. It starts with Tuttle and the tackles. But then it requires the players on the ends coming through.
4
Corey
Vereen
Defensive End,

Senior
Corey Vereen began to emerge last year, and he has shown himself to be a very good veteran edge rusher now in his senior year. Provided that Shy Tuttle and the other defensive tackles apply the pressure they need to up front in the Tennessee vs Georgia game, Vereen will need to use his speed as an edge rusher to wreak havoc.
Vereen didn't pick up a sack against Florida, but he hurried Austin Appleby whenever he tried to throw in the second half. He has to be able to do the same thing against Georgia.
Jacob Eason is like all of the recent quarterbacks to play for the Dawgs…he is atrocious under duress. Vereen can rack up the stats sometimes, as he did with a sack against the Virginia Tech Hokies, but his best asset is rushing quarterbacks.
That helped him achieve an assist on a tackle for a loss against the Appalachian State Mountaineers and the Ohio Bobcats.
If he can hurry Eason, that will cause lots of mistakes. The Vols are currently struggling at cornerback right now with Cameron Sutton hurt, and the Dawgs do have nice deep balls.
Vereen is the key guy to stopping that from happening.
At the same time, Vereen can also close gaps very well, and he'll need to do that Saturday. Jim Chaney will want to establish the running game early.
3
Joshua
Dobbs
Quarterback,

Senior
Which one is going to give? Last year, Joshua Dobbs torched the Georgia Bulldogs just like he did the Florida Gators this past game. However, two weeks later, Kirby Smart gave him hell with his complex 3-4 schemes.
Of course, Smart doesn't have the same talent this year he had last year. And at the same time, the Dawgs have struggled to pick up his system. After last week's game, they are now ranked No. 78 in the country in pass defense.
And they don't have a Top 50 rush defense either.
So this Tennessee vs Georgia game screams for a dual-threat quarterback like Dobbs to take control and flat-out dominate. You can name all the other offensive weapons you want, from Jauan Jennings to Josh Malone to Jalen Hurd.
This game begs for the offense simply to go through Dobbs. He is facing a veteran secondary, just like he did last week. But he should have time to throw. That's the biggest reason that Georgia's pass defense has struggled.
They can't get any pressure up front.
And when Dobbs has time to stand in the pocket, he's as deadly as they come, especially if he picks up momentum. He'll have to make smarter moves in the pocket since Smart runs that 3-4, but he should have plenty of running lanes Saturday.
Speaking of making plays, let's go back to a surprising defensive guy who made the list.
2
Todd
Kelly Jr.
Safety,

Junior
With Shy Tuttle and Corey Vereen, we have made it clear that the Vols' goal has to be to apply pressure up front all day in this year's Tennessee vs Georgia game. After all, the Dawgs have a makeshift offensive line, and Jacob Eason is terrible under pressure.
Doing that should free Todd Kelly Jr. up to be an incredible playmaker in this game.
We have said all year Kelly needs to arrive, and he did so last week with an interception and a crucial tackle to stop a first down. This week, he needs to play the same way.
He made that interception because of the pressure the front four caused Appleby. Expecting the Vols' line to do the same thing this game against an even worse quarterback under duress, Kelly should have plenty of opportunities to come away with huge plays.
We're talking the potential for two interceptions and tons of huge hits.
At the same time, Bob Shoop might want to cheat him up some to stop the running game early, as that's the biggest concern for the Vols' defense.
But however they use him, Kelly has to be all over the field making plays. This is his chance to look like Eric Berry at strong safety. He has that type of potential, at least to be close.
Last week, Kelly finally put that potential on display this year, and he needs to keep it up. But in order to do that, he'll need help from one more guy.
1
Derek
Barnett
Defensive End,

Junior
In case you haven't noticed yet, the Tennessee vs Georgia game this year will come down entirely to the Vols' defensive line. They may struggle at times on offense, and they may make a few mistakes.
But throughout the game, the defensive line has to be flat-out dominant. The final player in our list who is key to that is, obviously, Derek Barnett.
Arguably the greatest playmaker in the history of SEC games, Barnett once again had his coming out party for 2016 against the Florida Gators, which was of course the first conference game of the year. To nobody's surprise, he had two sacks and three tackles for a loss.
Against a terrible Georgia offensive line and a quarterback in Jacob Eason with a slow release who is terrible under duress, he should be able to have a field day.
We are talking about the possibility of Barnett having a three-sack game, which he did twice back in 2014.
Georgia has struggled that much up front. They've already allowed 12 sacks on the year. And they lost both tackles from last year and have yet to find consistent replacements for them.
That begs for an end like Barnett to wreak havoc.
At the same time, Barnett, like the other defensive linemen, needs to close the gaps and get physical to make sure he stops the run.
So Barnett is far and away the most important player going into this game. He is the best player on the most loaded unit of this football team.
He needs to repeat what he did last week and then some to make sure the Vols don't get caught napping after a huge win.
More from All for Tennessee
This article originally appeared on