Tennessee vs Florida: Last-Minute Predictions for Vols and Gators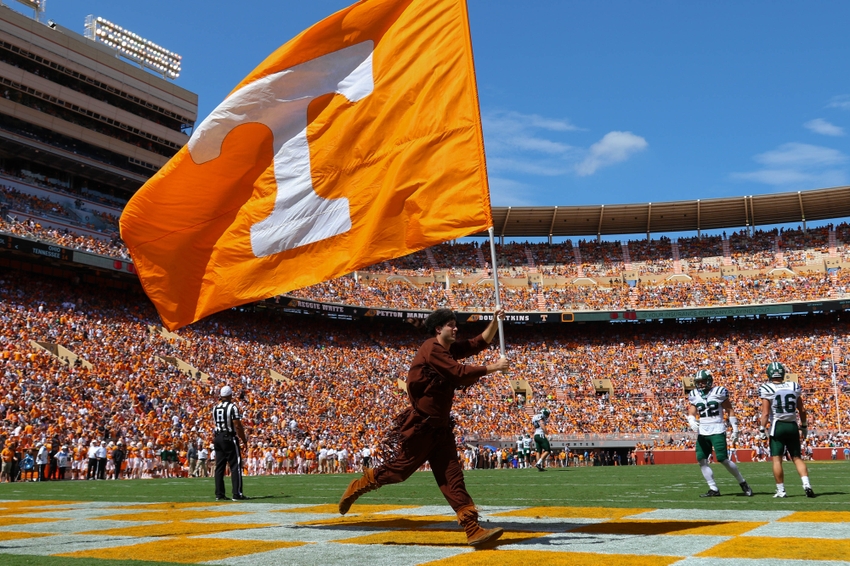 Tennessee vs Florida is set to go at Neyland Stadium Saturday in Knoxville, Tenn. Here are the last-minute predictions for the Volunteers and Gators.
We've given you our keys to the game, we've talked about important players, and we've documented the infamous streak. Now, the Tennessee vs Florida game is finally here.
College GameDay was in the house in Knoxville, Tenn. Saturday morning, as were Phillip Fulmer and Steve Spurrier.
Both teams are 3-0 and looking to get an early jump in the SEC East race.
Despite Tennessee looking way worse than Florida through the start of the season, and despite the 11-game losing streak, Vegas is still favoring the Vols.
The match-ups could be tough though. Can the home crowd at Neyland Stadium help the Vols pull through? We'll find out soon enough.
Here are the last-minute predictions for the Tennessee vs Florida game.
1. Joshua Dobbs will have more rushing yards than passing yards.
This happened last year, and it is even more likely this year. Tennessee's offensive line has struggled, but it's mostly in pass protection. Meanwhile, Florida is loaded in the secondary but could be exploited up front.
And Joshua Dobbs is as good as almost any running back in the country when it comes to designed run plays. So Butch Jones and Mike DeBord are going to turn Dobbs loose on the ground in this game. And while he'll likely have a few big passing plays, his success will come on the ground.
2. Florida will win the turnover battle.
This is an unfortunate prediction for Vols fans, especially since the Tennessee vs Florida game often comes down to turnovers. But the Gators have shown themselves to be great at forcing turnovers.
And the Vols have been lucky not to have more turnovers. Tennessee has 11 fumbles on the year and has only lost one. That won't happen against the Gators. Expect three Tennessee turnovers in this game.
3. Tennessee's offensive line will have its best game.
With Chance Hall back, the Vols have five proven guys in the rotation now. Coleman Thomas and Drew Richmond have been the biggest culprits for the unit's struggles up front, but they can both be relegated to the bench. Still, they'll be in the rotation.
The interior hasn't been much of a problem with Dylan Wiesman at center and Jack Jones and Jashon Robertson at guard. Brett Kendrick has been reliable at tackle. Tennessee just needed one more tackle, and they've found that in Hall's return.
4. Austin Appleby will have the best game of his career.
He was awful in three years with the Purdue Boilermakers. But Austin Appleby is now playing for the Florida Gators and about to face the Tennessee Vols. The Tennessee vs Florida series has been marked by Gators quarterbacks having the games of their lives. This story is just too common.
To be fair, there are football reasons for this also. Jim McElwain is an offensive genius and didn't bring in Appleby for nothing. He almost beat out Luke Del Rio for the starting job at the beginning of the season. And he is facing a Tennessee secondary that doesn't have its best cornerback, Cameron Sutton. So there will likely be some lapses in coverage that Appleby can exploit.
5. Neither team will score more than 20 points.
Expect this game to be similar to the 2014 match-up. Any team would struggle to move the ball on this elite Gators defense, and the Vols will especially struggle given the fact that they have looked hideous on offense so far this year.
Meanwhile, Bob Shoop is a defensive genius, and even if Appleby has the best game of his life, the Vols will adjust to the backup quarterback. That will make this a low-scoring game, and once again, the Tennessee vs Florida match-up will come down to who wins the rushing battle.
More from All for Tennessee
This article originally appeared on