Tennessee vs Appalachian State: Five Mountaineers Players Vols Should Watch for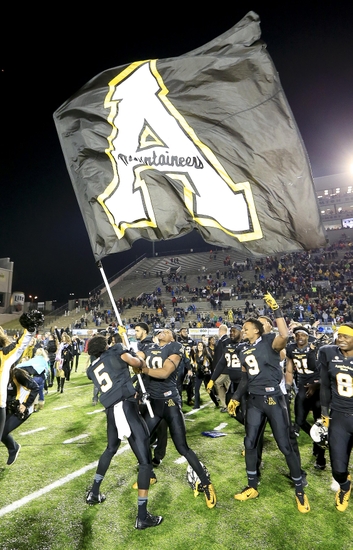 Volunteers need to watch out for these five Mountaineers in the Tennessee vs Appalachian State football game Thursday night. Can the Vols do it?
---
Tennessee vs Appalachian State is a game where a projected powerhouse has to face a Group of Five team that is a tough match-up in all the right places.
The Mountaineers have the perfect set of weapons to give the Vols a tough game and provide a major scare. Heck, they could potentially derail the Tennessee football season in their opener.
Remember what Appalachian State did to the Michigan Wolverines in 2007?
It will take a lot of focus for Tennessee to avoid that Thursday night. In front of the bright lights at Neyland Stadium, the Vols need to pay attention to lots of dangerous players.
Appalachian State has an elite rush defense that operates out of the 3-4 scheme. The Mountaineers return six of their front seven from last year to run that same defense.
Meanwhile, although they have turnover at wide receiver and offensive line, Scott Satterfield's bread and butter is still there.
He's got an elite rushing attack with incredible quarterback play for that level. As a result, Butch Jones has to prepared his team well for this game.
The Vols do have a few concerns despite their depth. If they don't keep an eye on the dangers of the Mountaineers, they could be in serious trouble.
Here are the top five Mountaineers for the Vols to pay attention to in the Tennessee vs Appalachian State game.
5
Nate
Norwood
Defensive End,

Senior
The Tennessee vs Appalachian State game will feature a loaded offensive line against a rush defense that was 20th in the country in sacks last year and returns six of seven starters.
One of those starters is defensive end Nate Norwood for the Mountaineers. He will replace Ronald Blair, who led the team in sacks last year. However, Norwood, standing at 6'2″ 240 pounds, was good in his own right with seven tackles for a loss and four sacks.
This year, he'll have way more opportunities to rack up stats as a senior. And he'll be going up against a freshman Tennessee offensive lineman for much of the game in Drew Richmond.
That match-up is the reason to pay attention to Norwood. He is set for a breakout year and gets to test an offensive tackle on the blindside who has never played a snap of college football.
Playing within the confines of the complex 3-4 defense should help Norwood out a lot. Butch Jones and Mike DeBord will want to avoid him at all cost. Scott Satterfield will want to exploit him as much as possible.
However often you hear his name will have a huge impact on this game from start to finish. Expect at least one sack from Norwood Thursday and a few more big plays.
4
Marcus
Cox
Running Back,

Senior
Two elite backfields are set to go head-to-head in the Tennessee vs Appalachian State game, even if one is on a much higher level.
While the Vols use the three-headed monster of Joshua Dobbs, Jalen Hurd, and Alvin Kamara, Scott Satterfield uses a three-headed monster at running back alone plus his quarterback. His elite running back attack uses Terrence Upshaw, Jalin Moore, and Marcus Cox. But Cox is the star of the show after two straight 1,400-yard seasons.
And he is the guy that the Vols will have to pay attention to if they want to slow down the Mountaineers' offense.
For the past two years, Cox has averaged at least five and half yards a game, and he has 28 touchdowns in two years as well. On top of that, he had two receiving touchdowns last year, so Satterfield knows how to use him.
Entering his senior year, the 5'10" 205-pound running back is a dangerous player. With the Vols thin at linebacker, particularly in the middle, Bob Shoop will have trouble keeping up with Cox all game.
If he goes for 100 yards in real action, Tennessee could be in trouble. However, look for him to break off a couple of big plays early to give Vols fans a huge scare.
Shoop will be tested on his ability to adjust.
3
Eric
Boggs
Linebacker,

Junior
The offensive backfields may be the stars of the show in the Tennessee vs Appalachian game, but the Mountaineers have a deadly defense to back it up.
While Ronald Blair's replacement at end is not entirely clear, even if the starters are, there's no question at linebacker. Appalachian State has all four back from last year in their 3-4 scheme, and all of these guys are playmakers.
The story of the linebackers, though, is on the inside. Junior Eric Boggs is coming off of a season in which he had 79 tackles, seven and a half tackles for a loss, four sacks, and an interception.
He is due for a breakout year this year to be even greater. And once again, as loaded as the Vols are up front, they are limited in experience at tackle. That will give Boggs plenty of opportunities to make huge plays all night.
Expect Scott Satterfield to sneak Boggs in at different times the way the Vols like to do with Jalen Reeves-Maybin, and don't be surprised if he gets a couple of sacks on Joshua Dobbs. He could also force a couple of turnovers.
Tennessee needs to account for him all night.
Meanwhile, as he is dominating on one side, there's another player in that unit the Vols have to worry about. We go to him next.
2
John
Law
Linebacker,

Senior
Eric Boggs is the talented playmaker for the Mountaineers destined for a breakout year. John Law is the veteran linebacker also lining up on the inside. And he's the senior leader of the group.
Law is the Appalachian State equivalent of Jalen Reeves-Maybin on defense. At 6'0″ 230 pounds, he had 57 tackles, nine and a half tackles for a loss, four sacks, and two interceptions last year.
This year, he figures to build on that just like Boggs. The duo make an elite inside tandem destined to give a thin tackle unit hell on the Vols, at least for a while. Butch Jones and Mike DeBord are going to have to do everything they can to counter that.
As you can see, a story of the Tennessee vs Appalachian State game will be the Mountaineers' front seven against the Vols' offensive line. Of everybody on that front seven, Law is probably the most proven guy.
And he's the smartest and most experienced as well. As a result, he is certainly a key player that the Vols' offense and Joshua Dobbs in particular have to pay attention to.
With this elite inside unit, DeBord will want to consider running sets of two and three tight ends at a time, or at least keeping Jalen Hurd back as a blocker.
This defense is too deadly up front. However, the star of the show for Appalachian State is still cliche. And that leads us to our top player on the Mountaineers to watch for.
1
Taylor
Lamb
Quarterback,

Junior
Yes, the quarterback is too often the story of the game. But that is the real case in the Tennessee vs Appalachian State game.
Joshua Dobbs is clearly going to be an important player for the Vols as he gets set to face an elite Appalachian State front seven. The same holds true for Taylor Lamb, an elite Group of Five quarterback who racks up stats everywhere.
As a sophomore in 2015, the 6'2″ 200-pound dual-threat completed 60 percent of his passes for 2,387 yards to go with 31 touchdowns and only nine interceptions. Meanwhile, he also had 85 carries for 436 yards and five touchdowns.
In two years as a starter, Lamb has been a model of consistency. Oh, he's also very clutch.
Lamb had four touchdowns in a three-overtime victory over Troy last year, and he had another three in their 31-29 bowl game victory over the Ohio Bobcats.
The year before, he was a crucial part of back-to-back close victories over the Louisiana-Monroe Warhawks and the Arkansas State Red Wolves.
Meanwhile, he has continued to develop. Now, entering his junior year, Lamb is expected to be a star. And with that three-headed running back monster led by Marcus Cox backing him up, he should have a field day against defenses.
So that means on both sides the Tennessee vs Appalachian State game should be a battle of front sevens.
The supposedly loaded Tennessee football defensive line and the linebacker unit with questionable depth will be significantly tested in this game against an elite quarterback and running back.
How Lamb performs will tell the story of the game. This could be very scary for the Vols if they don't contain him.
More from All for Tennessee
This article originally appeared on