Tennessee vs Alabama: Five Vols to Watch for vs the Crimson Tide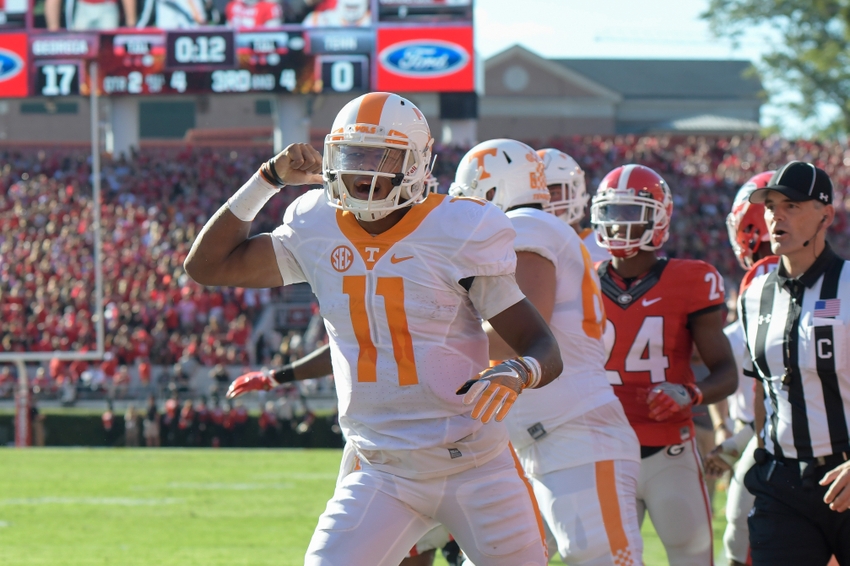 It's Tennessee vs Alabama week! Here are five Volunteers football players to watch for against Bama when the two meet at Neyland Stadium Saturday.
Cue the bands, get ready for the trash talk, and even prepare the victory cigars (although they're banned). The Third Saturday in October is coming, and this year's Tennessee vs Alabama game looks to be one of the best yet.
It's the final game of a brutal four-game stretch for the Vols that also included the Florida Gators, Georgia Bulldogs, and Texas A&M Aggies. Coming off a double-overtime loss to the Aggies, Tennessee needs this home win to assure it stays in the College Football Playoff race.
Meanwhile, Alabama is coming off of a dominating win over the Arkansas Razorbacks and enjoying the longest winning streak in college football. Nick Saban's Crimson Tide exorcised the Ole Miss Rebels demon and have to be flying as high as possible.
Last year in Tuscaloosa, the Vols fought their hearts out and almost pulled out a huge victory. This year, they get the game at home.
However, Butch Jones's team is massively banged up. Fortunately, they have a bye week after this week and have two basically bye week games right after. So this is the game that these injured players need to go all out.
They'll have plenty of time to heal afterward, and that affects the key players in this game. As we get to them here, it's important to note that this game calls for the usual suspects. But it also calls for which Vols match up best and who is healthy.
Here are the five Vols football players to watch in the Tennessee vs Alabama game.
5
Derek
Barnett
Defensive End,

Junior
No surprise here. Derek Barnett has been the biggest star for the Vols on a consistent basis over the last four games. He has four sacks through three SEC games and is doing what he always does: dominating when the moment is at its biggest.
In last year's Tennessee vs Alabama game, Barnett had two tackles and sacked Jake Coker once. This year, he's going to want to wreak even more havoc on Jalen Hurts.
Lane Kiffin and Nick Saban haven't seen a pass rusher like Barnett yet, and he could force Hurts into making quite a few mistakes as a freshman quarterback. Last week, Barnett had his hands full in a mobile quarterback in Trevor Knight, but he still managed to get a sack and to force multiple bad throws.
Knight's a veteran.
Against Hurts, he should be able to have even more fun and force Hurts into making more mistakes given the fact that he's a freshman. Also, Cam Robinson has been struggling at the start of the year and looking like a disappointment at left tackle for the Tide. So that's something that Barnett could exploit.
Meanwhile, Barnett will be a key figure in stopping the Alabama running game and Damien Harris. But that brings us to our next player as well.
4
Colton
Jumper
Linebacker,

Junior
The rumors are that Darrin Kirkland Jr. will be back for the Tennessee vs Alabama game, and that's good news for the Vols. But with Jalen Reeves-Maybin still out, they still need help at linebacker.
And given the way he's played, it looks like Butch Jones and Bob Shoop will keep Colton Jumper in the game with Kirkland despite the fact that both are middle linebackers. Because he is fully healthy, that makes Jumper a crucial part of this game.
Throughout the year, Jumper has slowly progressed and made all of his critics from last year eat crow. He had a decent game against the Ohio Bobcats and shut down the Florida Gators. Against the Georgia Bulldogs, he had a bit of a drop-off, but he made up for it with a huge game against the Texas A&M Aggies.
Now, Jumper is a full-on playmaker and the best chance for the Vols to cause problems against Jalen Hurts. As a veteran who is fully healthy, if he can stay in the right positions to execute Bob Shoop's schemes, he should be able to make some plays.
If Alabama goes to the running game, Jumper will be key to filling the gaps, assuming the defensive line does so.
And in a four-quarter match-up, Jumper is the guy who has to constantly come through for the Vols since he will have more stamina than Kirkland. Shoop will likely use Jumper to neutralize Hurts's dual-threat abilities. He has to be able to do that.
3
Josh
Smith
Wide Receiver,

Junior
Given the fact that the Tennessee Vols have two elite receivers in Josh Malone and Jauan Jennings, and given the fact that the Alabama Crimson Tide gave up 400 yards passing to both the Arkansas Razorbacks and Ole Miss Rebels, you would think that Malone or Jennings would be on this list.
However, it's been the slot receivers and tight ends that have given the Tide hell in the passing game. They have the most elite secondary in the country on the outside, but Butch Jones and Mike DeBord can get them by hitting Ethan Wolf, Jason Croom, and yes, Josh Smith.
Smith has had a quiet year for the Vols so far with only seven receptions for 42 yards and no touchdowns. But to be fair, he has been hurt. And with those stats, the Tide will not take Smith seriously.
So he should be the star to breakout in the Vols' passing game this week.
Remember that Alabama just gave up 146 receiving yards and two touchdowns to Jared Cornelius last week, a backup receiver that Bret Bielema moved into the starting role last week as he created a slot position in his offense. And earlier in the year, while tight end Evan Engram was the leading receiver for them against Ole Miss, Van Jefferson added six receptions for 91 yards.
As you can see, the slot guy can torch this team.
In last year's Tennessee vs Alabama game, Smith consistently showed himself to be reliable and make big, key plays in crucial moments. He turned around the Georgia Bulldogs game with a 4th-and-8 touchdown reception.
And he had 38 yards receiving and a touchdown against the Tide last year. He should build on that this year.
2
Joshua
Dobbs
Quarterback,

Senior
If Josh Smith is going to break out in the Tennessee vs Alabama game, then Joshua Dobbs has to make sure he gets him the ball as much as possible. Dobbs is a crucial part of this game in every way possible.
Let's start with passing.
Although we mentioned their weakness covering the slot, Alabama is the best team in the country at covering wideouts. Dobbs won't find Josh Malone and Jauan Jennings on too many plays, and Mike DeBord knows that.
However, Dobbs can still pick them to pieces if he makes the right throws and hits the slot guys and tight ends. He has shown in the past that he is more than capable of doing that.
This is the game for the senior to do that again. He just came off of 398 yards passing last week. Against Alabama, he has a great chance for another huge performance.
But its not just Dobbs's passing that makes him key in this game. Dobbs has to be a huge reason that the Vols remain mentally tougher than the Tide. He has been a reason for that all year, and if he doesn't do that on Saturday, Tennessee will suffer.
On top of his composure and leadership, DeBord needs to turn Dobbs loose running in this game. So what if he risks injury? He has a full bye week to get healthy, and the rest of the schedule is easy enough that Jones could rest him.
But Alabama is very inexperienced on the defensive line, so that's where Dobbs and DeBord could make some plays. This next guy could help as well.
1
Alvin
Kamara
Running Back,

Junior
All the rumors and reports out there suggest that Jalen Hurd is ready to get back into the lineup this week for the Tennessee vs Alabama game. But even if he's in there, Alvin Kamara's chance to make big plays are a greater threat for the Tide on Saturday.
And Butch Jones and Mike DeBord should utilize that as much as possible.
Last week, Kamara showed just how much of a big play guy he can be when he's the feature back. He had over 100 yards in rushing and receiving. And he's always a threat in the return game.
He has to be the same way this week.
Meanwhile, the Vols should use Joshua Dobbs and Kamara on misdirection running plays. After all, the Alabama defense is still young up front, and they could be very susceptible to taking bad angles.
We know Nick Saban's weakness with mobile quarterbacks, which Dobbs is. However, that weakness is even worse when you have an explosive running back, which Kamara is. Jones and DeBord can use Hurd to be the workhorse if they want to.
But they have to find every way possible to get the ball to Kamara, and on running plays with Dobbs handing it off, he could keep the defense on its heels.
This is another chance for Kamara to have a huge game and build on what he did last week. He will be the most important player for the Vols in this year's Tennessee vs Alabama game.
More from All for Tennessee
This article originally appeared on