Tennessee is gathering all the pieces to be an SEC contender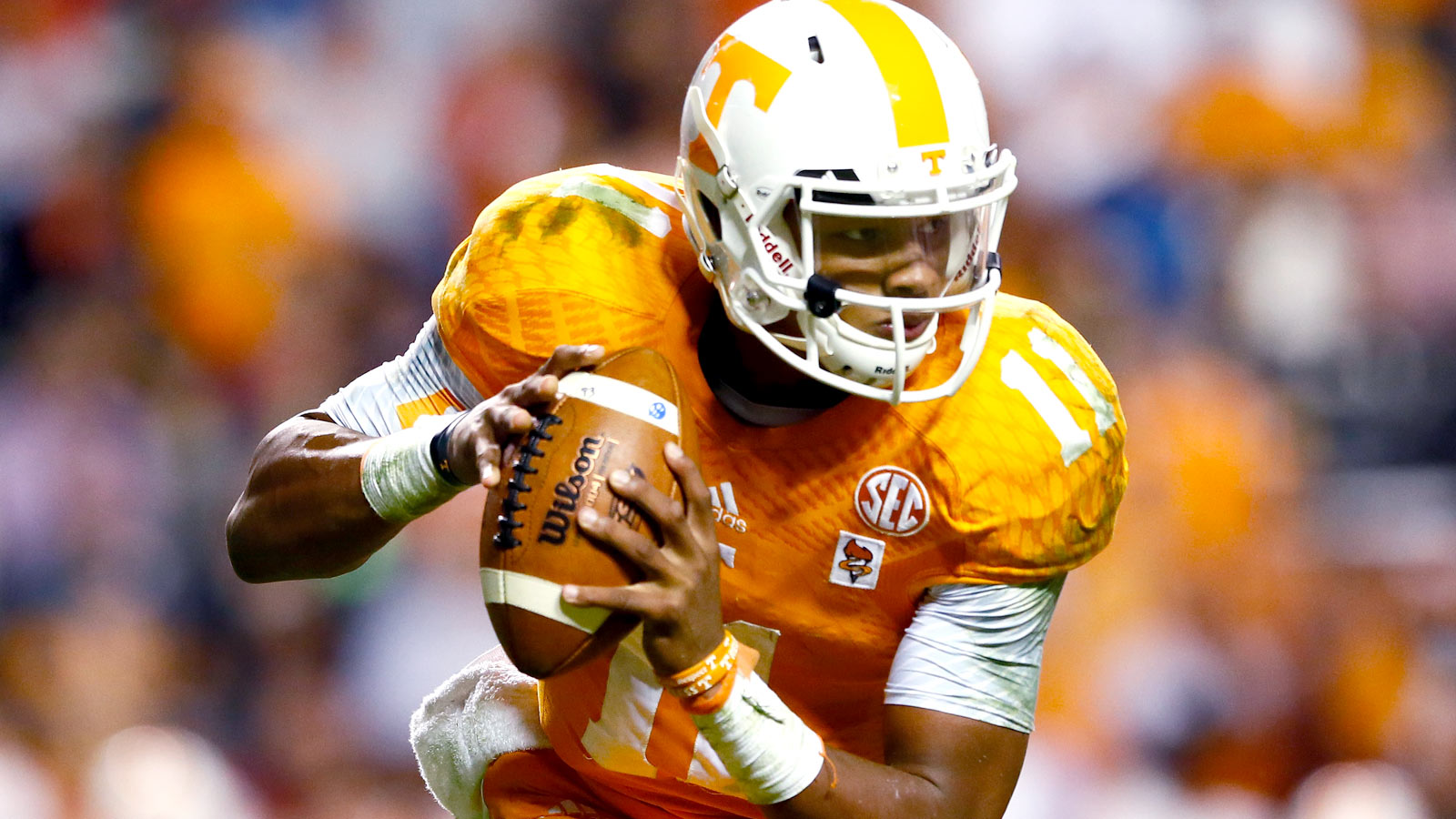 KNOXVILLE, Tenn. — The last time I was in Knoxville was two years ago. Butch Jones had just arrived and the Vols were early in spring ball. It was stunning to see just how mediocre UT had become. It had the worst collection of skill talent from any power conference team I've ever seen.
The program I spent three days around last week looked dramatically different.
The Vols have two big-time backs in huge sophomore Jalen Hurd and JC transfer Alvin Kamara, the former Alabama tailback. UT also has a decent group of athletic receivers and an impressive junior QB triggerman in Josh Dobbs.
The Vols aren't where they were in the prime Phil Fulmer years. Truth be told, they're probably still a year away. UT doesn't have the depth of personnel, especially on the lines, and their receivers aren't at the elite level they were when Tennessee was a top-15 team. But I wouldn't be surprised if they cracked the top 25 this fall.
Here are a few takeaways from my time in Knoxville:
Josh Dobbs is starting to break out
Spring games are usually not great for getting a clear read on things, but at halftime the Vols had a QB challenge with moving targets and a variety of throws, and it provided a decent window into Dobbs' development.
Jones pointed out how much Dobbs has grown from a confidence standpoint as "was evidenced in the quarterback challenge," where the head coach played ringmaster for Neyland Stadium with his ever-present hand mic. Dobbs was up last and had to follow strong-armed freshman Quinten Dormady, whose pinpoint passes fired up the crowd.
"To do a quarterback challenge in front of 63,000 people, and it being noisy, and the calm and collectiveness, and (Dobbs) saying (to Jones), 'Are you gonna introduce me?' That would have never happened before," Jones said. "That's just the confidence that he has, and the confidence in the players around him. They have great confidence in him.
"You know, the mark of great players is that they elevate other players around him, and they bring them along, and Josh is staring to do that. Is he a finished product? Absolutely not. Does he still need consistency? Yes. But I like where he's going."
Jones rallied to overtake Dormady by connecting with a bucket on a fade just over the top of an obstacle in the corner of the end zone to win after his coach had been calling him out in the minutes leading up to it. Dobbs' demeanor and the confidence his teammates now seem to have in him is critical with such a young team still trying to learn how to win.
Barnett following in Maggitt's leadership shoes
Jones' mantra in rebuilding the Vols is "brick by brick." You could say one of those bricks was laid last November at South Carolina. The Vols hadn't won a road game they'd flown to play since Jones had been there, and he was curious how his players would respond to chilly temperatures for the night game.
Once he saw his team take their shirts off in a walk-through, he knew his players were ready. Derek Barnett told me it was Curt Maggitt's, a native of South Florida, idea. "He's like the Energizer Bunny of the team," Barnett said of the fifth-year senior.
Maggitt is one of this team's big leaders, but so is Barnett, the rising star who just had a freshman season where he notched an amazing 20.5 TFLs. Among the best lessons Maggitt has imparted to Barnett: "Be vocal and don't be afraid to get on somebody. At the end of the day, we're all here to win."
The D-line gets a boost
Barnett's emergence last year as both a playmaker and leader (especially by example of his effort) was huge for the Vols' D. So has been the influx of the blue-chip D-linemen UT signed this past winter.
Early enrollee Shy Tuttle, a nimble 315-pounder, turned heads with his play, but an even more pleasing development around the program was the way junior DT Kendal Vickers came on this spring. Everyone inside the program I spoke with praised Vickers, a 6-foot-3, 290-pounder.
"He plays with good technique, plays low and is real physical," Barnett said.
Don't sleep on Sutton
People around the SEC know about Barnett because of his amazing production last year. I'm not sure folks outside of Knoxville know just how talented UT CB Cam Sutton is. Coaches gush about his instincts and how smart he is. The 6-1, 190-pound junior from Georgia also has very good range and figures to be one of the better corners in college football this season.
Kamara will balance the backfield
Kamara's quickness and burst should be a good balance to the bruising style of Hurd. I asked Kamara how he's different from his days in Tuscaloosa.
"Maturity, both on and off the field," he said. "I feel like I'm a better football player and a better person. That gave me a couple of battle scars, but battle scars are good sometimes."
The Vols' upgraded facilities are impressive
The facelift the Vols' football facilities have been getting is almost complete. There's still work being done on the practice fields, but inside the building it's as impressive as any I've seen. The signage and feel of the place that UT just wrapped up a couple of weeks ago is as good as there is.
The new Peyton Manning Room even has the Vols legend's actual Broncos uniform and cleats from the day he broke the NFL all-time career TD passing mark, as well as some of his pregame notes he used to prep for games at Tennessee plus dozens of his trophies and honors. Here are a few photos:
Promising QB prospects to watch
Dobbs is the clear No. 1 QB, but UT has two intriguing prospects behind him in early enrollees Quinten Dormady and Jauan Jennings, both standing 6-4 (in the summer touted California QB Sheriron Jones also will join the UT group). Dormady has displayed a terrific arm. Jennings is more raw, but his athleticism was eye-opening to see. If the 6-4, 205-pounder doesn't blossom as a QB, I suspect he could be a terrific wideout.
Jones defends Tennessee's image
The last note is about the Vols' image. UT made headlines over the weekend after wideout Von Pearson was accused by a Tennessee student of rape in an ongoing police investigation. Pearson has been suspended indefinitely. The story comes on the heels of two former UT players being indicted on two counts of aggravated rape by a grand jury in February for an alleged incident that occurred in November (both players pleaded not guilty to the charges).
"We're not going to tolerate it — it's inexcusable," Jones said after Saturday's spring game. "I think you guys know how we run our football program. We have tremendous kids in this football program, and it's not an indication of what we have. It's unfortunate, and that's all I'm saying."
The Pearson story cuts against the culture change that has gone on at Tennessee. The football program last season had the highest team GPA (2.8) in Volunteer history, and UT has also increased its cumulative GPA in each of the last six semesters. Two of their young leaders on each side of the ball, Dobbs and Barnett, are among their top scholars and best citizens. Beyond that, Jones repeatedly harps on the impact of the decisions his players make as he did in a team meeting last Friday where he showed them a video of a prominent old football player devastated after being arrested.
"I don't want that to take away from all the great things that are going on in this football program," said Jones. "It is an ongoing situation. He's suspended indefinitely. There are consequences for your choices and actions, and we constantly educate our players. It's not an illustration of our football program.
"We have tremendous, tremendous kids in our football program. I'm disappointed, but we have to move forward. We have a lot of great kids and a lot of things going on here. I know people try to use that against us, but we have great kids. I think that's been proven with our community service, our academic excellence, and we'll continue to move forward."
Bruce Feldman is a senior college football reporter and columnist for FOXSports.com and FOX Sports 1. He is also a New York Times Bestselling author. His new book, The QB: The Making of Modern Quarterbacks, came out in October 2014. Follow him on Twitter @BruceFeldmanCFB.