CFB AM: Tennessee photoshops Beyonce mag cover to woo recruit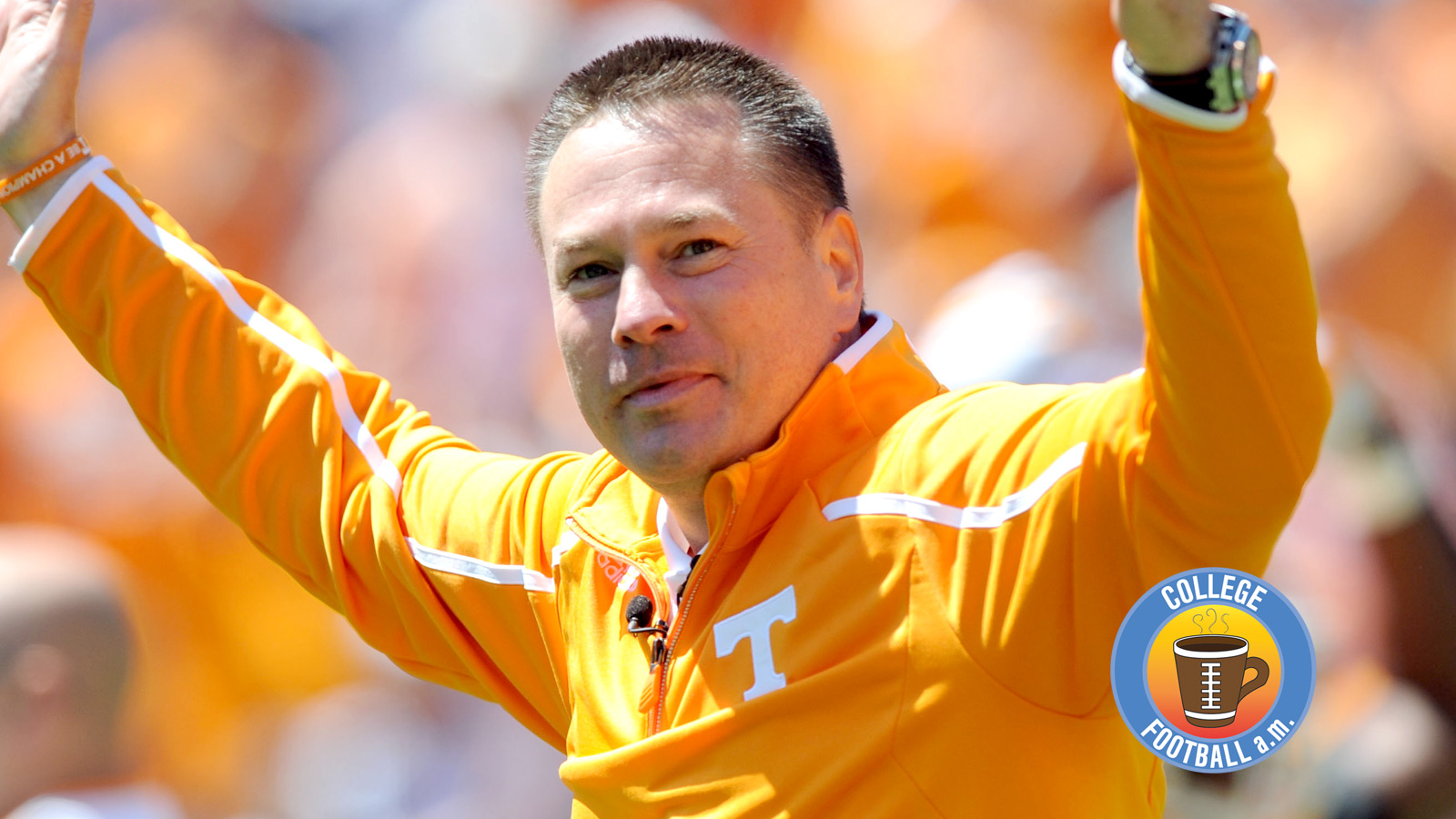 So, OK, there's not technically any evidence that Butch Jones created the modern recruiting game.
He's an aggressive, relentless chaser of football talent like many other in his business.
Fine, fine.
But, dang, can we take a moment today to applaud his (and/or his staff's) creativity?
Tennessee is pursuing defensive tackle Shy Tuttle, a five-star recruit out of Lexington, North Carolina, who is high on UNC.
Jones and his staff know it will probably take every pitch in their arsenal to get Tuttle to leave his home state, so they went immediately for the 120-mph fastball.
Here's what the Vols did:
😂😂😂😂😂 they snapped with this pic.twitter.com/dSCeiTInho

— Shy Tuttle (@KingTut_90) August 26, 2014
They went cold-blooded with Beyonce.
It's a helluva pitch, and we'll see if it actually works on Tuttle. One thing seems clear, though: Fedora, you're up. If you can get Bey to actually sing to Tuttle, you'll get every recruit ever for the rest of forever.
THREE THINGS YOU NEED TO KNOW
1. As QB battles get sorted out around the country, we're still waiting for word on two biggies, and it appears we're going to wait a little longer. Alabama coach Nick Saban is in no hurry to name a starter, listing both Jacob Coker and Blake Sims with the starters on his Week 1 depth chart, and LSU coach Les Miles said Monday that both sophomore Anthony Jennings and freshman Brandon Harris could play Saturday against Wisconsin. TCU will also wait until its game against Samford to decide between senior Matt Joeckel and junior Trevone Boykin, and North Carolina seems content letting junior Marquise Williams and redshirt freshman Mitch Trubisky compete until kickoff against Liberty.
One program that did come to a resolution at the QB position on Monday: Arizona named redshirt freshman Anu Solomon the starter over senior Jesse Scroggins and two transfers – junior Jerrard Randall from LSU and sophomore Connor Brewer from Texas.
2. The worst news for star Louisville receiver DeVante Parker came true on Monday after visiting a specialist on Sunday: He has a broken toe and underwent surgery, which will keep him out for 6-8 weeks. If Parker misses six games, he'll return for Louisville's game at Clemson on Oct. 11. After that, the Cardinals play NC State at home and then have a bye before getting Florida State on a Thursday night at home. Hopefully Parker is back in six, because it would be a shame to see one of the nation's best receivers miss one of his team's biggest games when Louisville could make some noise in the ACC.
3. This is an incredible and frightening story: USC starting cornerback Josh Shaw suffered sprains to both of his ankles after he jumped from a second-story balcony on to concrete, crawled into a pool to grab his 7-year-old nephew who somehow got in there during a family gathering and can't swim, and used his upper body strength to pull them both out of the pool by the ladder as his legs were useless. Shaw is out indefinitely and will miss USC's season-opener against Fresno State this weekend as he rehabs his ankles. Here's to a speedy recovery for him, and thankfully his nephew is OK.
THREE THINGS YOU SHOULD KNOW
1. Arkansas QB Brandon Allen's truck was set on fire. In his time as quarterback of the Hogs, he's been the victim of burglary, his vehicle getting egged and now a car fire. Fayetteville: Can you cut the dude a break?
2. Let's check in at some newspapers: The State's Ed McGranahan profiles Cole Stoudt, who will start at QB for Clemson this Saturday when the Tigers travel to Georgia.
In the playoff era, Big Ten teams need each other to succeed more than ever, writes Doug Lesmerises. This is why the LSU (Wisconsin) and Oregon (Michigan State) games are so crucial in the first couple weeks of the season.
It's the second good profile of Washington coach Chris Petersen in two days, this time from Christian Caple of The News Tribune. As Caple writes, Petersen didn't set out at first to be a coach, but rather a school psychologist. When you see him on the field at Hawaii this weekend, a small part of that is a complete accident.
The Tennessean's David Climer has 14 defining games for the SEC in 2014 – one for each team.
3. My colleagues have pumped out some strong work over the last few days, so I'd like to put together a sampling in one place for you here if you have a few minutes to read:
Sam Gardner profiled the best running back in America you probably know little about, South Dakota State's Zach Zenner. Stewart Mandel debuted his new Monday column, Forward Pass, which you'll like if you enjoyed his Overtime column at SI. Bruce Feldman crunched some numbers to try to highlight which assistants should get the next head coaching opportunities. Two new episodes of The Audible: Big Ten Network's Dave Revsine on the B1G and book writing, and USC beat man Ryan Abraham on the Trojans, a team that definitely has enough talent to contend for the Pac-12 South.
As always, thanks for stopping by and spending a few minutes on the site.
THREE THINGS YOU MAY WANT TO KNOW
1. According to ESPN's Darren Rovell, Oregon is selling 25 different kinds of Marcus Mariota jersey this season. Twenty-five! I'll spare you the "he should get some of that cheddar" mantra, but, well, yeah.
2. Kliff Kingsbury took out a full-page ad in the Texas Tech paper to get students fired up about attending football games this fall.
Coach Kingsbury took out a full page ad in the @DailyToreador for 1st day of class today with this message #WreckEm pic.twitter.com/0QrOGkRLOh

— Eric Ward (@EricWard_7) August 25, 2014
3. It's been an interesting journey for Blake Bell at Oklahoma, which saw him earn a cool nickname – "The Belldozer" – as the Sooners' rumbling QB. When Oklahoma plays Louisiana Tech on Saturday, the redshirt senior will be the starting tight end.
LASTLY
* Former Tulane player Devon Walker will return for the first time Thursday to the stadium where he was paralyzed two years ago.
* A Georgia Tech fan is returning to the school what is believed to be the game ball from GT's 222-0 win over Cumberland in 1916. He got the ball by bidding more than $40,000 for it in an auction.
* Fun interview here with Kirk Herbstreit by SB Nation's Spencer Hall on traveling all over America to talk about college football.
* Stud Maryland receiver Stefon Diggs posted a video a few days ago that confirms his broken leg is doing just fine.
* Pretty cool time lapse video of Baylor's McLane Stadium here that wraps two years of work into two minutes.
Have a great Tuesday, all.
Teddy Mitrosilis is an editor and writer for FOXSports.com. Follow him on Twitter @TMitrosilis and email him at tmitrosilis@gmail.com.