Tennessee Vols Joshua Dobbs, Derek Barnett, and Evan Berry Named to 2016 Coaches All-SEC Team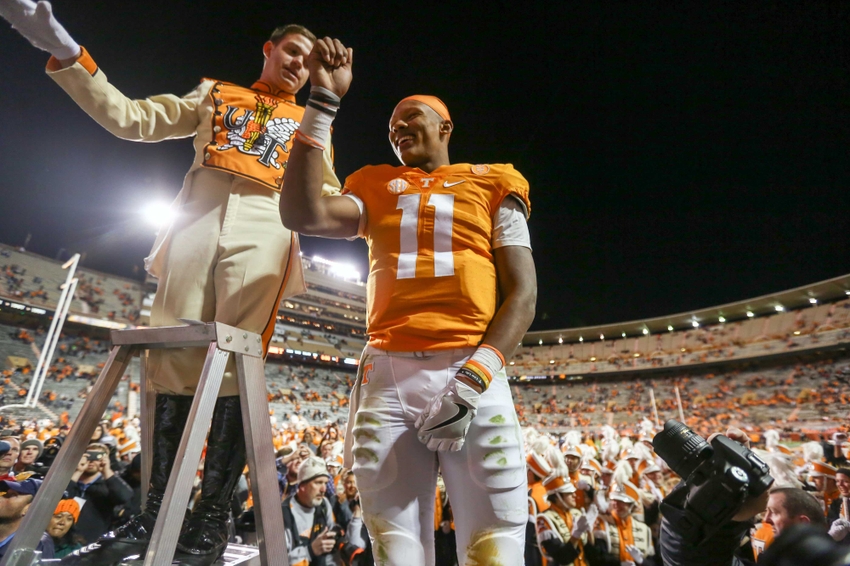 The 2016 Coaches All-SEC Team includes three Tennessee Volunteers. Joshua Dobbs, Derek Barnett and Evan Berry all got Southeastern Conference recognition.
The Coaches All-SEC team for the 2016 college football season is in, and three Vols are on the list. Josh Dobbs, Evan Berry, and Derek Barnett all got on there.
Dobbs was the second-team quarterback, behind Alabama Crimson Tide freshman quarterback Jalen Hurts. Although he finished with more passing yards and passing touchdowns than Hurts, he also had more turnovers, specifically interceptions, along with fewer rushing yards and rushing touchdowns.
And it looks like Hurts got lots of respect for taking his team to 13-0 and winning the SEC Championship.
Evan Berry was named the second-team All-SEC return specialist. This is his second straight year making it on the list. However, he made it on this year despite suffering a season-ending injury in the South Carolina game.
A kickoff return for a touchdown before that helped him get on.
Meanwhile, Derek Barnett was the only first-team All-SEC selection out of Knoxville. He made it onto the list with 12 regular season sacks, tying Reggie White's career record at Tennessee.
This is his third straight year on the list. Barnett has made it on here every year he has played college football.
The Alabama Crimson Tide led the conference with 11 players being named All-SEC.
Click here for the complete list of All-SEC selections.  
From the perspective of Tennessee football, there wasn't much controversy. The only one was a debate about whether or not Dobbs or Hurts should have been first-team.
However, that wasn't an easy call.
Let's just congratulate the three Vols who did make it. Although Dobbs finishes his career in Knoxville with not a lot of team accomplishments, he clearly finishes with lots of personal accolades.
Berry, meanwhile, has more game left in his college career, and Barnett's resume speaks for itself.
More from All for Tennessee
This article originally appeared on