Tennessee Vols Coach Butch Jones Remains a Much Better Leader than Speaker…And That's Okay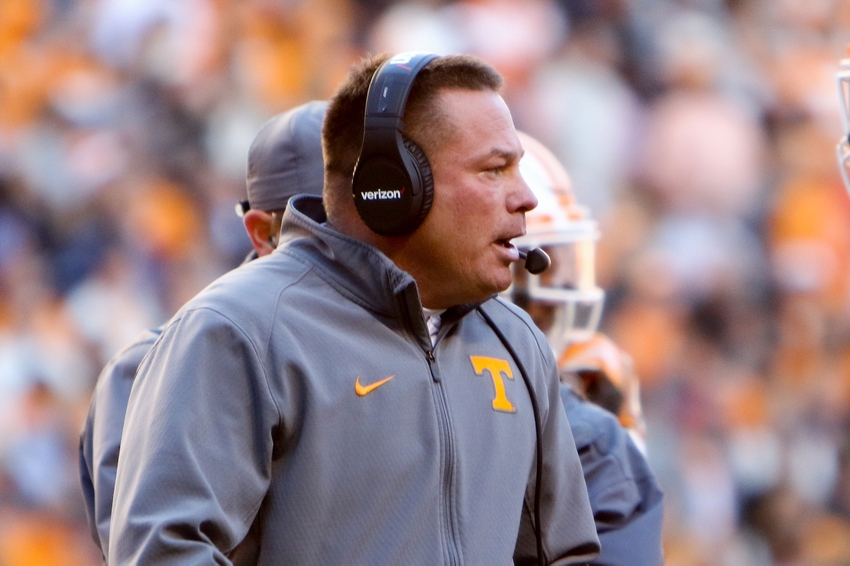 Tennessee football's Butch Jones remains a better head coach than speaker. But that's okay if you look at the state of the Volunteers program.
Of all the times Butch Jones has made everybody cringe with his lame sayings at Tennessee, he topped it all of on Monday.
In response to the news that his senior class would not win the SEC Championship or even the East, he made the lame quote that they were champions at life.
Here's the exact quote.
"They've won the biggest championship – and that's the championship of life."
Okay, we don't need to rehash how lame that is. Everybody has already done it. But what's confusing is why everybody is surprised.
Butch Jones remains the only guy left with a totally basic crew cut as a head coach. He also has already said pretty lame things. In his first press conference with Tennessee, Butch Jones pulled the wife card when asked about not being the Vols' top choice, noting he wasn't his wife's top choice.
Jones used lame quotes like being a champion in everything they do. He would build Tennessee brick by brick. Inches make the chain.
And it continued.
Last year, he had a one percent rule: that the Vols should get one percent better everyday.
But amidst all of that, fans still bought in.
For three years, they overlooked these quotes. Why? Because he was doing everything right off the field to restore the Tennessee football program.
Say what you want about his lame quotes, but it didn't stop him from nailing two Top 5 recruiting classes and being on his way to nail his third Top 10 class in five years.
It didn't stop him from shooting for the stars with his staff.
It didn't stop him from finding major steals that nobody else saw, including guys like John Kelly at running back.
And, despite not winning a title, it hasn't stopped him from slowly but surely restoring the Tennessee football program to one that's a regular in the Top 25.
Have we forgotten where the program was under Derek Dooley? Need I remind you guys that Derek Dooley was the greatest press conference coach ever and had the greatest haircut of any SEC coach ever?
How'd that work out?
What about Lane Kiffin before that? He wasn't comfortable in press conferences, but his brash personality won over fans, and he has a pretty solid haircut too.
Neither one worked out.
Jones is the best of the three of them, and although he has cheesy lines and doesn't win you over in press conferences, his body of work speaks for itself.
However, because fans are impatient and wanted a championship this year, Jones is now getting flack for making cheesy quotes.
Tennessee may not have won a championship this year, but Jones has the Vols back. They're not going anywhere after this year either. Even with the seniors they lose, Jones's recruiting has them positioned to be just as talented next year.
Don't freak out because Butch Jones didn't win a title the first year he had a team capable of winning a title.
And certainly don't hold things not related to football against him that we always knew to be true. So he's lame and cheesy.
That is about as relevant as temperament in a presidential campaign.
This article originally appeared on