Tennessee is the luckiest team in the SEC (and also very good)
Hey everybody. It's Monday. Time for Immediate Recovery.
(Note: To send questions for my Wednesday Mailbag, email Stewart.Mandel@fox.com)
*****
After he'd thrown a game-winning Hail Mary to counter Georgia's own apparent game-winning bomb 10 seconds earlier, Tennessee quarterback Josh Dobbs proclaimed the Vols to be "the most competitive team in the nation."
"We find ways to win," said Dobbs, whose 43-yard hurl to Jauan Jennings gave his now 5-0 team a 34-31 victory. "Adversity has been thrown our way each and every game. There's no quit in this team."
Surely someone on the 2013 Auburn Tigers gave that exact same quote.
Is ninth-ranked Tennessee (5-0, 2-0 SEC) just that good, just that lucky or both? We're about to find out, as Butch Jones' team takes its 11-game winning streak on the road to face No. 8 Texas A&M (5-0, 3-0) on Saturday, followed by a visit to Knoxville from No. 1 Alabama (5-0, 2-0) on Oct. 15.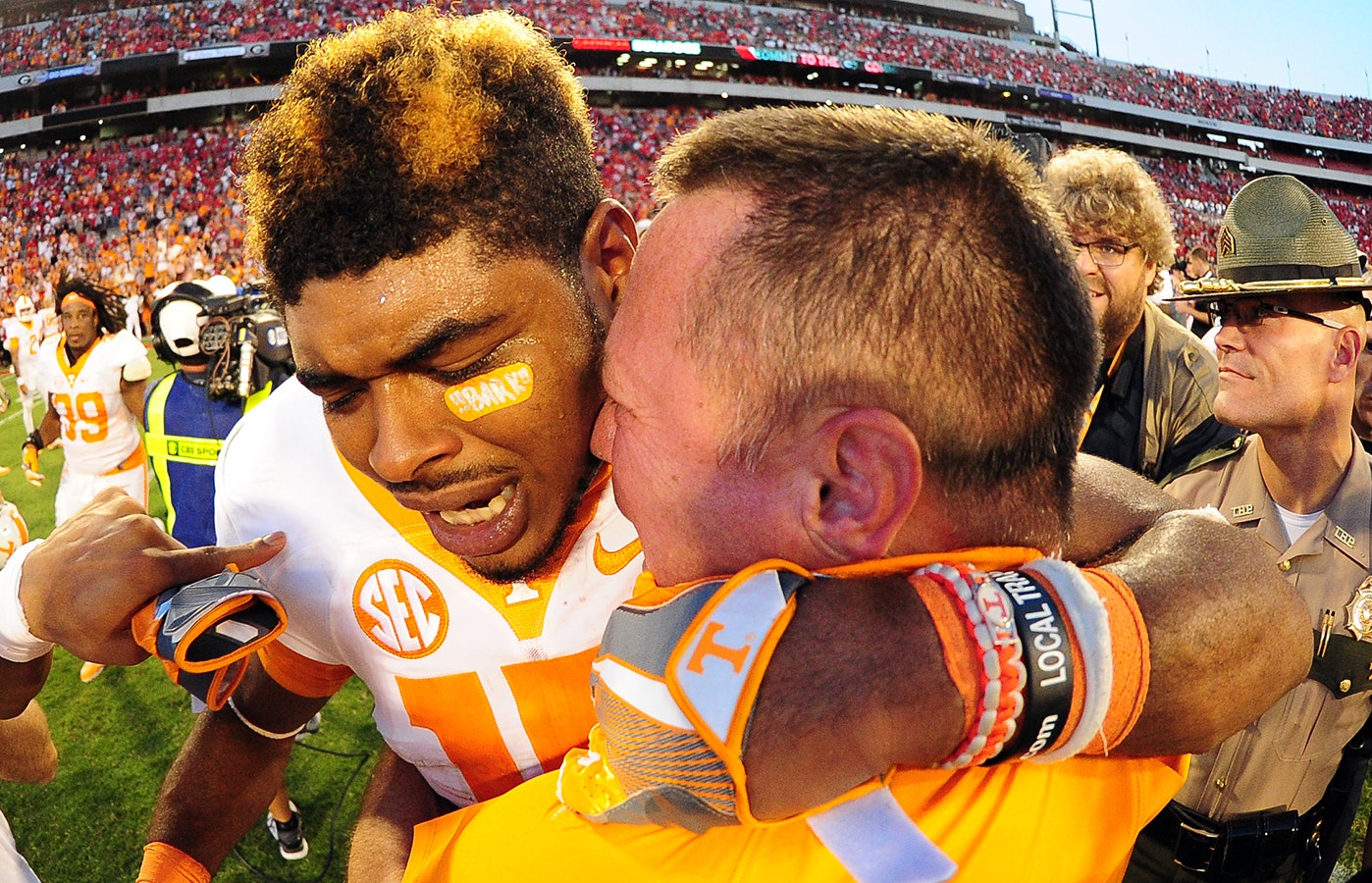 "It's definitely both — lucky and good," said college football advanced metrics guru Bill Connelly of SB Nation and Football Outsiders, noting the Vols are ranked in the Top 20 of his S&P+ efficiency ratings and that their once-struggling offense has improved over its past six quarters.
But arguably the most luck-laced element of football is fumble recoveries, which are essentially a 50-50 proposition. Either the ball bounces your way or it doesn't. Tennessee this season has recovered 19 of 25 fumbles – 76 percent – including Jacob Eason's in his own end zone with 2:46 remaining Saturday that Corey Vereen recovered to give the Vols their first lead of the game.
Tennessee's good fortune began the opening Thursday night of the season, when it fended off a potentially humiliating home loss to Appalachian State only after running back Jalen Hurd fell on Dobbs' own fumble into the end zone in overtime.
The following week, Tennessee recovered all five of Virginia Tech's fumbles to pull away 45-24 in a game where it gained just 330 yards of offense.
Then, following a largely uneventful 28-19 win over Ohio, Tennessee dug itself such a deep hole (21-3) against decade-long nemesis Florida that the home crowd booed the Vols off the field after the first half. Dobbs came out and threw a pick right after halftime just for good measure, then rolled off five unanswered touchdown drives to win going away.
Finally, in what looked like a classic next-week letdown game in Athens, the Vols fell behind Georgia 17-0 before rallying again. This time, for some added suspense, after Tennessee finally climbed ahead 28-24 on Eason's fumble, the Dawgs' freshman quarterback came back and fired a 47-yard dart to Riley Ridley with 10 seconds remaining to seemingly seal the victory for Georgia.
But of course, the Dawgs got flagged for excessive celebration and had to kick off from their own 20. Of course, Evan Berry promptly returned it to the Georgia 48, and of course Georgia ceded five more yards by jumping offsides. At which point Dobbs lofted his pass into the end zone that Jennings somehow came down with in between a sea of red jerseys.
You can't write stuff like this. @Vol_Football will remember this play forever. https://t.co/pMQymhAvBm

— SEConCBS (@SEConCBS) October 1, 2016
"We're just finding ways to win football games," said Jones. "What can I say?"
What he can say is the Vols are doing this even with three of their best defensive players – linebackers Darrin Kirkland and Jalen Reeves-Maybin and cornerback Cam Sutton — currently sidelined by injuries. One of their replacements, former walk-on Colton Jumper, had a game-high 11 tackles Saturday.
"Jalen couldn't play and neither could Cam, but they count on the [70-man] travel roster," said Jones. "We were 68-strong."
He might say that Tennessee boasts one of the nation's most disruptive defensive players in defensive end Derek Barnett, who followed up a dominant second half against Florida with a pair of sacks against Georgia, including the one that forced Eason's game-turning fumble in the end zone.
And of course Dobbs, a roller-coaster performer throughout his career, is on quite the uptick right now. He'll need to continue it. As much as Tennessee has been tested so far, it only gets tougher the next two weeks.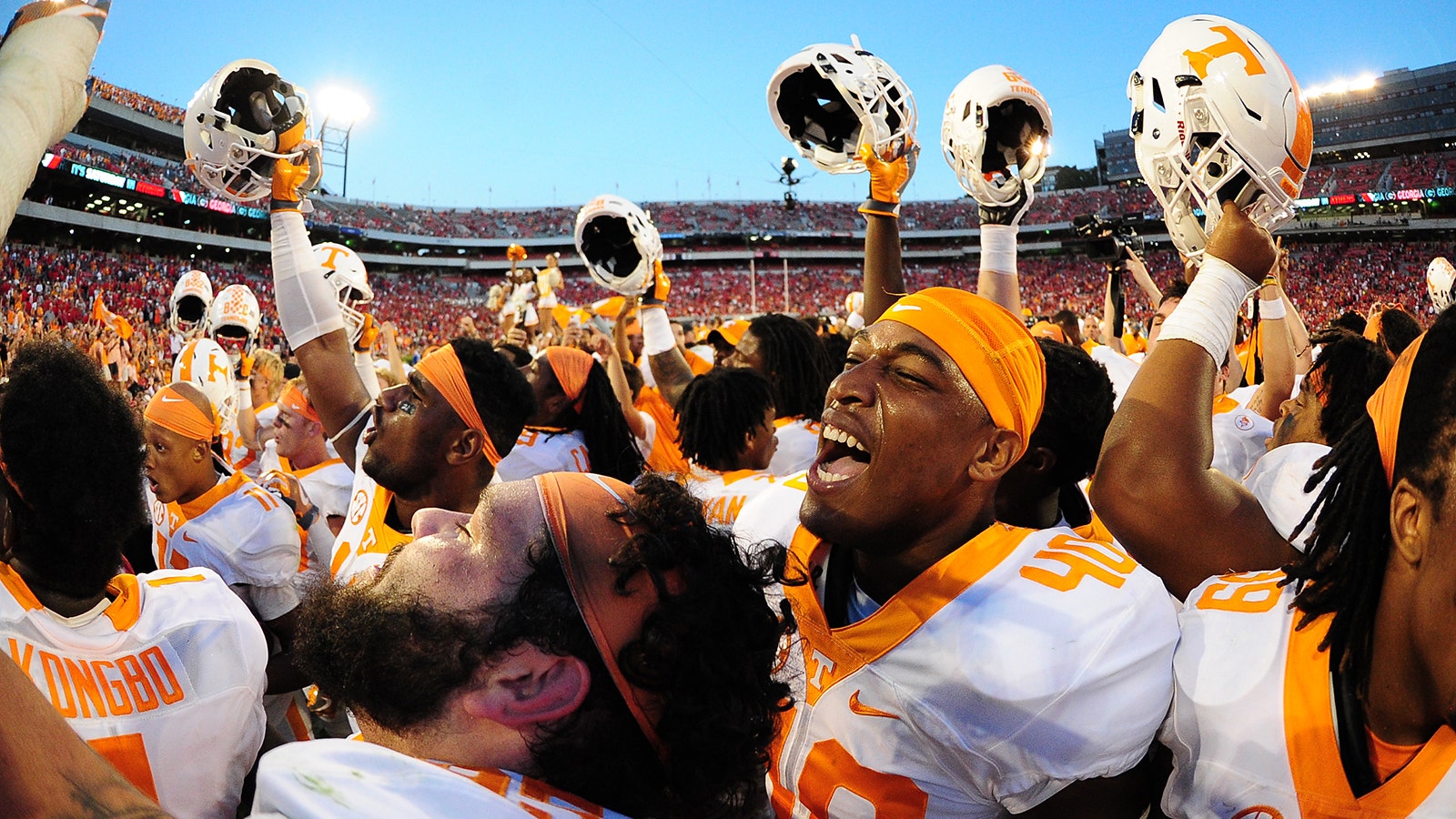 Texas A&M is built similarly to the Vols, with their veteran QB (Trevor Knight), strong defensive line (led by Myles Garrett) and big-chunk running game (thanks to freshman Trayveon Williams). And Alabama is Alabama.
What happens if the ball stops literally bouncing the Vols' way?
"There's nothing saying this can't keep up, but the odds are small," said Connelly. "They'll probably have to simply beat those teams."
If they do, two weeks from now, Tennessee will be looking at an almost-certain top four ranking.
If they don't, it may mean the Vols' luck does have an expiration date.
And now, a few more takeaways from Week 5 as we reset the landscape for Week 6.
Clemson still brings its own guts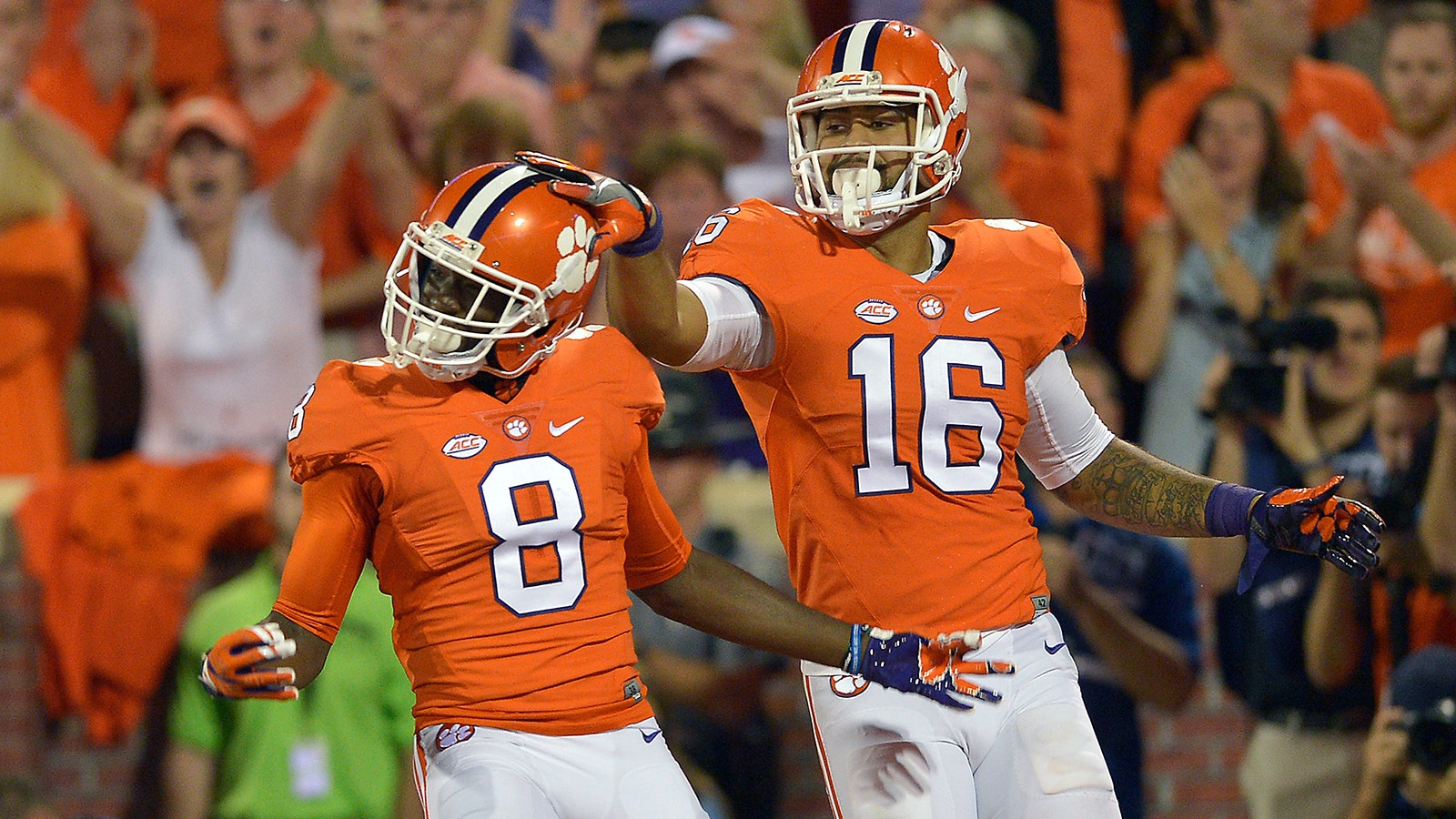 The story of Clemson's first four games was its surprisingly sloppy offense. The story of Saturday night's thrilling 42-36 escape against No. 3 Louisville? So what?
Something's still not quite right with Tigers star Deshaun Watson, who threw three interceptions Saturday and continually overshot receivers on passes downfield. But he also threw five touchdowns, including the 31-yard go-ahead score to Jordan Leggett after watching a 28-10 lead evaporate at the hands and feet of Louisville sensation Lamar Jackson.
Clemson won Saturday's game with defense, which may sound strange to say after Jackson put on another epic performance and Louisville racked up 568 yards of offense. But due to the combination of Clemson's three quick-strike scores and five turnovers on offense, the Tigers' defenders found themselves on the field for 99 plays against Louisville. They were visibly gassed.
And yet when they needed to wrestle back control once and for all, defensive tackle Carlos Watkins swatted down a Jackson third down pass at the line of scrimmage to set up Watson's go-ahead touchdown drive, and, with the game on the line, backup cornerback Marcus Edmond forced Louisville receiver James Quick out of bounds one yard short of the marker on fourth-and-12.
Dabo Swinney did not have an equivalent moment to last year's "BYOG" speech after holding off Notre Dame, but he sounded as always like a proud father in a marathon post-1 a.m. press conference early Sunday.
"Five turnovers, two in the red zone, one of them a [likely] touchdown, against the No. 3 team in the country and we win," Swinney marveled. "Let me tell you how that happens — character. Character. Culture. Heart. A group of young men that absolutely believes, no matter what. It's awesome to be a part of."
The Tigers' win coupled with Florida State's last-second loss to North Carolina on Saturday puts Clemson well in control of the ACC Atlantic just two games into conference play. Which in turn puts it in prime position for a return to the playoff. But as I wrote from the game, don't put it past Louisville to find its own way back into the mix.
Chris Petersen's still got it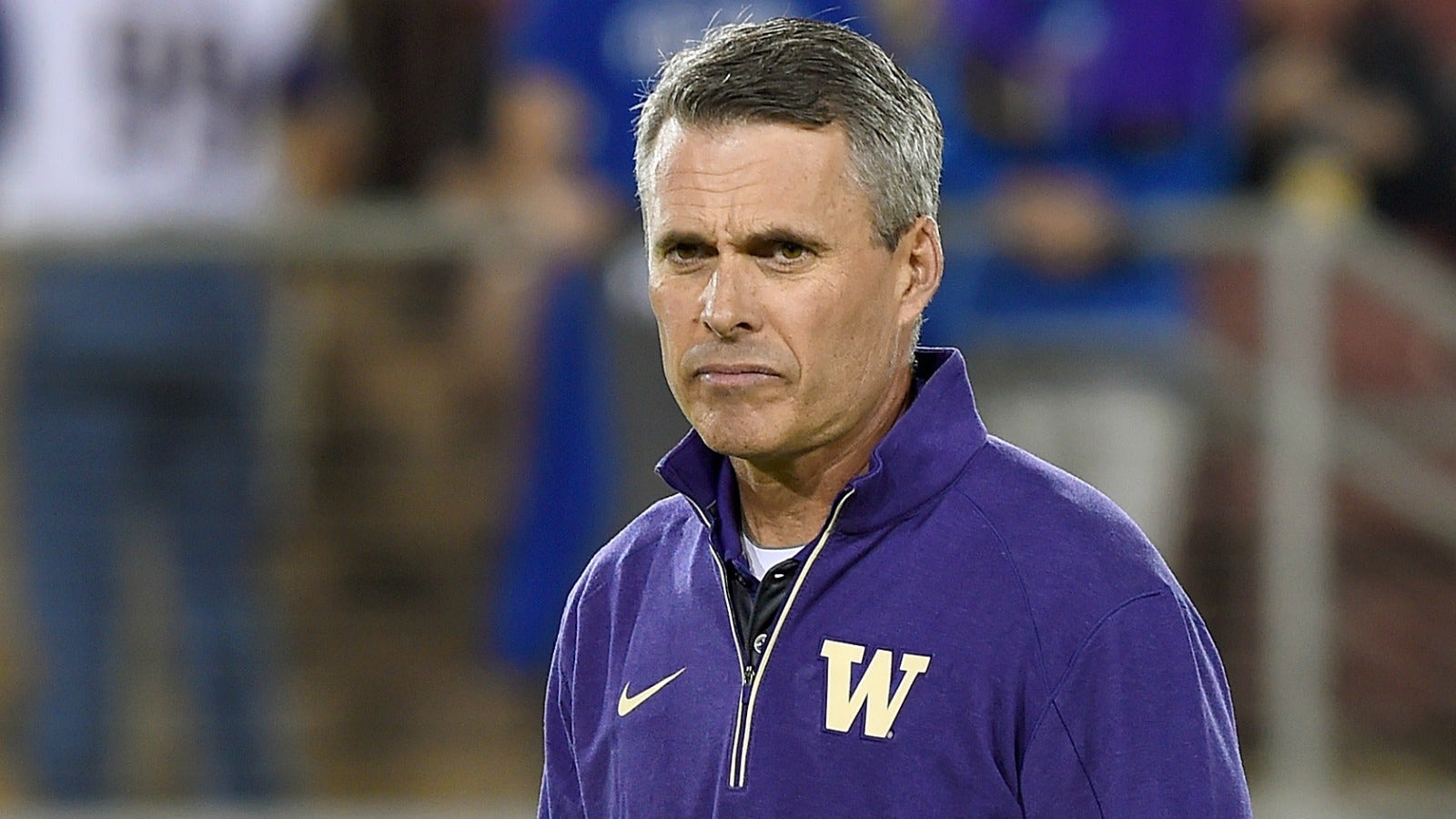 For most of his eight-year run at Boise State, Chris Petersen was universally hailed as a coaching rock star, the guy who built a little WAC/MWC team into a powerhouse that would annually take down an Oklahoma, Oregon or Georgia. Then he left three years ago for a rebuilding job at Washington and everyone outside of the Pac-12 forgot about him.
That is, until last Friday night.
Petersen's team made arguably the biggest statement of any so far this season with its 44-6 rout of reigning Pac-12 juggernaut Stanford. The Cardinal's calling card for most of the past six years has been its dominant play at the line of scrimmage. Washington's Death Row defense pried that crown away, as Joe Mathis, Psalm Wooching and the rest of the front seven racked up eight sacks. According to the Seattle Times' Adam Jude, they did it without blitzing once.
"Those kids were playing really inspired ball by the energy in that stadium," said Petersen. "They were excited to play Stanford anyways but I know it hasn't felt like that certainly since I have been here. I know that was a different deal for me, it was awesome."
Fittingly, Washington (5-0, 2-0 Pac-12) turned in its defensive clinic on the same night it honored its 1991 national championship team, which, led by No. 1 draft pick Steve Emtman, was a defensive juggernaut. Now, we'll see if the 2016 Huskies are poised for a run of their own.
Next week, they visit hated rival Oregon (2-3, 0-2), a foe Washington has not defeated in 13 years but which is suddenly in dire straits. The Ducks' defense on Saturday allowed pass-happy Washington State (2-2, 1-0) to run for 280 yards on them.
Also, in an unexpectedly fortuitous scheduling break, the Huskies this season don't face torrid Colorado (4-1, 2-0), which on Sunday cracked the polls for the first time since 2005.
If Washington is to stumble it will likely come in one of back-to-back road games against Utah (4-1, 1-1) and Cal (3-2, 1-1) on Oct. 29 and Nov. 5. It should be crisp in the air at both places, so fans attending should break out their 1991 flannels.
The ACC is overflowing with star quarterbacks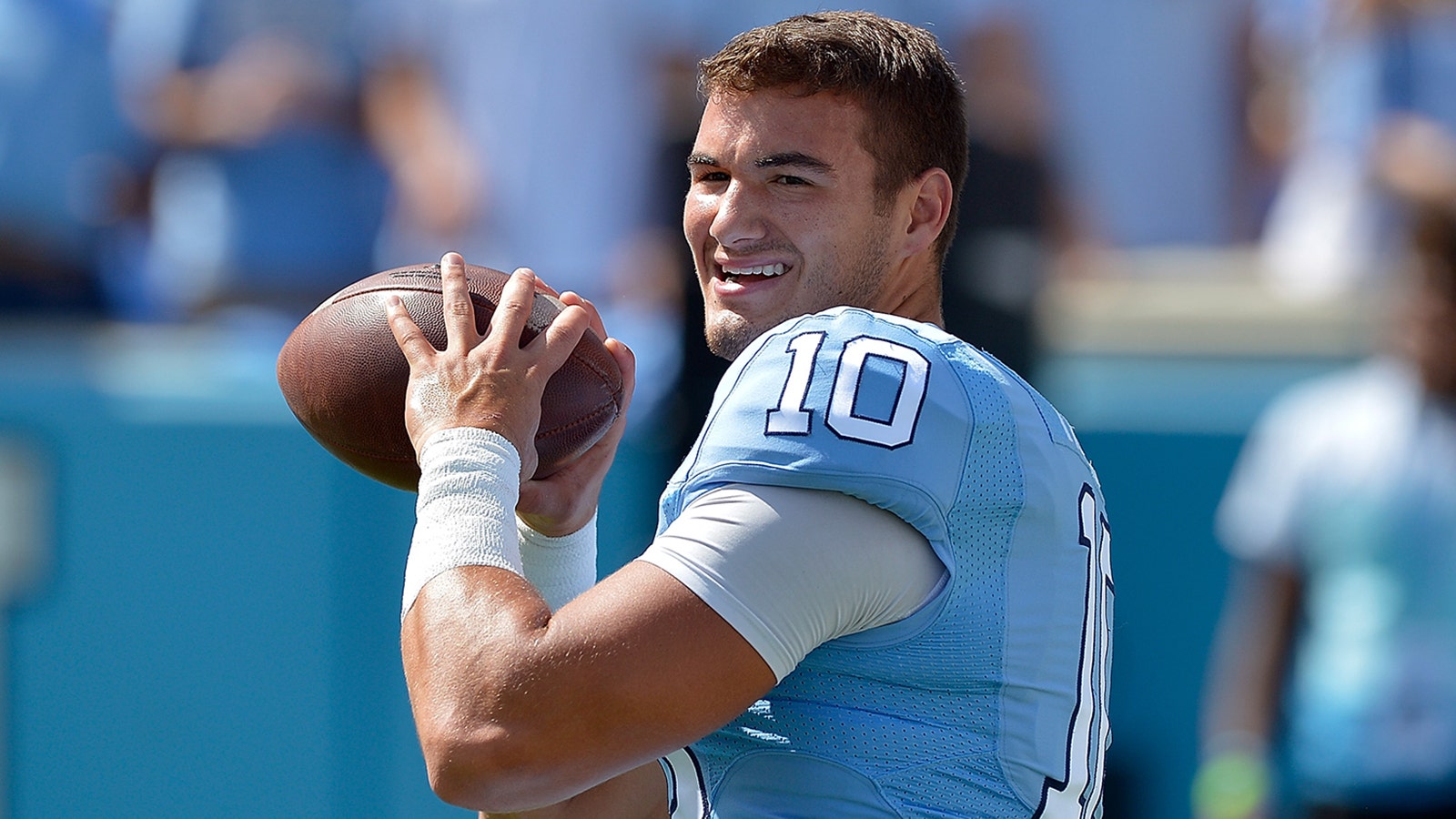 There was a time not that long ago, pre-Jameis Winston and Deshaun Watson, where it felt like the ACC went years without producing a notable quarterback. Not coincidentally, the ACC was an oft-mocked football conference.
On Saturday, however, the second-largest TV audience of the season so far tuned in to watch a duel of ACC stars Jackson and Watson. Hopefully they also watched the North Carolina-Florida State game a couple of hours earlier. Tar Heels QB Mitch Trubisky entered my Heisman Top 5 on Sunday after shredding the 'Noles and upping his season stat line to 76 percent completions (No. 1 nationally), 1,711 yards (No. 6), 13 TDs and no INTs.
This Saturday, another acclaimed ACC signal-caller gets his shot at the 'Noles' beleaguered pass defense. Miami's Brad Kaaya has largely flown under the radar this season, but NFL scouts certainly know who he is. He and the suddenly 10th-ranked 'Canes (4-0, 1-0 ACC) look to validate themselves with a primetime showcase while No. 23 FSU (3-2, 0-2) tries to salvage its season.
Charlie Strong is back on the hot seat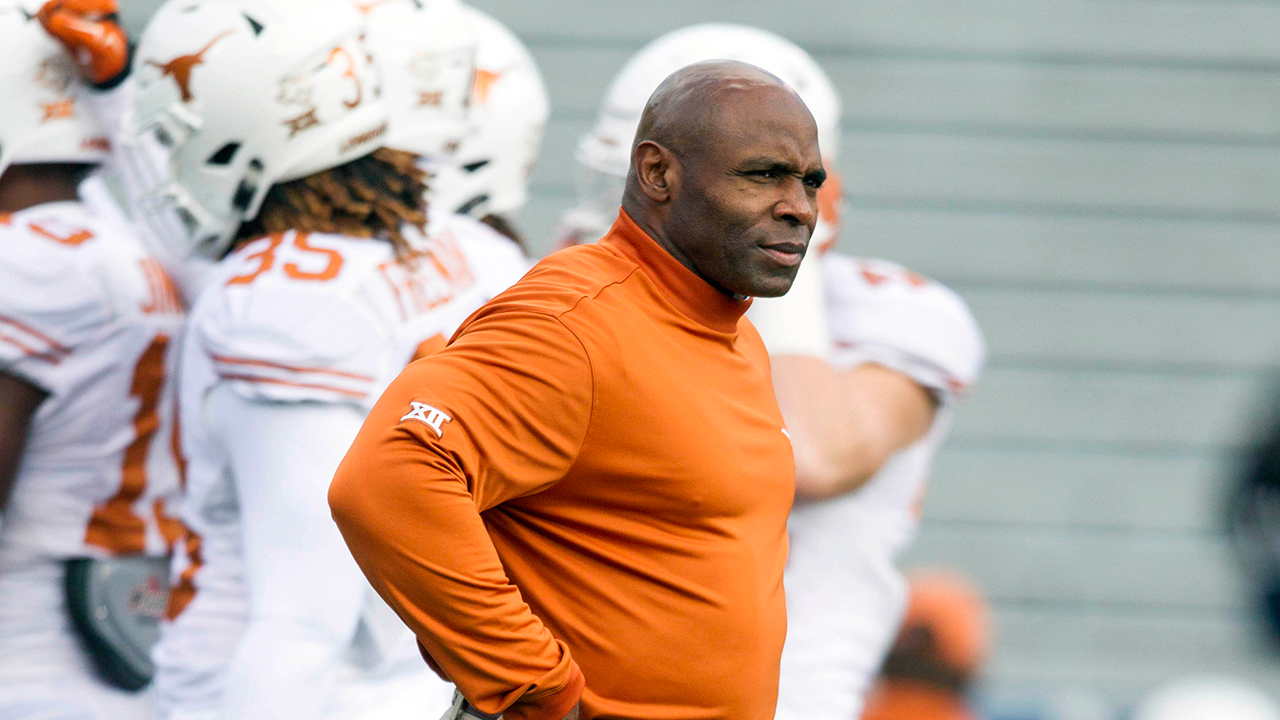 It's amazing how quickly Texas' perennially embattled third-year coach used up nearly all the goodwill garnered from that opening Sunday night win over Notre Dame.
Strong, with a hand from freshman QB Shane Buechele, finally fixed his long-suffering offense this season only to watch his defense implode. Following Saturday's 49-31 loss to Oklahoma State, the 'Horns now rank 126th out of 128 FBS teams in pass efficiency defense (175.56) and 122nd in yards per attempt (9.2). Strong will now call defensive plays himself, taking those duties away from defensive coordinator Vance Bedford.
Now it's Oklahoma week. A year ago, the 'Horns stunned the Sooners to take quite a bit of heat off Strong at the time. He needs another upset given AD Mike Perrin's comments Saturday about "evaluating what happened here," but will that be enough? On Monday, SI's Pete Thamel reported Texas is close to deciding to move on from Strong.
P.J. Fleck is ready to cash in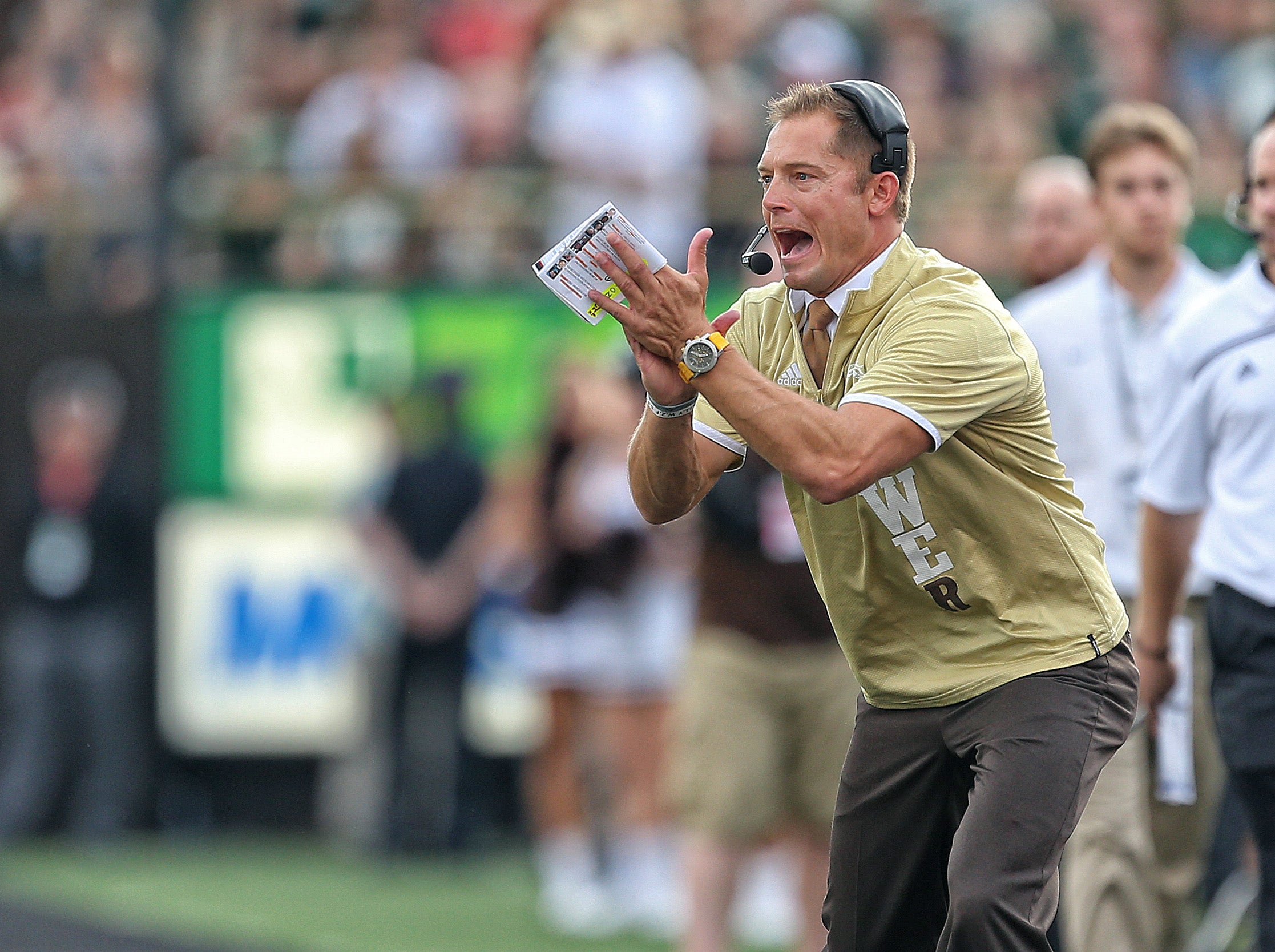 Western Michigan's brotastic Rower of Boats has been not so subtly marketing himself for a Power 5 job the past couple of seasons, and now he's getting on-field results necessary to complete the sale. With a 49-10 win over Central Michigan, the 5-0 Broncos, which previously knocked off Big Ten foes Northwestern and Illinois, earned the school's first-ever Top 25 ranking (in the coaches poll).
Western Michigan and Toledo, which lost a heartbreaking shootout at BYU on Friday, are the class of the MAC this year. The Rockets are constantly losing coaches to greener pastures. The Broncos are finally in position to do so.
Just for fun …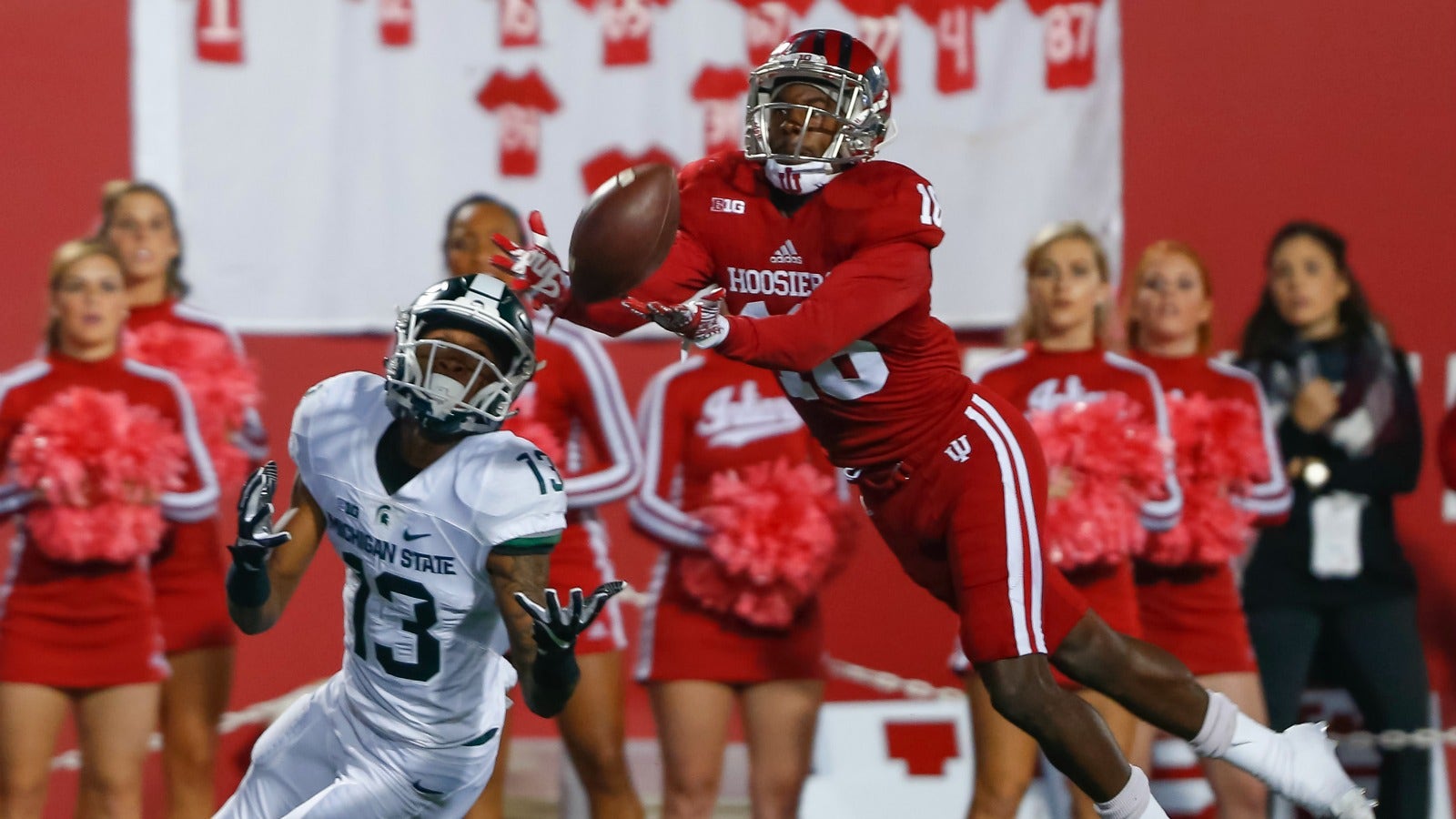 Indiana on Saturday pulled a semi-stunning 24-21 upset of then 17th-ranked Michigan State in overtime. Coincidentally, in a tweet about Colorado ending its 11-year poll hiatus, ESPN's David Hale noted that Indiana has currently gone the longest of any Power 5 school since it last cracked the Top 25 – back in 1994.
Which made me wonder: When is the soonest that the Hoosiers, currently 3-1 and receiving three AP votes (putting it 41st), could end that drought, keeping in mind they play at Ohio State this weekend and will likely fall to 3-2 by the second quarter?
I believe they would have to run off at least five straight victories, against Nebraska, Northwestern, Maryland, Rutgers and Penn State, at which point they would be an 8-2 Big Ten team and almost certainly ranked. For a week. Because then they play at Michigan.
Dare to dream.