Tennessee Football: Vols Set to Face Nebraska Cornhuskers in Music City Bowl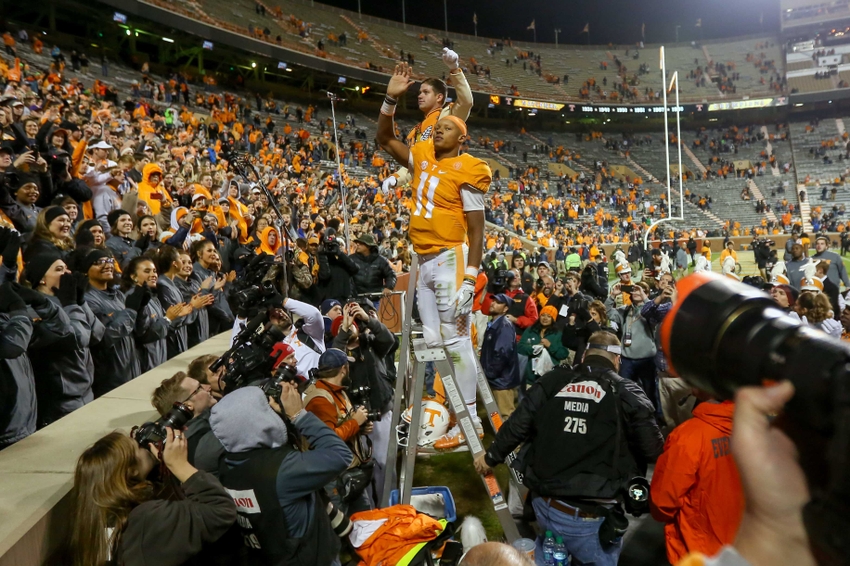 Tennessee football is heading to Nashville for its bowl game this year. The Volunteers will face the Cornhuskers on Dec. 30.
After a disappointing 8-4 finish, Tennessee football will remain in the state for their bowl game this year. The Vols will face the Nebraska Cornhuskers in the Music City Bowl in Nashville.
Tennessee has not played Nebraska since they lost to them 31-21 in the Fiesta Bowl following the 1999 season.
The only other time the two schools met was following the 1997 season in the Orange Bowl, Peyton Manning's final game, when the Vols lost 42-17.
The Music City Bowl will be played on Friday, Dec. 30, at 2:30 p.m. at Nissan Stadium in Nashville, where the Tennessee Titans play.
Tennessee finished No. 21 in the final College Football Playoff rankings but outside of the Top 25 in both the AP and Coaches polls.
Nebraska, meanwhile, is No. 21 in the Coaches Poll, No. 24 in the AP Poll, and unranked in the College Football Playoff poll. The Huskers finished the season 9-3 and second in the Big Ten West to the Wisconsin Badgers under second-year head coach Mike Riley.
The game will feature two programs with beloved senior quarterbacks who did not accomplish as much as fans had hoped on the field but still won over their hearts.
The last time Tennessee football played in the Music City Bowl was at the end of the 2010 season. That was Derek Dooley's first year.
The Vols lost that game to the North Carolina Tar Heels in double overtime 30-27. They thought they had the game won in regulation, but with a field goal lead and the clock running down, North Carolina spiked the ball with one second left despite having too many men on the field and not getting set.
They were then able to tie the game with a field goal and win in overtime. Tennessee finished the season 6-7 as a result.
That spike play resulted in the 10-second runoff rule in college football, which took place the next year.
More from All for Tennessee
This article originally appeared on