Tennessee Football: Vols Dominate Kentucky Wildcats 49-36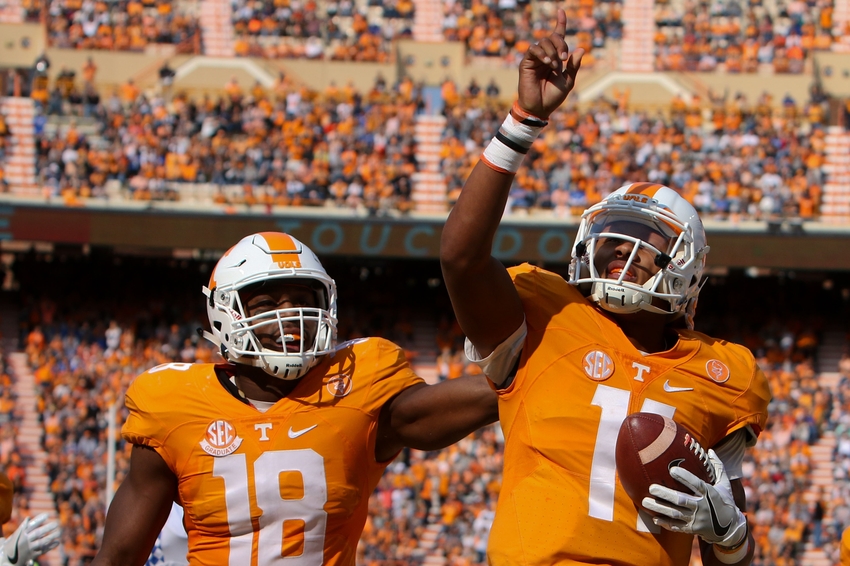 Tennessee football moved to 7-3 on the season after dominating the Kentucky Wildcats. The Volunteers won the game 49-36.
Joshua Dobbs and Alvin Kamara both went over 100 yards on the ground while Dobbs added over 200 yards through the air, and Tennessee football dominated Kentucky 49-36 in the process for its fifth straight win in the series.
Derek Barnett and Corey Vereen also each had two sacks in the game as well. Barnett got to 10 sacks on the season and is only two sacks away from Reggie White's school record for career sacks, which stands at 32.
The Vols won the game after falling behind early 7-0 in front of a noon crowd at Neyland Stadium. Dobbs responded with a touchdown pass to Josh Smith on the very next drive.
After Kentucky went up 10-7 with a field goal, Dobbs led the Vols on a 75-yard drive. It ended with a one-yard touchdown run by him.
From there until the third quarter, the Vols and Wildcats traded a touchdown for a field goal respectively.
But after Kentucky made it 21-16 with a third-quarter field goal, Tennessee went on a 28-6 run to take a 49-22 lead.
Kentucky made it closer with two late touchdowns, one of which came after recovering an onside kick. They also gained over 400 yards rushing and lost, the first team this year to do that.
But the Vols still won easily, as most of those yards were in garbage time.
Dobbs finished the game with five total touchdowns. He was 11-of-17 for 223 yards and three touchdowns to one interception through the air, and on the ground he had 13 carries for 138 yards and two touchdowns.
Kamara ran it 10 times for 128 yards and another two touchdowns, and Kelly added 94 yards on 16 carries.
Josh Malone led the Vols in receiving with four catches for 92 yards and a touchdown, which was a 51-yard grab off of a flea-flicker from Dobbs.
Ethan Wolf also had a solid game with four receptions for 44 yards and a touchdown.
Meanwhile, the Vols played bend but don't break defense. They did allow 36 points and 635 yards, but they held the Wildcats to three field goals in the red zone and forced a fumble on another drive that got down to inside their five-yard line.
Most of those yards came in garbage time anyway.
But the real story was the Tennessee football rushing attack. They nearly had three 100-yard rushers and torched the Wildcats on the ground.
And once again, they managed to put up a ton of offensive points against the Wildcats.
With the win, Tennessee football is now 7-3 and 3-3 in the SEC. Their final two games are against the Missouri Tigers and Vanderbilt Commodores.
However, the Florida Gators won 20-7 against the South Carolina Gamecocks on Saturday. That means to win the East, the Vols have to win their final two games, and the Gators have to lose next week to the LSU Tigers on the road.
More from All for Tennessee
This article originally appeared on