Tennessee Football: Vols Choke Away Sugar Bowl Bid With 45-34 Loss to Vanderbilt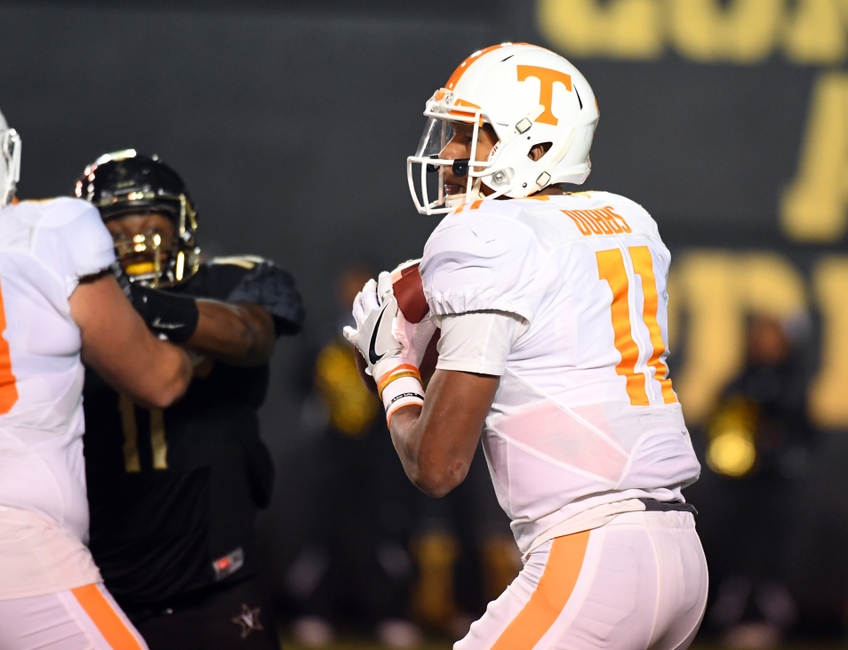 Tennessee football just choked away a chance to get to the Sugar Bowl. The Volunteers lost to the Vanderbilt Commodores 45-34.
Vanderbilt became the 11th SEC team to become bowl eligible at the expense of Tennessee football on Saturday night.
The Vols gave up over 600 yards on defense again to offset a tremendous performance by Joshua Dobbs, and they lost to Vanderbilt for the first time since 2013 and for the first time since Derek Mason took over there.
It was the first Vols SEC game when they scored the first touchdown, and they could not hold onto a 21-7 first half lead or a 34-24 lead in the second half.
Joshua Dobbs finished 31-of-34 for 340 yards, two touchdowns, and no interceptions.
But in the second half, his offense managed only three points after three trips into the red zone. A missed field goal and failed fourth down also happened inside the red zone that half.
Tennessee's defense was unable to get a stop down the stretch of the game, as Kyle Shurmur threw for 416 yards and two touchdowns while Ralph Webb had 20 carries for 116 yards and two touchdowns.
Despite terrible defensive play all night, the Vols still had a 34-31 lead and the ball as the third quarter expired.
But Joshua Dobbs made his only mistake on the night by fumbling as he was falling to the ground. Vanderbilt recovered, took the lead on that drive, and never looked back.
Now, with their second straight 8-4 finish, the Sugar Bowl is out of the question for the Vols. Even a New Year's Day bid is in question for Tennessee football at this point.
And Butch Jones's seat is as hot as ever.
Tennessee did have over 500 yards of offense, but for the third straight week, Bob Shoop's defense could not overcome its slew of injuries.
And an inability to score in the red zone down the stretch cost the Vols.
This article originally appeared on