Tennessee Football: Vols Are Getting Robbed in Top 25 Rankings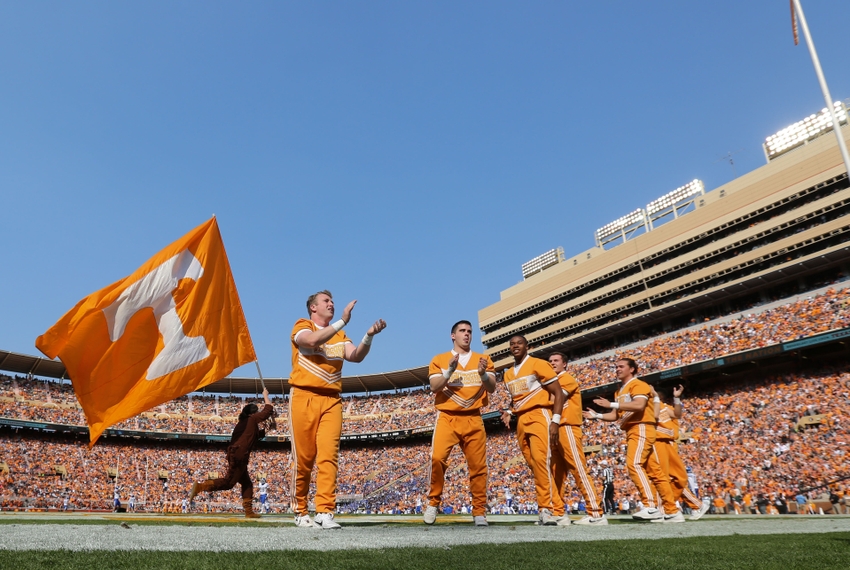 After beating the Kentucky Wildcats to get to 7-3, Tennessee football fell further away from the Top 25 polls. Here's why the Volunteers are getting robbed.
Tennessee football just can't catch a break in the polls! After starting the year ranked No. 9 in the country, which may have been too high, they managed to begin the season 5-0…only to get back to No. 9.
Then, after a three-game losing streak, they understandably fell out of the Top 25. A dominating win over Tennessee Tech to rebound was rightfully not enough to get them back in the polls.
But after beating the Kentucky Wildcats 49-36 on Saturday in a game that wasn't even that close, the Vols somehow fell further away from the Top 25.
How does that work?
At 7-3, Tennessee is one of four SEC teams with three losses. All three other teams are ranked in the Top 25.
That includes the Auburn Tigers, who lost to the Georgia Bulldogs on the road this past weekend. Didn't the Vols beat the Dawgs in Athens?
Seriously, what has Auburn accomplished that Tennessee hasn't?
Texas A&M is barely in the Top 25, and that's honestly understandable. But Tennessee did take them to double-overtime on the road with a ton of injuries. Can't they get some respect?
And of course, we have the LSU Tigers. LSU, like Tennessee, lost to Alabama. They also lost to Auburn in Wisconsin.
LSU and Auburn both only have one quality win this year: the Arkansas Razorbacks. Otherwise, they have done nothing that the Vols haven't done.
In fact, Tennessee has actually played a tougher schedule than both teams, which brings us to our next point.
Overall, there are six three-loss teams in the Top 25 when you add the Florida State Seminoles, USC Trojans, and North Carolina Tar Heels. None of them have Tennessee's schedule strength.
Despite playing in the supposedly weak SEC East, the Vols have the No. 3 ranked strength of schedule according to the RPI's method.
Every single team they've played this year outside of Tennessee Tech is either bowl eligible or likely to reach bowl eligibility after this weekend.
But they are the three-loss team left out of the Top 25? With that schedule, they should not only be the highest ranked three-loss team or one of the top two. They should also be in over Washington State, Boise State, and San Diego State.
And they should certainly be receiving more votes than Houston, Navy, South Florida, and Troy.
All three of their other non-conference opponents outside of Tennessee Tech are still in the running to win their conference: Ohio, Appalachian State, and Virginia Tech.
And speaking of Virginia Tech, did you know they are receiving more votes than the Vols in both polls right now? Yes, the Hokies, who just lost to Georgia Tech, have more votes. They have the same record as Tennessee, 7-3, got blown out by the Vols in the Battle at Bristol, and by every metric have played a weaker schedule.
But they somehow get more Top 25 attention. In what stratosphere does that make sense?
Meanwhile, a team they beat, the North Carolina Tar Heels, is actually in the Top 25 at 7-3. We can leave out the fact that Virginia Tech is getting robbed by that as well. How is UNC in there but Tennessee not?
The SEC East is certainly a questionable division. Losing to South Carolina was bad for the Vols. But those two things don't warrant the over-reaction to keep them so far outside of the Top 25.
Tennessee has done more than enough with its body of work to squeak into there. Of their FBS schedule, they haven't even faced their two easiest opponents yet.
That comes in the final two weeks of this regular season.
But somehow, their resume is not enough for voters.
More from All for Tennessee
This article originally appeared on