Tennessee Football's Bittersweet Senior Day: Vols Lose East but Dominate Missouri Tigers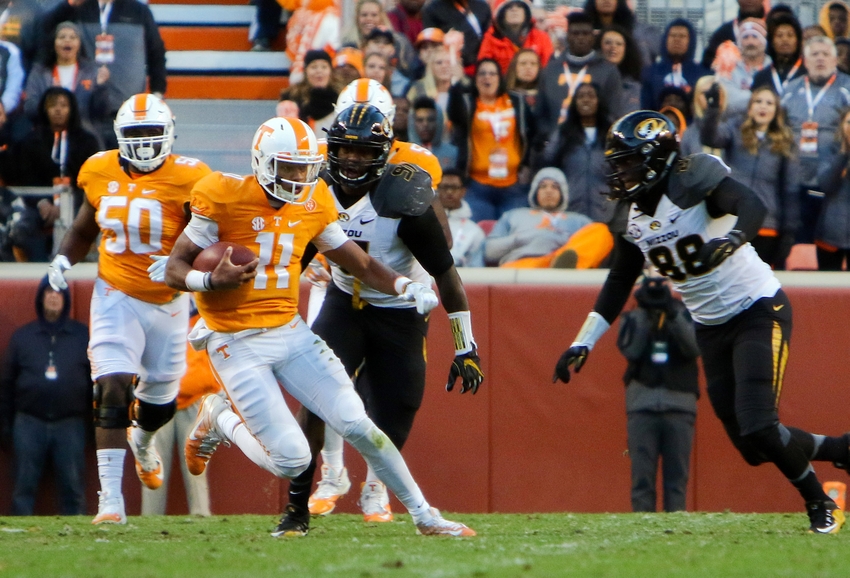 Tennessee football had a bittersweet day. The Volunteers lost the SEC East but dominated the Missouri Tigers on Senior Day 63-37.
Joshua Dobbs had five total touchdowns again along with 413 total yards to make his final performance for Tennessee football at Neyland Stadium a memorable one.
The senior quarterback led the Vols to a 63-37 victory over the Missouri Tigers at Neyland Stadium, the most points they scored at home since 2000.
Dobbs finished the game 15-for-22 with 223 yards and three touchdowns, and he added 10 carries for 190 yards and two touchdowns.
Just like every other SEC game this year, Tennessee allowed the first touchdown to the Tigers. But they missed the extra point, and Dobbs hit Jauan Jennings for a touchdown to give the Vols an early 7-6 lead.
Dobbs then hit Josh Malone for a 57-yard touchdown pass to extend the lead to 14-13. But Missouri wouldn't quit.
Until midway through the third quarter, the Vols and Tigers traded touchdowns. Behind 225 yards rushing from Damarea Crockett and 163 yards rushing from Ish Witter, the Tigers continued to frustrated a banged up Tennessee football front seven.
Drew Lock's 323 yards passing also added to that.
Missouri cut it to 14-13 at one point. The Vols made it 21-13 with a 75-yard drive capped off by an Alvin Kamara four-yard touchdown run.
However, they went into halftime only up 21-20.
Micah Abernathy had an interception to open the second half, and Dobbs capped it off with a five-yard touchdown to Jauan Jennings. Jennings finished with four receptions for 67 yards and two touchdowns.
Malone added three receptions for 83 yards and a touchdown.
However, Missouri made it 28-27 with another touchdown drive. That's when Dobbs took over with his legs. He mounted a drive that ended with a 30-yard touchdown run by him.
After the Tennessee defense finally held Missouri to a field goal, they broke it open. Dobbs had a 70-yard run to extend the Vols' lead to 42-30.
They then got a stop on defense. And Butch Jones and Mike DeBord turned to Kamara and John Kelly the rest of the game. Kamara finished with 12 carries for 55 yards and two touchdowns, and Kelly had 18 carries for 101 yards and a touchdown.
At the end of the game, with Missouri threatening, Jonathan Kongbo sealed it with a rare defensive line pick-six.
With the win, Tennessee moved to 8-3 on the year and 4-3 in the SEC, while Missouri fell to 3-8.
The Vols can't win the East, but depending on how next week goes, they could easily end up in the Sugar Bowl. So there's still a lot to play for.
More from All for Tennessee
This article originally appeared on