Tennessee Football Report Card: Grading the Vols in their 63-37 Win Over the Missouri Tigers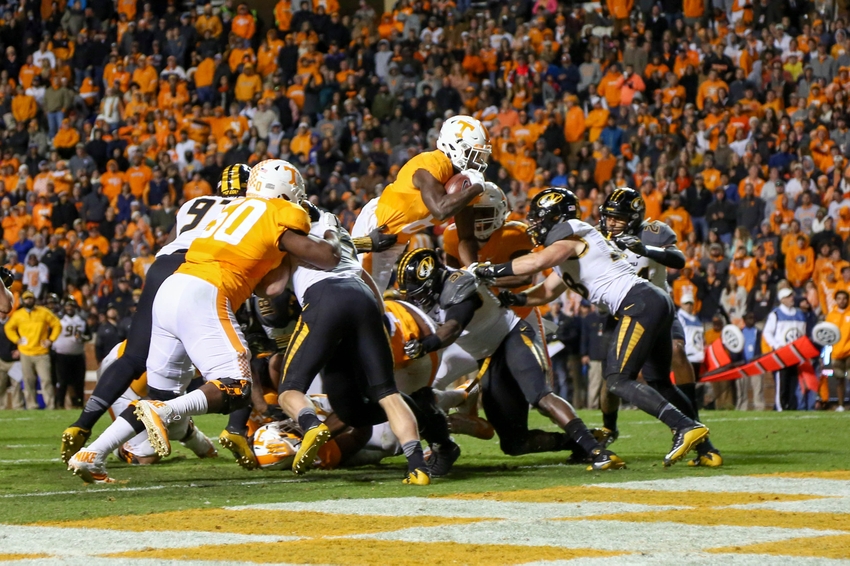 Tennessee football had a dominant Senior Day in 2016 with a 63-37 win over the Missouri Tigers. Here is the report card for each of the Volunteers units.
Well, it's pretty clear which side is going to get the best grades. For the second straight week, Tennessee football dominated in a shootout.
The Vols moved to 8-3 on the year after beating Mizzou, and despite learning in the first quarter of the game that they wouldn't go to the SEC Championship, they still managed to put on a show for the fans at Neyland Stadium.
In a historic Senior Night, the Vols scored the most points in a game since 2000, when they beat the Arkansas Razorbacks 63-20 and Casey Clausen was just a freshman.
This time, they beat the Missouri Tigers 63-37 in a game that was similar to that 2000 game against Arkansas for multiple reasons: they scored the same number of points, there was a defensive lineman who returned a turnover for a touchdown both times, and the quarterback for the Vols accounted for five touchdowns.
As you can see with these impressive performances, there are plenty of great grades to give out in this game. However, at the same time, there are also some poor grades.
Based on the flow of the game, it was easy to see that not everything worked to perfection for the Vols.
But it was impressive enough for a huge victory on a bittersweet night.
Here is the official Tennessee football report card for the Vols' 63-37 victory over the Missouri Tigers.
Offensive Grades
Quarterback: A+
This is one of the first times we could give an A+ quarterback grade all year, but Joshua Dobbs truly did have a perfect game his final night at Neyland Stadium. Despite the fact that the Missouri Tigers have a secondary that likes to pick off passes and a solid pass rush, Dobbs was dominant.
He finished the game 15-of-22 for 223 yards, three touchdowns, and no interceptions. On top of that, he had 10 carries for 190 yards and two touchdowns, including a 70-yard and a 30-yard run. Simply put, Dobbs dominated the game for Tennessee football, and with no turnovers, this was clearly a perfect performance by him.
Running Backs: A-
Collectively, Tennessee football's running backs averaged over five yards a carry with 32 carries for 168 yards. They also had three touchdowns and no turnovers, and when you add in Alvin Kamara's three receptions for 14 yards, it was clearly a great overall night by the backs.
John Kelly was the leader of the unit with 18 carries for 101 yards and a touchdown. He really has stepped up the past few weeks in light of Jalen Hurd's departure. Kamara was a star in his own right with 12 carries for 55 yards and two touchdowns. His average could have been better, but it was skewed by touchdown runs of two and four yards. Carlin Fils-Aime added 12 yards.
Wide Receivers/Tight Ends: A
The only reason they don't get an A+ here is that there's not enough of a sample size to do that. But the Vols' two starting receivers definitely get an A+. As they've done all year, Jauan Jennings and Josh Malone changed the game for the Vols early. Jennings sparked the offense early with a 49-yard touchdown reception as the Vols were trailing 6-0, and he had a short touchdown catch in the second half to give them a 28-20 lead. He finished with four receptions for 67 yards and two touchdowns.
Malone was also a game-changer, as he had a huge 57-yard touchdown reception to help extend the Vols' lead early, making it 14-6 at the time. He finished with three receptions for 83 yards and a touchdown. Brandon Johnson, Jason Croom, and Ethan Wolf all got in there with a reception each as well, and Tyler Byrd had two catches for four yards. Josh Smith, continuing his disappointing year, had a drop again, but the other receivers made up for his failures. Wolf's blocking helped the Vols as well against a solid pass rush, which leads us to our next unit.
Offensive Line: A-
Overall, there is nothing negative we can say about the Tennessee football offensive line. They took advantage of a weak interior Missouri defense and paved the way for 386 rushing yards by the Vols and over an eight and a half yards per carry average. Meanwhile, the pass protection was surprisingly very good.
Sure, the Vols allowed two sacks and two hurries. But Drew Richmond as a freshman offensive tackle showed that he had arrived by holding his own against Charles Evans, one of the best defensive ends in the SEC. He allowed only one sack from Evans but still paved the way for Dobbs and the backs to break off long runs going that way. So while there were a few mistakes, the unit did an amazing job for the most part.
Overall Offensive Grade: A
What can you say? The offense put up 56 points on its own and had perfect quarterback play. So yes, the unit deserves an A, and you really have to sell why it's not an A+.
Defensive Grades
Defensive Line: D
Two things keep this defensive line play from being an F. Derek Barnett got another sack in the game, and Jonathan Kongbo had an interception returned for a touchdown. Those things alone significantly reduced the terrible performance this unit had. Still, even with those two plays, the unit is the biggest reason that Missouri had 420 yards rushing. We have to knock them for that.
To be fair, the defensive line is massively banged up with three major contributors in the middle gone and other guys playing hurt. It really set them back and has caused them issues throughout down the stretch. So we can't blame this unit for struggling, but there's no doubt that it did.
Linebackers: C-
The Tennessee football linebackers were struggling severely at times throughout the game, evidenced by Missouri's 420 rushing yards. However, the Tigers did run it 67 times, and the linebackers had to over-exert themselves given how injured the Vols are on the defensive line.
Still, Darrin Kirkland Jr., Cortez McDowell, and Colton Jumper all had tackles for losses. Meanwhile, Elliott Berry added seven tackles. The unit had its issues, which is why it can't get a B or an A. But you have to give credit to it overall for holding its own in a very difficult situation.
Secondary: C
Let's start with the bad. They allowed 320 yards passing from Drew Lock, and they did make far too many mistakes overall. With the Tigers running it so well, you would hope that the Vols' defensive backs would make up for it. They didn't.Safety play was once again the big issues, as the safeties this year tend to make tons of great plays but can't stay in position on standard downs.
But let's not ignore the fact that Lock completed fewer than 50 percent of his passes and only had one touchdown pass. Micah Abernathy also gets points for a crucial interception the Vols had to open the second half. So the unit didn't play bad enough for a D or an F.
Overall Defensive Grade: C-
Look, yes they gave up over 700 yards of offense. But a lot of the way you play defense is situational, and the Vols played a lot of bend but don't break. They simply ran tons of plays in this game altogether, and we have to take into account that the defensive line was massively injured.
On top of that, while they gave up 37 points, they also were responsible for 14 points thanks to two interceptions.
Special Teams Grades
Place-Kicking: C-
Aaron Medley missed a 47-yard field goal, another blunder on a kick beyond 40 yards. On top of that, he had two kickoffs returned near or past midfield in the first half. All of that put him well on his way to an F in this game.
However, one of those kickoffs was called back to the 20-yard line due to a holding penalty. Also he didn't miss and extra point. And in the second half, he had a touchback on every kickoff. That was enough to keep Medley from getting a D or an F on Saturday.
Punting: A-
Trevor Daniel remains a huge weapon for Tennessee football, and he did it again on Saturday. With only four punts, Daniel averaged 46.2 yards per punt. However, that average was skewed by the fact that he nailed one 40-yarder to pin Missouri inside the 20-yard line.
Outside of that, he had three punts of 51, 47, and 47 yards. And he pinned the Tigers inside the 20 on that 51-yard punt as well. Simply put, his numbers were great once again. So he gets an A for his performance once again.
Return Game: D
The Vols did nothing special in the return game this week. But in his final performance at Neyland Stadium, Cameron Sutton got to return one punt. And he impressively returned it 17 yards. However, Tyler Byrd was only able to return two kickoffs.
Both of them went for over 20 yards which was nice. The reason this falls to a D, though, is that Josh Smith had a three-yard return at one point, and the Vols made a crucial mistake on one kickoff return by falling down at the one-yard line. Those were awful mistakes, and there was not much great to make up for it.
Overall Special Teams Grade: C+
This week's special teams performance did not meet the standard for Tennessee football under Butch Jones. A missed field goal, two bad kickoffs, and two crucial mistakes on kickoff returns could have been costly were they playing a better team. Fortunately, punting saved this grade from being far worse.
Coaching Grade: A+
Yes, this grade is an A+. And it's that way for many reasons.
Let's start with the fact that Butch Jones had to refocus his team after the news about the Florida Gators clinching the SEC East spread throughout Neyland Stadium. At the time, the Vols were clinging to a 7-6 lead over the Missouri Tigers.
And when that news hit, everything already felt like a loss. Tennessee football was not going to meet a goal it set for itself to start the year.
But on Senior Night, Butch Jones kept the guys focused, and he made sure they put all their energy into beating Missouri. That alone earns him huge props.
Moving onto the position coaches, there is nothing bad you can say about Mike DeBord and the offensive play-calling Saturday. He mixed it up perfectly and exploited Missouri's weakness in the middle. And just when he forced the Tigers to try to stop deep balls and throws and runs over the middle, he turned Joshua Dobbs loose on the outside for big runs.
It was a perfect game.
Meanwhile, Bob Shoop may have called an even better game. Fans will freak out when considering that his defense gave up over 700 yards. But this is a Missouri offense that is the best at moving the ball in the SEC East, even if it doesn't score. And Shoop is without his three best defensive tackles and his best linebacker. Meanwhile, at least five other guys on the roster are hurt.
So his coaching was as good as you could expect it to be, and he still schemed well enough for an early second half interception.
As far as the special teams mistakes, those were freak plays that you can't blame Larry Scott for.
Overall, it was a great coaching performance, and we have no problem giving this group an A+ for what it did on Senior Day.
This article originally appeared on