Tennessee Football Recruiting: Vols Rankings Drop to No. 11 on Rivals After De-Commits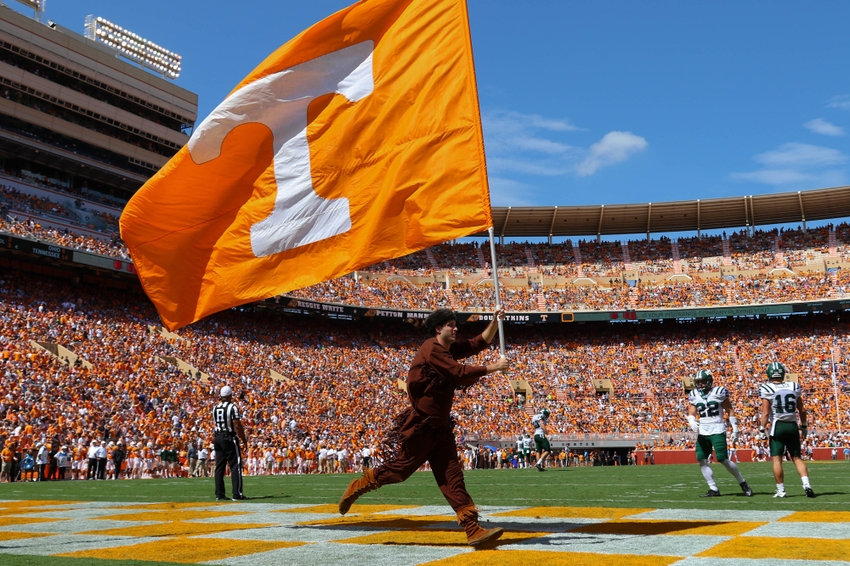 Tennessee football's 2017 recruiting class ranking took a hit after three de-commits Tuesday. The Volunteers fell out of the Top 10 on Rivals and 247Sports.
Well, it could have gone worse. But it looks like the controversy surrounding Butch Jones is hurting Tennessee football on the recruiting trail.
The Vols took a major hit in recruiting after the news that four-star Florida athlete C.J. Cotman along with the Gaddy twins, four-star defensive tackle Breyon Gaddy and three-star athlete Brandon Gaddy, all pulled out of their commitments to Tennessee Tuesday night.
The result was a drop out of the Top 10.
Tennessee now has the No. 11 ranked recruiting class on Rivals, and they have the No. 14 ranked recruiting class on 247Sports.
Meanwhile, they are fifth in the SEC on Rivals, behind the Alabama Crimson Tide, Georgia Bulldogs, Texas A&M Aggies, and Auburn Tigers. On 247Sports, they are sixth, behind all of those teams plus the Auburn Tigers.
And they are barely ahead of the South Carolina Gamecocks.
However, there is some good news in all of this.
The Vols are still a major player to land one of the top offensive linemen in the country, Trey Smith, out of Jackson, Tenn.
They also are in the running for elite receiver Jaylen Harris out of Ohio and elite defensive end LaBryan Ray out of Alabama.
At the same time, Jones has been impressive in finding under-rated recruits and turning them into stars. He deserves credit as a solid evaluator of talent.
That could help with lots of highly ranked three-stars still out there.
So there is still plenty of time to beef up their recruiting class with lots of talent. Vols fans do not need to panic just yet.  But those three losses from Tuesday night are indeed painful.
And it will only warm up Jones's hot seat even more.
This article originally appeared on