Tennessee Football NFL Week 10 Recap: Eric Berry, Jason Witten, Robert Ayers Shine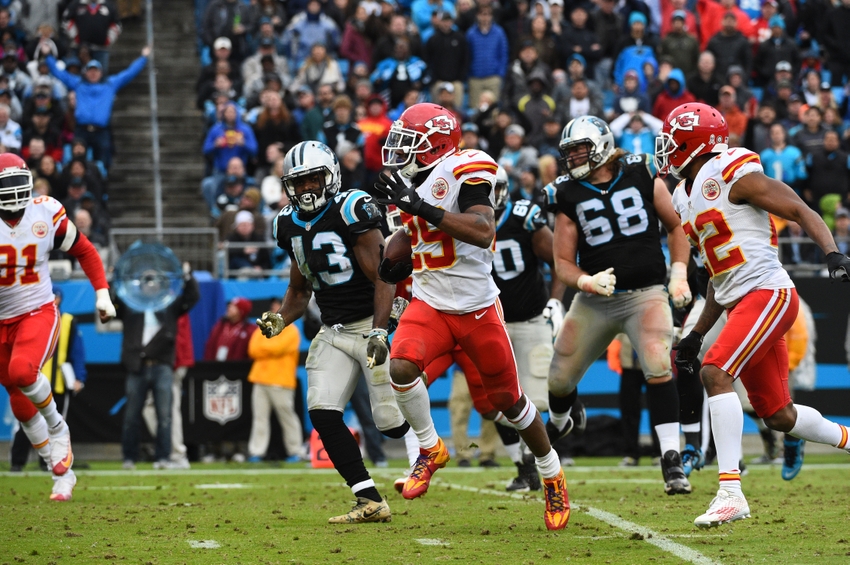 Former Volunteers Eric Berry, Robert Ayers and Jason Witten stood out among Tennessee football players in the NFL for Week 10.
Tennessee football continues to represent itself well in the NFL. This week, it was the usual stars that played in Knoxville.
The best safety in the league single-handedly delivered his team a victory. Meanwhile, the best tight end of all time led his team to the best record in the league.
And then there's another player who returned from injury to have one of the best performances of his career.
Overall, 17 former Vols saw action during the Week 10 NFL season.
For a few former Tennessee football players, it was a great day. But others had some disappointing outings.
As we review the Vols who performed in the NFL this past week, we'll do what we usually do. We are going to separate them into tiers.
Our first list is the star performers, and our next list is the disappointing performers. Then we'll bring you updates on regular contributors.
The final page is dedicated to former Vols who saw limited action. It also brings updates on every other former Tennessee football player in the NFL. That includes players on bye weeks, those who are hurt, reserve players, and free agents.
Even after down years, the Vols somehow manage to take over the NFL on a week to week basis. They did again with some excellent performances during Week 10.
And there were, as always, a few bad performances.
Let's start with the star performers from this past weekend.
Star Performers
1. Eric Berry, Safety, Kansas City Chiefs: He's about to have another Pro Bowl season. Eric Berry showed his talent again against the Carolina Panthers. In the Kansas City Chiefs' 20-17 victory, he did it all. Berry finished with nine tackles, including a tackle for a loss. He deflected two passes. And of course, he had the play of the day with a 42-yard interception touchdown return.
People say he's aging, but Berry doesn't look like he's lost a step. Because of him, the Chiefs are 7-2 and first place in the AFC West at this moment. And this past Sunday was easily his best performance of the year.
2. Jason Witten, Tight End, Dallas Cowboys: While Eric Berry broke out onto the scene again on Sunday, Jason Witten has made a habit of doing that all year for the 8-1 Dallas Cowboys. He has thrived with Dak Prescott at quarterback, and he did so again on Sunday. Witten had six catches for 59 yards in the Cowboys' 35-30 win against the Pittsburgh Steelers. But he wasn't just a pass-catcher.
Proving he's the best all-around tight end of all time, Witten helped the Cowboys up front. He and the offensive line absolutely owned the Steelers' defensive line. That was a huge part of giving Prescott plenty of time to throw the ball and make tons of plays. So once again, he was a star performer for the Vols.
3. Robert Ayers, Defensive End, Tampa Bay Buccaneers: He only just got back from injury, and Robert Ayers became a shutdown defensive linemen two weeks after that for the Tampa Bay Buccaneers. In their 36-10 win over the Chicago Bears, Ayers finished with six tackles, forced a fumble, and had one and a half sacks.
That's an incredible performance. Even now in his 30s, Ayers continues to be a valuable and elite defensive end. After weeks away from the field, he's not letting up now that he's healthy and back out there.
Most Disappointing Outings
1. Justin Coleman, Cornerback, New England Patriots: Justin Coleman was part of a New England Patriots secondary that gave up 348 passing yards and three touchdowns to Russell Wilson. In particular, he was responsible for Tyler Lockett. And his performance was a disaster.
Coleman poorly represented Tennessee football by allowing Lockett to have three catches for 72 yards, including one that set up their first score. He's got to play better down the road.
2. Zach Fulton, Offensive Lineman, Kansas City Chiefs: By all accounts, Zach Fulton is getting better each week considering how he struggled early. However, he was still a huge problem for the Chiefs on Sunday. They just covered it up with the win.
But Fulton helped spot the Panthers a lead, playing a huge role in allowing Alex Smith to get sacked three times. Meanwhile, he never helped establish the running game. Spencer Ware's 13 carries for 61 yards were decent, but they were mostly happening with Carolina in pass defense since they were leading. Only after Eric Berry's interception did that change.
3. Daniel McCullers, Defensive Tackle, Pittsburgh Steelers: Daniel McCullers had two tackles for the Steelers in their 35-30 loss to the Dallas Cowboys on Sunday, but he was part of a unit that got destroyed overall. The Cowboys' offensive line had its way with Pittsburgh from start to finish.
As a result, we have McCullers on our list of poor performers. He was no more help than anybody else on the line and did a poor job representing Tennessee football in the process, which is why we have him on here.

Ranking Other NFL Vols Who Saw Significant Action
Matt Darr, Punter, Miami Dolphins: Matt Darr played a crucial role in carrying the Miami Dolphins to a 31-24 victory over the San Diego Chargers on Sunday. He had five punts for an average of 51.6 yards. By the way, that stat isn't skewed. Darr had three punts go beyond 50 yards. His shortest punt was a 40-yarder…that pinned the Chargers inside the three-yard line. And he also had a 47-yarder, which started a Chargers drive that ended in an interception.
So Darr was a star for the Dolphins in helping them get to 5-4, but he wasn't the only Tennessee football punter to do some work.
Dustin Colquitt, Punter, Kansas City Chiefs: Eric Berry may have done the sexy work, but Dustin Colquitt great for the Kansas City Chiefs as well. He had five punts for an average of 49 yards per punt. One of his punts did go into the end zone, but he pinned two inside the 20, and he had a 64-yard punt.
In short, Colquitt did an amazing job helping Tennessee football hold up the Punter U title that it so proudly claims.
Tony McDaniel, Defensive Tackle, Seattle Seahawks: As always, it's tricky when naming Tony McDaniel a former Tennessee football player since he never really became a star before being kicked out of the program. But he technically is a former Vol, and he had a heck of a game Sunday in Seattle's 31-24 win over the New England Patriots with six overall tackles and one tackle for a loss. He also played a role in stopping the Patriots on the goal line late in the game.
Ramon Foster, Offensive Lineman, Pittsburgh Steelers: You can't blame Ramon Foster and the Pittsburgh offensive line for losing that game to the Dallas Cowboys considering the offense scored 30 points, and they allowed for Ben Roethlisberger to throw for over 400 yards. However, it still wasn't a great performance considering that couldn't get anything going on the ground. That's why he's down here.
Malik Jackson, Defensive Tackle, Jacksonville Jaguars: Malik Jackson had four tackles for the Jaguars in a 24-21 loss to the Houston Texans. He also added a tackle for a loss. With half a sack the week before, Jackson has enjoyed two of his best weeks of football this season, and he's one bright spot for this team.
Ja'Wuan James, Offensive Lineman, Miami Dolphins: Ja'Wuan James held Joey Bosa in check all game, who had only one tackle, and he paved the way for 106 yards rushing on over four yards per carry by the Dolphins while also protecting Ryan Tannehill enough to help Miami beat San Diego 31-24. The one mistake James made was a bad holding penalty late in the game that almost cost his team. That's why he's down here, but it was still a solid representation for Tennessee football.
Britton Colquitt, Punter, Cleveland Browns: Colquitt had seven punts for 300 yards on the day, averaging just under 43 yards per punt. He also had a 54-yard punt and nailed one inside the 20-yard line. It wasn't his best day, but he was probably the best performer on the Browns.
Vols Who Saw Limited Action
Morgan Cox, Long-Snapper, Baltimore Ravens: Morgan Cox was the snapper for Justin Tucker as he went 2-2 on field goals in their 28-7 win against the Browns, including a 40-yarder, and also snapped for punter Sam Koch as he nailed three of four punts inside the 20 and averaged 46 yards per punt. Tucker is now 22 for 22 on the year, and Cox has been snapping for him the whole time.
Cordarrelle Patterson, Wide Receiver, Minnesota Vikings: Cordarrelle Patterson had his worst game of the season on Sunday since he's gotten fully healthy as the Minnesota Vikings lost to the Washington Redskins 26-20. He had three catches for 17 yards and no touchdowns. There was nothing special about his play.
Chris Scott, Offensive Lineman, Carolina Panthers: Chris Scott saw some action for the Panthers on Sunday in their 20-17 loss to the Kansas City Chiefs, but he didn't make any impact in the game whatsoever.
Luke Stocker, Tight End, Tampa Bay Buccaneers: Luke Stocker only had one catch for 11 yards in Tampa Bay's 36-10 win over the Chicago Bears, but as a tight end, he is also responsible for blocking. And Jameis Winston was sacked four times while the Bucs averaged barely over two and a half yards a carry on the ground. He has some blame in that, which is why he's down here.
News on NFL Vols Who Didn't Play
Tyler Bray, Quarterback, Kansas City Chiefs: Tyler Bray was inactive for Kansas City in their 20-17 win over the Carolina Panthers Sunday.
Alex Ellis, Tight End, Jacksonville Jaguars: Alex Ellis remained on the practice squad for the Jacksonville Jaguars as they lost 24-21 to the Houston Texans on Sunday.
Matt Simms, Quarterback, Atlanta Falcons: Matt Simms remained on the practice squad for the Atlanta Falcons in their 24-15 loss to the Philadelphia Eagles Sunday.
Former Tennessee football players whose teams had bye weeks
Justin Hunter, Wide Receiver, Buffalo Bills
Curt Maggitt, Linebacker, Indianapolis Colts
Mychal Rivera, Tight End, Oakland Raiders
Dan Williams, Defensive Tackle, Oakland Raiders
Former Tennessee football players currently not on an NFL roster
Rajion Neal, Running Back
Marquez North, Wide Receiver
Brian Randolph, Safety
Dallas Thomas, Offensive Lineman
This article originally appeared on