Tennessee Football Midseason Report Card: Grading the Vols Units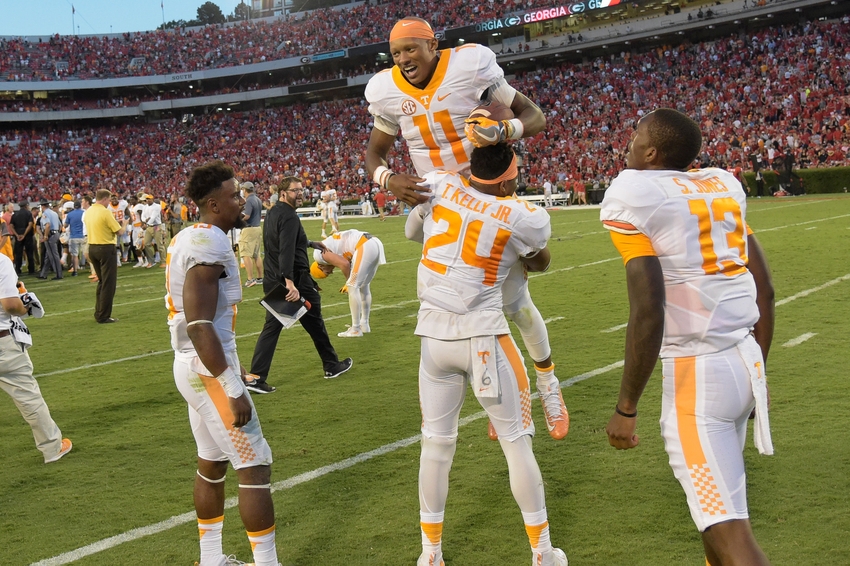 Tennessee football is 5-2 heading into the bye week. Here are the midseason grades for each of the Volunteers' units through seven games of the season.
Despite numerous injuries, tons of bad breaks, and the toughest schedule in college football, Tennessee football made it to 5-2 heading into the bye week.
Sure, the heartbreaking loss to the Texas A&M Aggies and then the blowout loss to the Alabama Crimson Tide hurt. But the injuries hurt as well, literally. And there were plenty of great things about the first half of the season.
Now, the Vols have two weeks to get healthy and prepare for their stretch run to hopefully win the SEC East, and maybe face the Tide in a December rematch in Atlanta.
With the season halfway over, it's time to take a look at the different Tennessee football units. Who's performing well? Who isn't? Which units get a break due to injuries?
Think of this as a progress report midway through the year before the final grade.
Remember, the Vols still have a lot to play for, and if they can get healthy, lots of their goals are still in front of them.
Here, we'll evaluate each unit and what needs to happen for them to have a successful run down the stretch of the regular season.
Like we do at the end of each game, we'll grade the offensive, defensive, and special teams units before analyzing the coaching. All of it has a role.
This is the official Tennessee football midseason report card.
Offense
Quarterback: A-
You couldn't ask for much more from Joshua Dobbs this season. He has dealt with injuries everywhere and also had to face brutal defenses. But he still has over 1,500 passing yards and another 293 rushing yards. He also has 19 total touchdowns. The nine interceptions are a bit rough, but when you consider the schedule he's played, it's forgivable.
A big part of Dobbs's play has been his leadership. He is the biggest reason the Vols don't panic when they fall behind early in games, and he is ascending among the ranks of Tennessee football quarterbacks in history. The stretch run is a great chance for him to etch himself in the ranks of the greatest.
Running Backs: B+
Collectively, the Tennessee football running backs are averaging over 120 rushing yards a game and then another 50 receiving yards a game. Those are solid numbers, and the 12 total touchdowns they have scored are also impressive. The unit's struggles to average over four yards per carry are why we can't give them an A. However, Jalen Hurd when healthy has remained a workhorse for the program, and Alvin Kamara is a big-play guy.
They both have survived injuries this year to be productive. If they can get fully healthy down the stretch, they could be even more impressive.
Wide Receivers/Tight Ends: C+
Josh Malone was a big play guy for Tennessee football through the first four games of the year. Jauan Jennings has obviously emerged as a dominant wideout on the other side for the Vols. But outside of that, there's been too much drama to give this unit a lot of credit.
Malone is still good for a couple of drops a game, Ethan Wolf and Jason Croom have been wildly inconsistent at tight end, and then there's the Preston Williams drama. He's out of the program now. Tyler Byrd is one bright spot. However, Josh Smith has severely under-achieved. Overall, this unit has made plays, but it has come up far short of what it could be.
Offensive Line: B-
We have to take this unit with a grain of salt. The offensive line earned an A+ for its blocking against the Florida Gators, Georgia Bulldogs, and Texas A&M Aggies. However, the other four games have been disasters. Coleman Thomas was a disaster to start the year, Drew Richmond has not yet picked up the system, and Tennessee football is thinner at the position than we initially thought.
That would all be enough to give this unit a C-, but they have battled so many unfortunate injuries since the start of the year that we have to give them a break. As a result, they just get a B-.
Overall Offensive Grade: B
The Tennessee football offense has been averaging 393 yards and over 35 points a game. That's enough to give it a B, but it should be higher. Joshua Dobbs has been the only guy to really live up to his potential throughout the first part of the season. The rest of the guys need to step up, and this could definitely be an A grade by the end of the year.
Defense
Defensive Line: A
Is there any surprise here? The Tennessee football defensive line has lived up to every bit of its expectations, and that's thanks in large part to Derek Barnett. The junior defensive end is once again doing what he always does, racking up sacks in big games. Barnett has six sacks on the year, all in the four SEC games, and he has forced two fumbles. Corey Vereen has another two sacks.
Tennessee could play better at the tackle spot, but they've overcome an injury to Kahlil McKenzie, the early suspension of Alexis Johnson, and the recent dismissal of Danny O'Brien there. So considering what they've dealt with, we can't fault them too much. Kendal Vickers has been solid. And they've allowed the ends to be dominant.
Linebackers: C+
Obviously, this is not their fault. Darrin Kirkland Jr. went down in the second game of the season, and Jalen Reeves-Maybin went out the next week. So the Vols have been without their two projected starters since SEC play began.
However, we have to call the inconsistencies like we see it. As hard as Colton Jumper plays, he's week to week. He played great against Florida and Texas A&M but awful against Georgia and Alabama. And the Vols have found no consistency at the other linebacker spot. Really, this should just be a generic C. But considering what they've dealt with, we gave them a C+. With Reeves-Maybin gone for the year, the unit is in trouble. Kirkland seriously needs to get healthy.
Secondary: B-
Just like the linebackers, the secondary has had issues mainly due to injuries. However, the unit still has only given up 207 yards per game, so it could be a lot worse. Emmanuel Moseley and Baylen Buchanan have gotten better with time. Todd Kelly Jr. finally settled down and became the playmaker he needs to be when SEC play started.
If Cameron Sutton, Justin Martin, and Micah Abernathy can return to full health, Tennessee football could have one of the most elite secondaries in the country.
Overall defensive grade: B
Given the averages, the defense should probably have a better grade than the offense. However, they have given up far too many points to some mediocre offenses. The reason they get a break is due to all of the unfortunate injuries, which we're taking into account. We'll be able to give this unit a more accurate grade during the stretch run when everybody is healthy.
Special Teams
Place-Kicking: B
Aaron Medley is the same kicker he's been his whole career in Knoxville. The junior has once again been automatic inside 40 yards. But he's 0-for-2 from beyond 40 yards. That's worthy of a B- grade automatically.
However, he gets a B+ on kickoffs because over 60 percent of them have gone for touchbacks, and many others have pinned teams inside the 20-yard line. The only reason it's not an A is due to two kicks out of bounds. Still altogether, he gets a B for place-kicking.
Punting: A-
Trevor Daniel has had a bit of a drop-off from his punting last year, averaging only 43.8 yards per punt. However, he's still pinned 18 of his 45 punts inside the 20-yard line, and 12 have gone for over 50 yards.
On top of that, Daniel is a great situational punter. He nailed a ton of huge punts inside the 20 against Florida, and he nailed a huge punt inside the five-yard line against the Dawgs that set up a strip-sack for a touchdown by Barnett. So he remains a Tennessee football weapon.
Return Game: B+
Unlike the last few years, the Vols have not been scoring special teams touchdowns. But the weapons of Alvin Kamara and Evan Berry have racked up very impressive averages on punt and kick returns respectively. They've set up the Vols in great field position plenty of times, so that's still worthy of an A. Heck, that Hail Mary against the Georgia Bulldogs was due to a great return by Berry.
However, coverage has been a bit of a question. Last week, they allowed a punt return for a touchdown, so they have indeed seen a drop-off under Larry Scott. It can get better down the stretch.
Overall special teams grade: B+
Despite a few issues, special teams has still been the strongest part of the Vols. Larry Scott has done a decent job replacing Mark Elder, even if he can get better. Tennessee football has weapons all over the kicking game, and Butch Jones has shown he's right to stress special teams. Speaking of Jones …
Coaching: B+
Let's start with the broader picture. Butch Jones has done an incredible job keeping his players poised throughout the year when things work against them. To come back from double-digit deficits in five games this year is incredible.
And while the leadership deserves credit for doing that, the coach gets credit as well.
However, Jones has made some situational errors on the field that turn an A into a B. Against the Georgia Bulldogs, he almost cost the Vols by not going for the win when they had the lead and the ball late. Then, against the Texas A&M Aggies, he had a chance to win the game with a two-point conversion after an offside penalty but instead took the extra point.
Those were two huge mistakes. One nearly cost his team, and the other did cost his team.
Beyond Jones, Mike DeBord gets a B+ for his play-calling. He's dealt with untimely injuries, but he still has done a solid job in getting his weapons the ball when he can.
Meanwhile, Bob Shoop does not look like he's earned his money so far, but it's hard when your top cornerback goes down and both of your starting linebackers go down. His only real issue was his play-calling late against the Georgia Bulldogs.
You can't fault him for what happened the last two weeks with his team so banged up.
And while Larry Scott is a drop-off from Mark Elder, he still has drawn up nice return plays, so the Vols are still playing pretty well there.
Overall, the coaching gets a B+. Getting to 5-2 with the toughest schedule in the country and a slew of injuries has to count for something. However, a couple of key mistakes by Jones has kept them from being 6-1, which would be a lot better.
This article originally appeared on