Tennessee Football: Five Takeaways from Vols' 34-31 Win Over Georgia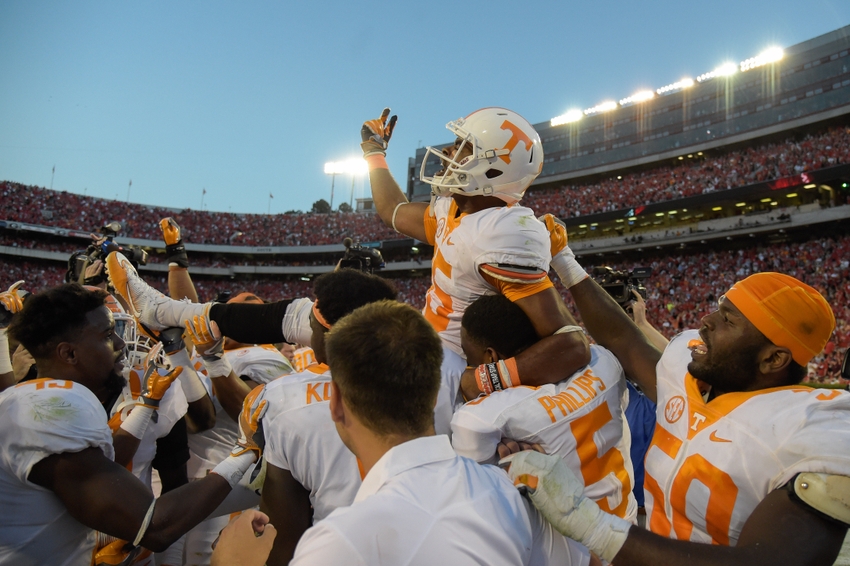 Tennessee football had a thrilling 34-31 victory over the Georgia Bulldogs off a Hail Mary. Here are five takeaways from the Volunteers' win.
Wow!!! How much crazier can this season get for Tennessee football? The Vols are 5-0 after the most insane play in maybe school history.
Maybe this is the season for Butch Jones's team.
We thought the Vols won after Derek Barnett strip-sacked Jacob Eason for a touchdown late in the fourth quarter. But then we thought they lost after Eason connected on a 47-yard touchdown pass with 10 seconds left.
But they finished it off with a 43-yard Hail Mary from Joshua Dobbs to Jauan Jennings.
And that play saved the Vols' season in the SEC while also putting them in firm control of their position in the national picture.
There are so many things that come from this game. Here are five takeaways from the Vols' win.
1. Tennessee can handle pressure on the road.
We said earlier this week that the Vols can't afford a slow start against the Georgia Bulldogs because coming back would be tougher on the road. And it was. However, they still did it. After falling behind 17-0, Tennessee fought back to make it 17-14. Then the two teams exchanged touchdowns.
But the biggest part of handling the pressure was the defense. They were on the field all too often while trailing in the second half, but they continued to make stands. And then they took the lead for the Vols with the strip-sack of Eason. Dobbs's touchdown only exemplified that mental toughness.
2. Injuries at linebacker are a real issue.
This is a combination of the way the Florida Gators looked today and the way Colton Jumper and Cortez McDowell looked. Clearly, they aren't as equipped to handle the SEC offenses for the long haul as they looked last week.
Georgia and Jim Chaney exploited the lack of Jalen Reeves-Maybin and Darrin Kirkland Jr. with too many plays to the tight end along with misdirection running plays. Those guys are playing their hearts out, but there's only so much they can do. Tennessee football needs both guys back.
3. Chance Hall was the missing link on the offensive line.
We already knew that Tennessee football has explosive running backs, their receivers are elite, and the defensive line is loaded. But the offensive line was a major issue after the first three games due to poor play from Drew Richmond and Coleman Thomas.
But Hall's return last week changed everything. For two weeks in a row, the Vols have played very well up front. They had a couple of lapses overall on Saturday in Athens, particularly a terrible play by Brett Kendrick that allowed a sack, but they were still reliable overall.
4. Butch Jones still coaches too conservative.
Butch Jones clearly did not learn his lesson after the Florida game last year. Georgia had three timeouts with over two minutes left when Tennessee had the ball and a 28-24 lead. The Dawgs had clearly moved the ball well also. The Vols had a chance to put them away with one first down.
But Jones decided to let the defense win the game. So he called three straight running plays and hoped that a quarterback with a cannon for an arm who led a comeback late two weeks ago wouldn't do it again. Clearly, he was wrong, but Joshua Dobbs and Jauan Jennings bailed him out. Still, he needs to actually go for the win for once.
5. This Tennessee team may be a team of destiny.
In the past, the Vols would have rolled over and died the minute they fell behind three scores. But they have come back from double digit deficits four times in five games this year already. We've already addressed their mental toughness, though.
The story after the Hail Mary is that this simply might be Tennessee's year. They could be Auburn of 2013. The Vols have had too many games over the past few years where they choked away sure wins. But they're doing the opposite this year. Butch Jones has clearly changed the mentality of this team, and the luck is starting to follow. Maybe, just maybe, that makes this a championship-caliber team.
More from All for Tennessee
This article originally appeared on