Tennessee Football: Five Most Pleasant Surprises for 2016 Vols at Midseason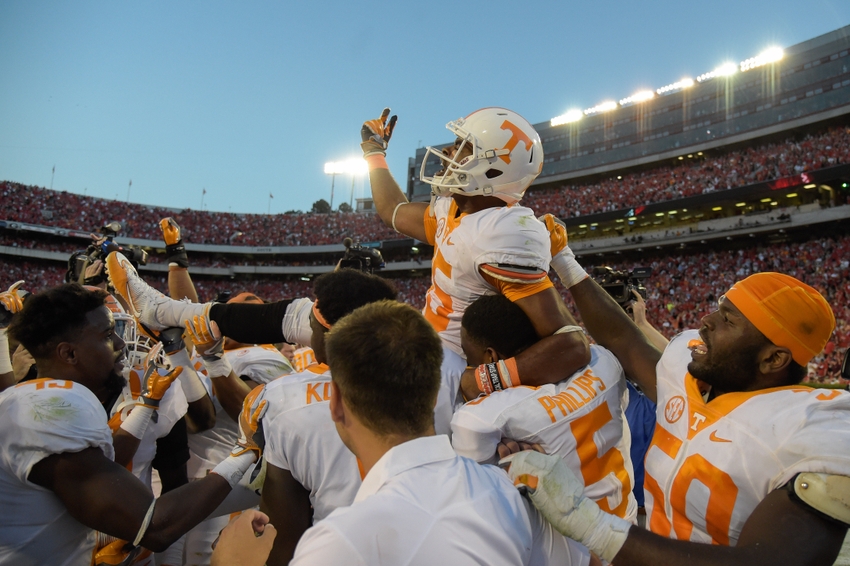 En route to a 5-2 season, Tennessee football has a lot of positive things going into its bye week. Here are five pleasant surprises from the Volunteers.
So the blowout loss to the Alabama Crimson Tide and the two-game losing streak are two bad things facing the Tennessee football program right now. The slew of injuries are also an issue.
But through seven games into a 5-2 season against the toughest schedule in the country, far and away, there are plenty of things for Vols fans to be happy about.
We knew of the potential from Joshua Dobbs, the running backs, and Derek Barnett. Plenty of guys were already expected to be great this year.
However, there are other aspects of Tennessee football this year that have been good that we didn't expect to be good. They have played a role in the Vols returning to relevance and having something to play for this late in the season for the first time in nearly a decade.
We'll take a look at all of those here.
These things could range from certain players who have been better than expected to the way the team plays. It factors in everything that has helped the Vols get to 5-2 at this point.
And they also can help shape the outlook for the Vols the rest of the season.
So even after a very tough loss, let's enjoy a bit of good news for a bit.
In the middle of their bye week, here are the five most pleasant Tennessee football surprises at midseason.
5. Impressive depth
We knew that this was going to be the biggest difference between this Tennessee football team and Tennessee football teams in years past. Butch Jones had recruited so well that the Vols would finally be able to withstand injuries that hit every team at the beginning of the year.
However, Jones's recruiting did a lot more than that.
The Vols are deeper than anybody even thought they could be. They got hit with a slew of injuries that normally don't come as often as they did, yet this team is still 5-2 and maybe one play away from being 6-1. Despite injuries to all five starters on the offensive line this year, both running backs, two defensive linemen, three linebackers, and four defensive backs, the Vols just keep chugging along.
That is beyond impressive and really is a testament to the depth Jones has developed in Knoxville. At the beginning of last year, the Vols were not able to make up for the losses of Curt Maggitt and LaDarrell McNeil. As a result, they fell to 2-3 early.
However, this year they suffered key losses to top players, including Jalen Hurd, Cameron Sutton, Chance Halll, Darrin Kirkland Jr., and Jalen Reeves-Maybin. But all of those times, they have been able to account for those losses with a next man up mentality.
That next man up mentality has dramatically over-achieved beyond what we thought was possible. And it also created a few other surprises on this list. That brings us to our next player.
4. Baylen Buchanan
This surprise goes all the way back to the beginning of Fall Camp. When we took a look at all the freshmen most likely to see early action this year, Baylen Buchanan was at the bottom of our list.
Sure, he was the son of Ray Buchanan, a legendary defensive back. But he seemed to be a major work in progress with limited physical abilities as a low-rated three-star recruit.
However, early on, his football intelligence showed. He became the first freshman to have his helmet stripe removed, and he continued to impress Butch Jones and Bob Shoop throughout the entire preseason.
Then the regular season came, and the Vols were hit with some unfortunate injuries in the secondary. Cameron Sutton, Justin Martin, and Malik Foreman have all been banged up. So the freshman three-star was tasked with stepping in and filling a role at cornerback that nobody would have expected at the beginning of the year.
He has been more than competent in the process.
Buchanan immediately had to come in and replace Sutton against the Ohio Bobcats and helped to shut down one side of the field. He then played a huge role in shutting down the Florida Gators offense in the second half.
And he has now emerged as a shockingly good option for this team at cornerback. Nobody saw that coming, so it's one of the most impressive surprises of the year.
But while his early arrival is a pleasant surprise for Tennessee football, another defensive player's improvement is even more pleasant.
3. Colton Jumper's development
Through the first half of the 2016 Tennessee football season, every Colton Jumper critic, myself included, has had to retract the statements we made about him. Bob Shoop and Butch Jones scared all of us at the beginning of the year when he said that Jumper would be one of the primary backups at the position.
Everybody who saw him last year simply assumed that he was not cut out for SEC football.
Well, things got even scarier early on in the season. Darrin Kirkland Jr. went down against the Virginia Tech Hokies, and the coaches were forced to put Jumper in there. He shocked the world by playing competent against the Ohio Bobcats.
Then, a week later, he had to become the leader of the linebackers after Jalen Reeves-Maybin went down. In the process, he helped to shut down the Florida Gators offense in the second half and was the biggest reason they didn't even have a first down in all but one drive that half.
Two weeks later, Jumper did everything he could to help deliver the Vols an upset victory on the road against the Texas A&M Aggies.
Simply put, he has developed into a very reliable playmaker at linebacker, which nobody saw coming at the beginning of the year.
Sure, Jumper still struggles against some offenses. He looked awful against the Georgia Bulldogs and Alabama Crimson Tide, and there was no way he'd be able to keep up with the Aggies' offense all day.
But the fact that he has been competent and reliable makes this a huge surprise. If he wasn't the Vols would be 3-4 right now, not 5-2, so he deserves a lot of credit.
2. Jauan Jennings's emergence
Going into the year, we expected Josh Malone to be the top wide receiver for Joshua Dobbs and Tennessee football. And through the first four games, he did not disappoint, catching five touchdowns and changing games.
However, eventually teams began to sell out to keep an eye on him. And Butch Jones and Mike DeBord began to have trouble with their No. 2 receiver, Preston Williams. He became a drop-machine and frustrated the fans.
So against the Florida Gators, they decided to start Jauan Jennings in his place. Jennings already had a key, game-changing touchdown against the Virginia Tech Hokies. Since inserting him in there for good, they haven't looked back.
Jennings had three very impressive catches against the Gators, the highlight one of which he burned Jalen Tabor on a touchdown catch to give the Vols the lead.
A week later, he continued his dominant play and caught the Hail Mary for a game-winning touchdown against the Georgia Bulldogs. That wasn't a lucky catch either.
Jennings went up over everybody and brought the ball down.
The next week against the Texas A&M Aggies, he even threw for a touchdown. Jennings has been a star in every way for Tennessee football, and he helped give Dobbs two go-to receivers. The former quarterback has emerged as a leader of the Vols too.
That's a huge deal and a great surprise. It has contributed to the final point on this list. This is a pleasant surprise and a mention that, ironically, will surprise no one.
1. Tennessee Football Mental Toughness
This is obviously the biggest surprise of all of them. It's also the most frustrating one. After all, Vols fans get sick of watching their team fall behind early and then have to fight all game to come back. But that's much better than the type of team they had last year.
Remember, this is a Tennessee football team that lost all four games last year in the fourth quarter. These Vols blew three two-touchdown leads in 2015. One of those was a 17-point lead, and two of them were two-touchdown leads in the fourth quarter.
This year, the Vols have fallen behind by at least two scores in six of their seven games. They came back to win four of those six games, and they easily could have won five of them.
That's a huge deal and something this team deserves a lot of credit for.
Going into the year, we figured this team would be mentally tougher than last year and take that final step to be able to handle close games.
However, we did not envision them becoming the mentally toughest team in all of college football and never panicking when things went against them. That's a huge testament to Butch Jones and his culture-change, but it's also a testament to the leaders of the football program.
It's a major surprise to see this 180, and it's the biggest reason for the Vols' success this year. As a result, we have to give them a ton of credit. And it's by far the most pleasant surprise on this year's Tennessee football team so far.
More from All for Tennessee
This article originally appeared on