Tennessee Football: Appalachian State Game Will Knock Vols Out of Top 10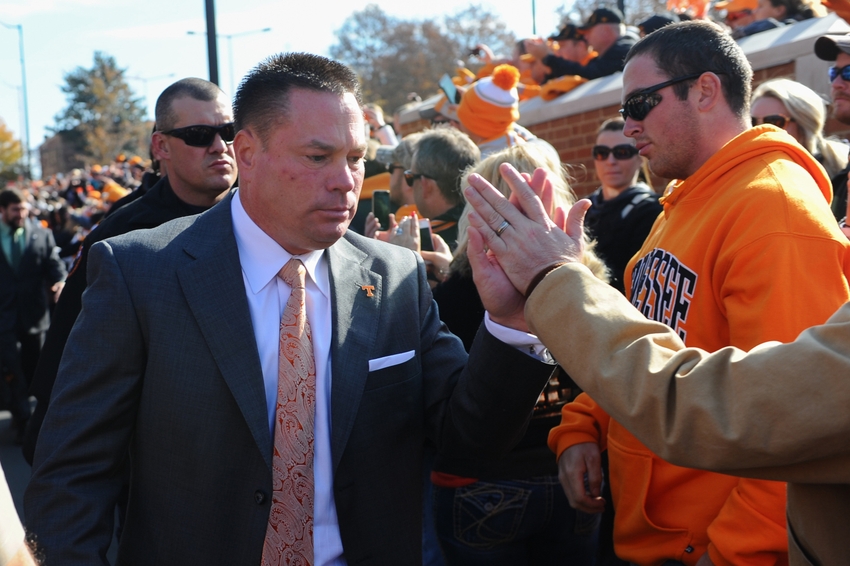 Tennessee football enters 2016 with huge expectations. However, the Volunteers will fall out of the Top 10 after playing the Appalachian State Mountaineers.
---
This is not an indictment against Tennessee football, nor is it a prediction that the Appalachian State Mountaineers will even come close to beating the Vols.
However, Tennessee will fall out of the Top 10 after playing this team.
The Vols enter this game as a 20.5-point favorite. Everybody sees the Mountaineers as the Sun Belt team that just moved into FBS.
Nobody is taking into account just how good these guys are.
Scott Satterfield has constructed the perfect team at Appalachian State to give the Vols hell. They match up against Tennessee in multiple ways.
With nine starters back in a 3-4 defense known for its elite ability to stop the run, this team is in perfect position to get pressure on Dobbs.
After all, the Vols just happen to have one of their few injuries at offensive tackle in Chance Hall, so Drew Richmond, a redshirt freshman, has to start at the most important pass protection spot: left tackle. Appalachian State, meanwhile, was ranked No. 20 in sacks last year, and while they lost their top rusher in Ronald Blair, they still have Nate Norwood Olawale Dada on the ends with Tyler Fernandez at Nose Tackle.
Those three combined for eight and a half sacks, and Caleb Fuller adds even more depth.
Then at linebacker, they have all four starters back. Eric Boggs and John Law both had four sacks on the inside. These guys are going to be hell for a young offensive tackle like Richmond to deal with.
Then we go to the other side.
In spite of Bob Shoop's greatness, he's very thin at middle linebacker. So even with a loaded defensive line and an elite secondary, and even with Appalachian State replacing three offensive linemen and their top two receivers, expect the Tennessee football defense to get torched when Darrin Kirkland Jr. gets a breather.
In his place will be Colton Jumper, whom Shoop said himself is not as good against offenses with lots of skill players who can spread the field.
Appalachian State has an elite quarterback in Taylor Lamb who can run and throw, just like Joshua Dobbs.
They have a three-headed monster at running back with Marcus Cox leading the way. Cox last year had 1,423 yards and nine touchdowns.
With that type of backfield, the linebackers will have hell to pay. Jalen Reeves-Maybin can't be everywhere. The defensive line can only do so much.
Appalachian state will be running tons of East-West plays. You can bet that Jumper will have trouble stopping it when he's in there.
So what does all this mean?
It means that for a while, the Mountaineers will hang tough with the Vols. They match up too perfectly for that not to happen.
Remember the Bowling Green Falcons last year? Tennessee won that game 59-30, and fans and experts still gave them hell for struggling early.
They'll struggle a lot more against the Mountaineers because of match-ups.  And when they take a one-score lead to halftime, fans will remember it.
When that does happen, the Vols will fall out of the Top 10. Experts will overreact to their struggles against a very solid Group of Five team.
And they will even overlook the Vols likely pulling away in the second half.
No reason to panic, though, Vol Nation. Tennessee football will have all season to get back into the Top 10. And the Vols are certainly good enough to do that this year.
This article originally appeared on