Tennessee Football: Alvin Kamara Likely Back for Vols, Cameron Sutton Nearing Return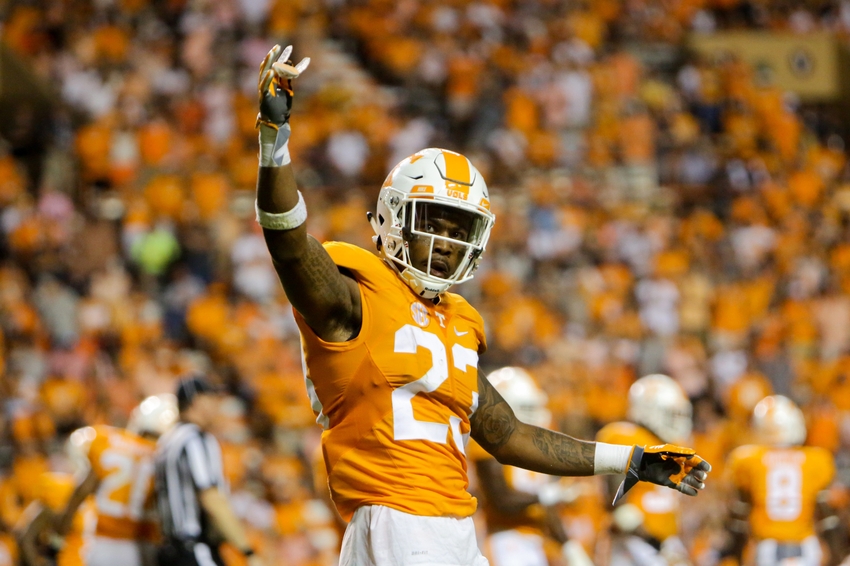 Tennessee football running back Alvin Kamara and cornerback Cameron Sutton are both close to being back on the field for the Volunteers.
Alvin Kamara and Cam Sutton are both back on the practice field for Tennessee football. And both could see game-action this Saturday for the Vols.
Butch Jones confirmed in his Monday press conference that both guys are getting healthy.
He said the Vols expect Kamara to be back on the field Saturday. The junior running back has been hurt since the Texas A&M Aggies game.
Sutton, meanwhile, got injured against the Ohio Bobcats. He may be a week or two out, but given his injury, it's remarkable that he's coming back.
After a terrible period for Tennessee football, the program appears to be getting back on track. Beating Tennessee Tech and seeing Florida lose started it last Saturday.
Now, they are starting to get their key players healthy just as they get set for their final three SEC games.
Getting Kamara back could make for a new elite backfield of him and John Kelly.
And adding Sutton is huge because it will allow Bob Shoop to call for lots of one-on-one coverages and more blitzes to stop the run. After all, Emmanuel Moseley has struggled significantly in that regard.
So Tennessee football is not as high as it was after beating the Georgia Bulldogs, but things are looking up.
Even with other killer injuries, such as Jalen Reeves-Maybin and Evan Berry, this is all great news for the Vols.
And it comes at the perfect time with them still having a great chance to get to Atlanta for the SEC Championship game.
If they do get that coveted rematch with the Alabama Crimson Tide, they should be a heck of a lot healthier than they were the first time the two teams met.
More from All for Tennessee
This article originally appeared on