Tennessee Football: 5 Takeaways from Vols' 49-36 Win vs the Kentucky Wildcats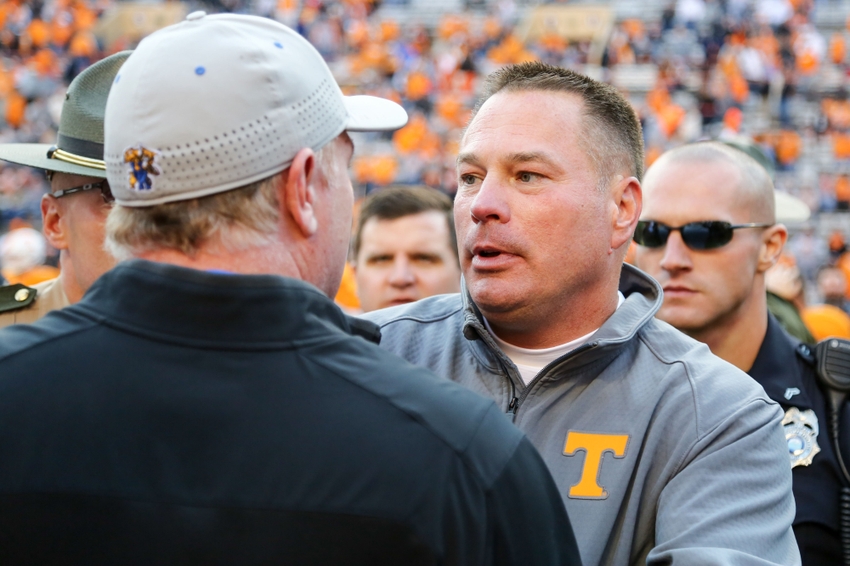 Tennessee football ran all over the Kentucky Wildcats on Saturday at Neyland Stadium. Here are five things we learned from the Volunteers' 49-36 victory.
Is there an unwritten rule that Tennessee football is supposed to consistently drop huge offensive stats on the Kentucky Wildcats? Because they did it again on Saturday.
The Vols beat the Wildcats 49-36, moving to 7-3 overall and 3-3 in the SEC. Joshua Dobbs, meanwhile, finished his career 4-0 against the Wildcats with a five-touchdown performance, including three passing and two rushing, to spur his team to victory in front of a noon crowd in Knoxville.
With the Missouri Tigers and Vanderbilt Commodores up next, Tennessee needs to win both to finish 5-3 and stay in the SEC East race.
At the same time, they need the Florida Gators to lose to the LSU Tigers next week after they beat the South Carolina Gamecocks 20-7 on Saturday.
Anyway, Saturday was the Vols' first easy SEC game all year. Sure, they fell behind early, but for the most part they dominated. However, there are some concerns.
Here are five takeaways from Tennessee football's 49-36 victory over the Kentucky Wildcats.
1. Rush defense needs serious work.
Okay, so it's true that most of this came in garbage time, but there is still no excuse for Tennessee football to give up over 440 yards on the ground to the Wildcats. They allowed Stanley Williams to rush for 127 yards, Jojo Kemp to rush for another 90 yards, Benny Snell Jr. to add 79 yards, and Siheim King to put up 75 yards.
Oh, and quarterback Stephen Johnson had 72 yards on 10 carries. Sure, Darrin Kirkland Jr. is still getting healthy, but those misdirection plays torched the linebackers and cornerbacks all day. Bob Shoop's unit is still giving up too many big rushing plays, and that has to stop.
2. Cameron Sutton is back.
Cameron Sutton showed you just how valuable he is to Tennessee football. The senior cornerback, who has been out since the Ohio Bobcats game, did an amazing job in coverage.
He had two passes defended in the game to break Jabari Greer's record for career passes defended with 36. Sutton's closing speed, fundamentals, and ability to stay in one-on-one coverage are all huge assets. However, there is one other issue in the secondary.
3. Safety play is atrocious.
This has been a problem all year, but it was a huge reason for the Vols giving up 400 yards on the ground to the Kentucky Wildcats on Saturday. Todd Kelly Jr. is a great playmaker, but he has a huge problem with getting out of position. Micah Abernathy can have the same issue.
As a result, the Vols are too often leaving their cornerbacks on an island in coverage because they don't arrive to provide help in time. That has to stop down the stretch.
4. Offensive line is finally coming together.
Early in the year, Drew Richmond and Coleman Thomas both were benched because of all the problems they caused the offensive line unit. Then the injury bug bit the group hard. But they are now getting healthier…and better.
Richmond was competent all day at tackle, and Thomas moved back to center and continually picked up rushes throughout the game. That's why the Vols were able to rush for 376 yards. Thomas played awesome. Jashon Robertson, Brett Kendrick, and Dylan Wiesman are all finally healthy again. They preformed admirably as well.
5. Tennessee football has a new three-headed monster.
It's official. At the beginning of the year, we said the combination of Jalen Hurd, Alvin Kamara, and Joshua Dobbs's mobility would make for a three-headed rushing attack. But then Hurd transferred midway through the year, and John Kelly had to step in.
Now, Kelly is the new member of the three-headed monster after another solid week. Kamara and Dobbs both had over 100 yards. He added 94 yards. That proved last week's Tennessee Tech game was not a fluke.
More from All for Tennessee
This article originally appeared on