Tennessee Football: 10 Vols Most Deserving of 2016 Postseason Recognition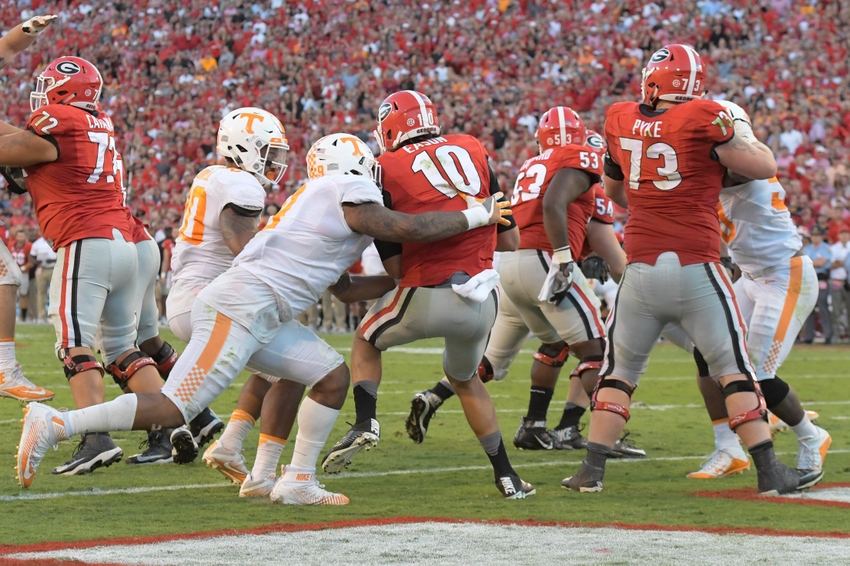 Tennessee football had a tough season, but plenty of individuals had great years. These 10 Volunteers are the most deserving of 2016 postseason recognition.
As officials begin handing out college football postseason awards, there aren't as many Tennessee football players in the mix as fans might have expected at the beginning of the year.
The Coaches All-SEC team only had three Vols, there are no finalists for official college football awards coming up the next couple of days, and the Vols only have one shot, albeit an outside shot, at an All-American pick.
That's what happens when you have a season end in such disappointing fashion the way it did for the Vols.
So 8-4 isn't exactly what Tennessee football fans wanted this year. But even in a very disappointing end to the 2016 season, there are numerous Vols who deserve praise for how they played in 2016.
Yes, guys like Jalen Hurd became a problem for the team. Crucial injuries to key players were other issues.
But many players stepped up and were pleasant surprises for this team, and others met or even exceeded high expectations.
Unfortunately, it was not enough in the long run, but it's still something to take pride in. And as college football players across the country begin to receive recognition for their performance, plenty of Vols deserve consideration for recognition as well.
After all, lots of them have carried a great attitude with them all year. And that came no matter how rough things got.
So we need to acknowledge them.
Here are the 10 Tennessee football players most deserving of postseason recognition.
10
Jauan
Jennings
Wide Receiver,

Sophomore
So he doesn't have the stats to actually be on this list. But Jauan Jennings has to get postseason recognition somehow. Maybe it's for best teammate, best game-changer, or simply the best play.
Starting as a teammate, Jennings willingly embraced a role as a backup wide receiver going into the year after converting from a quarterback. Jennings then earned a starting spot because of his effort. And at that point, he enthusiastically accepted his role as the No. 2 wideout for the Vols.
Simply put, he was everything Preston William wasn't.
Then comes the actual plays. Jauan Jennings changed the complexion of four games this year for Tennessee football. He caught the first touchdown pass in the Battle at Bristol to get the Vols going when they were down 14-0.
Two weeks later, Jennings caught the touchdown pass that gave the Vols their first lead against the Florida Gators.
And he caught the touchdown pass to give the Vols their first lead against the Missouri Tigers.
Then there was the Georgia Bulldogs game. Jennings caught a Hail Mary pass as time expired to give Tennessee the win. That play changed the game and could be the most memorable one of the year. Taking those two things into account, he deserves some kind of postseason recognition, maybe an ESPY.
9
Rashaan
Gaulden
Defensive Back,

Sophomore
Rashaan Gaulden is unfortunately not getting any recognition because of all the criticism the Tennessee football secondary took this year.
But that blame mostly lies with the safeties for not developing and the injury to cornerback Cameron Sutton for half the year. No Jalen Reeves-Maybin out there also hurt the Vols throughout the year.
As the primary starter at nickelback throughout the year, though, Gaulden was a key playmaker. He broke up two passes and rarely allowed quarterbacks to throw his way.
Meanwhile, he was a great tackler and played physical enough to shut down lots of drives. Gaulden had 63 tackles on the year, six tackles for a loss, and a quarterback hurry. He knew his role as the nickel very well, and he made a huge impact in the process.
Coming off of a season-ending injury in 2015, that was very impressive.
Gaulden should be getting consideration for All-SEC this year due to his play, but the struggles of the Tennessee football secondary overall will keep him from getting that. However, those struggles are not his fault at all, and it's very unfair to blame him for them.
So we are going to make sure we at least recognize him for how he played here.
8
Brett
Kendrick
Offensive Tackle,

Junior
If you think Rashaan Gaulden took unfair heat for the play of the Tennessee football secondary, you'll be pulling your hair out over the blame a few of the Vols offensive linemen took.
Due to injuries, youth in key spots, and a massive regression from a veteran in Coleman Thomas early in the year, the Vols looked awful on the offensive line for much of the year. However, there were some key exceptions.
One of those exceptions is veteran junior tackle Brett Kendrick.
Kendrick has been a model of consistency for Tennessee football all year. He got banged up a bit but mostly stayed healthy the whole time.
And he consistently moved around on the offensive line at the request of Mike DeBord. Depending on the health of Chance Hall or the development of Drew Richmond, Kendrick had to play both tackle positions.
Although he made some mistakes, his blocking on the outside helped to pave the way for lots of solid runs by Joshua Dobbs.
As a result, he should at least be getting some All-SEC consideration as well. But he won't because of the struggles of the offensive line overall.
A veteran up front, Kendrick has been one of the best development stories for the Vols all year.
7
Evan
Berry
Safety/Kick Returner,

Junior
Even in a year in which he got hurt for the season, Evan Berry still earned recognition as an elite kick returner.
The junior defensive back built on his All-American campaign with 14 returns for 460 yards, including a 100-yard kickoff return for a touchdown against the South Carolina Gamecocks.
He got hurt down the stretch and wasn't able to do more, but his numbers were still remarkable. This year, teams were scheming to avoid huge returns by him, and he got hurt, but he still was able to put up numbers more impressive than most kick returners.
As a result, the guy still made the Coaches All-SEC team, albeit as a second-teamer this year.
Had he stayed healthy, he likely could have made first team All-SEC again, and he could possibly be in consideration for All-American honors again.
Unfortunately, All-SEC is about all he could get. And while he has earned it for the Coaches, he should make the AP team as well.
And coming back next year as a senior, the brother of Eric Berry will have another chance to leave a major lasting impression.
He is already amazing for being able to get on this list despite missing most of the second half of the season.
6
Kendal
Vickers
Defensive Tackle,

Junior
Now this guy might be the most underrated Tennessee football player this year given what he had to deal with.
Due to injuries at linebacker and at defensive tackle combined with other guys refusing to move into the middle, Vickers was the one guy consistently tasked with keeping the interior defense competent so the ends could make plays.
With absolutely no help, he did all he could. A former undersized defensive end, Vickers is only a junior doing this.
But the 6'3″ 295-pound team guy became the only model of consistency for the Vols in the middle. Going up against two or three massive interior offensive linemen at a time, Vickers was the guy who freed up the Vols defensive ends to rack up stats.
And he came away with a few nice plays of his own, including 35 tackles, six tackles for a loss, two quarterback hurries, two and a half sacks, and a forced fumble.
Those are impressive numbers for a defensive tackle like Vickers who had no help. He also should be receiving All-SEC recognition, but he didn't make enough sexy plays to do it.
As a result, he'll fall under the radar with a chance to make a huge splash going into his senior year.
5
Dylan
Wiesman
Offensive Lineman,

Senior
We already mentioned Brett Kendrick as a guy who took too much heat because of the way other Tennessee football offensive linemen struggled. But Kendrick's efforts pale in comparison to Dylan Wiesman's play.
Wiesman got hurt down the stretch of the season, but he deserves a ton of recognition anyway. Mike DeBord has moved Wiesman all over the field at offensive linemen, even more so than Kendrick.
He started the year at guard. But two games in, Coleman Thomas's at center forced him to take over that position. Then another slew of injuries forced him to spend time at tackle.
Throughout his shifting around, not one time did anybody notice him making a mistake on the line. In fact, he was constantly over-compensating for mistakes that Drew Richmond, Thomas, or one of the young guys made.
Because of that, Wiesman actually deserves to be an All-SEC player. He did not get that recognition, and he likely won't get it anywhere else.
But that's entirely unfair when you consider what he had to deal with all season long.
He was the best Tennessee football offensive lineman, and when you consider the rushing stats the Vols had, even with the mistakes, somebody on the line deserves recognition.
4
Josh
Malone
Wide Receiver,

Junior
Jauan Jennings has the play of the year for Tennessee football and was also one of the biggest game-changer for the Vols.
But Josh Malone was a bigger game-changer and had the numbers to go with it. Malone caught four touchdowns in the first three games, and three of them resulted in lead changes. That's incredible.
His fifth touchdown came against the Florida Gators and helped the Vols build an insurmountable lead in that game.
Malone finished the year with 45 receptions for 852 yards and 10 touchdowns. Those numbers aren't All-American numbers, but when you consider the fact that he was mostly splitting time all year with another receiver, these are certainly All-SEC numbers.
And the game-changing aspect of his catches count as well. Of Malone's 10 touchdown receptions, five resulted in lead changes on the year. The other five all came with the Vols clinging to a one-score lead.
So all 10 of Malone's touchdown receptions dramatically changed the game in some way. That is incredibly remarkable and worthy of a ton of recognition, so the 6'3″ junior should at least garner All-SEC recognition.
After all, those are Peerless Price-level game-changing numbers. And we don't throw Price's name around lightly considering he's the greatest playmaker in Tennessee football history.
3
Corey
Vereen
Defensive End,

Senior
We hear a lot of talk about another defensive end on the Vols, but Corey Vereen had an amazing run down the stretch of his senior season at defensive end that should have earned him All-SEC recognition.
A guy who was forced into the lineup as an edge rusher after Curt Maggitt's injury in 2015, nobody has developed better than Vereen.
But it didn't do so in the Coaches All-SEC, and he likely won't receive any other recognition.
A valuable edge rusher, the Vols' elite pass rusher in Derek Barnett could not have racked up his stats without Vereen commanding respect on the other side.
And he did just that with 35 tackles on the year. That included 10 and a half tackles for a loss and six sacks. The Tennessee football senior also broke up three passes, had four quarterback hurries, and recovered two fumbles.
One of those fumble recoveries was for a touchdown against the Georgia Bulldogs and became the difference in the Vols winning the game.
Vereen has done more than enough in his senior season to garner more recognition than he has been receiving, but he's not getting it.
In Knoxville, however, he has done more than enough to earn the right to go out on a high note.
2
Joshua
Dobbs
Quarterback,

Senior
Is there any surprise here? Joshua Dobbs, with the exception of two bad games against the Alabama Crimson Tide and South Carolina Gamecocks, was awesome all year for the Tennessee Vols and single-handedly carried them to at least three victories.
He earned his spot on the Coaches All-SEC team as a second-teamer, but Dobbs probably deserves to be a first-teamer over Jalen Hurts. After all, Hurts's stats aren't as good, and you can't factor in wins when you take a look at all the talent on the Tide.
Dobbs finished the year completing 63 percent of his passes for 2,655 yards and 26 touchdowns. He added 713 rushing yards and nine touchdowns.
On passing alone, Dobbs is fourth in the SEC in yards, first in quarterback rating, and first in touchdowns. Add in his rushing totals, and there really isn't any SEC quarterback close to his level of stats this year.
Take away three plays this year, and the Vols are 11-1 while Dobbs easily earns first-team All-SEC and maybe even garners All-American recognition.
After all, he is close to Deshaun Watson's level this year when it comes to stats, something we said was possible at the beginning of the year.
So while Dobbs as a senior did not reach what he likely wanted to reach for Tennessee football, his efforts on the field and as a leader deserve more respect than they are getting.
And as an academic superstar, he's deserving of every bit of postseason recognition.
1
Derek
Barnett
Defensive End,

Junior
Let's start with the good. Derek Barnett made first-team All-SEC for the Coaches side, he'll likely make it on the AP side, and he is a strong candidate for All-American honors.
However, he is not getting anywhere near the respect he deserves.
Barnett is on the finalists list for the Ted Hendricks Award as the nation's top defensive end. But he did not make it as a finalist for the Chuck Bednarik Award as the nation's top defensive player overall.
And all three guys who got on there make his omission a travesty.
One was Alabama defensive tackle Jonathan Allen, who finished the year with 56 tackles, 13 tackles for a loss, and eight and a half sacks. The other was defensive end Myles Garrett, who finished the year with 32 tackles, including 15 tackles for a loss and eight and a half sacks as well.
Then there's Barnett, who is a defensive lineman like the other two. He finished with 50 tackles, 18 tackles for a loss, and 12 sacks.
If you're keeping score, that's more tackles, tackles for a loss, and sacks than Garrett and more tackles for a loss and sacks than Allen. He also forced more fumbles than Allen and as many as Garrett, and he broke up more passes than both.
Oh, he also had more quarterback hurries than both.
So in no universe should either of these guys be listed ahead of him for the nation's top defensive player.
But the travesty doesn't end.
The final guy on the list is Michigan Wolverines linebacker Jabrill Peppers. Sure, it's a different position, but even he is not on Barnett's level when it comes to stats. He only has 16 more tackles as a linebacker! Sure, he also has one interception.
But he only has 13 tackles for a loss, three sacks, one pass deflected, and no forced fumble or fumble recovery. So Barnett blows him out of the water in numbers too.
All of this is to say that we already know Barnett's greatness as a defensive lineman, a guy about to break Reggie White's school record for career sacks in only three years.
At the same time, his stats far outweigh the stats of guys up for defensive player of the year. But he was inexplicably left off that list.
And it's one of the greatest travesties in college football awards history. Barnett should be All-SEC, All-American, and the nation's top defensive player. It shouldn't even be close.
This article originally appeared on